If you have been to Tioman island before, please share your experiences, ideas and feedback (Hotel, Excursions, General Feeling,…) in the comments section below, by doing so you will help fellow travellers to plan their next trip

Tioman Island, also known as Pulau Tioman, is a superb island located on the South East coast of Malaysia. It is considered as one of the most beautiful and idyllic islands on Earth… sounds like paradise! If relaxing on white sandy beaches surrounded by waterfalls, crystal clear water and dense tropical jungle sounds like your ideal holiday, this is the place to be.
Unfortunately, with its natural beauty attracting huge amounts of visitors, Tioman Island has become so popular that it has lost some of its magic. Luckily the human impact on the Island affects just a small part and there are still many places which remain wild and secluded.
This natural wonder is perfect for family holidays as you will find plenty of options for comfortable accommodation. It is a very popular destination among expatriate communities and for Singaporeans on weekend trips.
This natural wonder offers good diving opportunities with healthy reefs, rich marine life and good wreck diving like the Soyak Wreck. Snorkelling around Tioman Island is also very rewarding.
The only drawback of this dream island is the poor rubbish control so you will have to share this paradise with garbage on some parts of the island.
In this page you will find practical information to plan a scuba diving trip to Tioman island:
Tioman island Photos
Where to stay?
I usually use this website to book in advance my hotels in Tioman island as they usually have the lowest rates I find. I like it because it's free to cancel and change the dates.
Activities and excursions in Tioman island
Tioman Island is a very touristy destination and there are many activities to do out of the water! The non-divers will find all kinds of excursions to do as well as a good dive destination for families. Here are some examples of what you can do:
Hiking in the jungle to discover superb waterfalls
Snorkelling beautiful coral gardens
Go fishing in the deep sea
Just relax on a white sand beach
Shopping as the island is duty free
Surf during the wet season
There are many travel agencies in Tioman Island who can organize all your excursions. You can also ask directly to your hotel or diving resort.
Best time to visit Tioman island
Tioman Island is a year round destination. However there are two distinct seasons.
Rainy season from Mid-November to Mid February, Average temperature is around 32 Degrees.
Dry season from Mid February to Mid November, Average temperature is around 30 Degrees.
Peak Season occurs during Singaporean and Malaysia holidays in November and December and for Chinese New Year so if you can try to avoid these periods.
The best time to visit Tioman Island would be in July and August, when the weather is very dry.
Photo Credit: http://www.flickr.com/photos/besar_bears/7223639/
Health and Safety
If you are planning an upcoming dive trip or travelling to Tioman island, it is a really good idea to invest in travel insurance for scuba diving, because you never know what could happen and when you might need it (because accidents do happen!). I recommend this diving insurance as they offer worldwide coverage and focus on providing scuba divers a quality insurance and medical assistance service.
Where is Tioman island located in the world?
Tioman Island is situated on the South Eastern side of the Malaysian peninsular not far from the mainland.
See the map below.
Tioman Map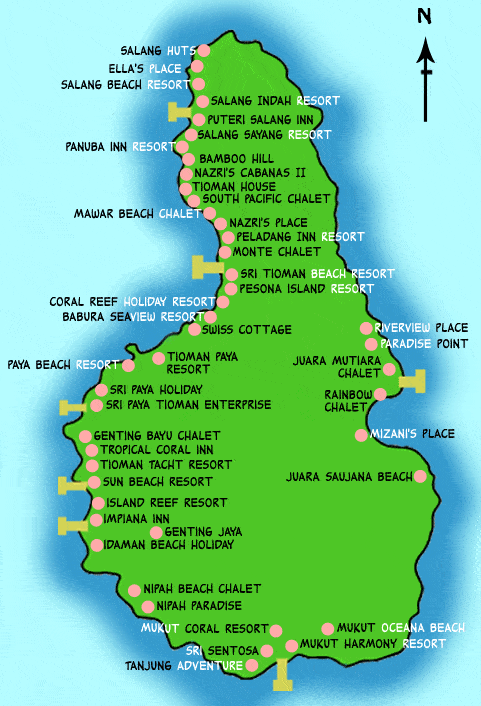 How to get to Tioman island?
It is very easy to get to Tioman and you have two ways depending on your time and budget.
By Plane:
There is a small airport on Tioman Island in Tekek village. You can fly there directly from Kuala Lumpur (Subang Airport, 60 min, RM 225) of from Singapore (Changi Budget Terminal, 35 min, RM290) with Berjaya Air. It is very fast and most of the time affordable if you book in advance.
By Bus and Boat:
Get a direct bus from Johor Bahru (Larkin Bus terminal, 3 hours, RM 10 one way), Kuala Lumpur (5 hours, RM 23) or Singapore (Lavender St. Terminal, 4 hours, RM 12 one way ) to the cities of Mersing or Tanjung Gemok.
From there, you can either take the Bluewater Express ferry (RM 35 for one way) for 3 hours or a private fast boat for 2 hours (RM 45 for one way). You can buy the tickets in one of the many travel agencies or directly at the harbour jetty.
The boats will stop at different beaches and jetties of Tioman Island. Just get out where you want to stay.
Hot Tips
The latest boats leave in middle of the afternoon so try to reach the port before then or you will have to spend one night in Mersing or Tanjung Gemok.
The ferry schedule is often vague as it depends on the number of passengers and on the tidal conditions.
Book your ferry ticket in advance during Malaysian and Singaporean holidays and weekends as it can be full.
Boats and ferry services become irregular and can even stop during the monsoon from November to February.
Berjaya flights are operated on small planes Dash-7 and the maximum baggage weight is 10 kg. You will have to pay extra if you want to bring more weight.
There is just one ATM on the island in Tetek village, so bring cash! However most of the diving centres accept credit cards.
Photo Credit: http://www.flickr.com/photos/chang-er/3032905227/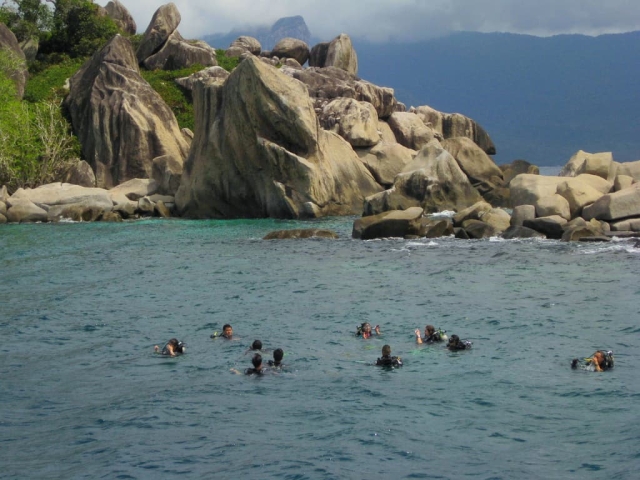 Getting Around
Pulau Tioman is quite a large island. It is 39km long and 12km wide. There is no real roads except in Tetek, the biggest village which has very few cars. The best way to get around the island is by taxi boat or by foot.
The island is covered in lush tropical jungle and only the coastal part is inhabited. There is a small path around the island perfect for hiking. Trekking can be done from Tekek to Monkey Bay and from Tetek to Juara.
You can also hire a jeep to go from Tetek to Juara for about RM 120. Makes for a fun ride if you are several people. However avoid it if raining if you don't want to get stuck along the way.
Scuba diving
You will find all information about sea life, best time to visit, top dive spots, etc. in our review: Tioman island Diving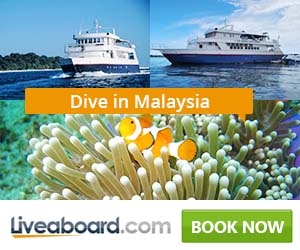 Diving Reviews for this region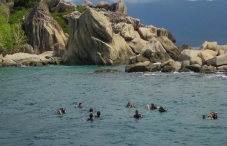 Nice and easy diving in clear water and beautiful coral reefs. Good location to take diving courses.
Liveaboard Reviews in Tioman island
Cruise ship Reviews in Tioman island