One of the predicaments that haunt most of the SCUBA divers is actually choosing the right diving gear, equipment and accessories. And this definitely includes the wetsuit. Thus, each and every diver should know how to select the right wetsuit for SCUBA diving.
Watch this video to see how wetsuits are made!

From its name alone, a wetsuit can keep you warm even if you're still wet under the water. Wetsuits provide protection and insulation to your body especially when diving in cold waters. It works by trapping a small amount of water against your skin. Your body heat will then warm up this water which in turn can keep you warm while diving. Remember, adequate protection is very essential for your comfort and safety underwater.
So just in case you're wondering if it's possible to have more than one wetsuit, the answer is definitely YES! Your wetsuit will vary and depend on the prevailing sea and water temperatures and conditions of your diving location.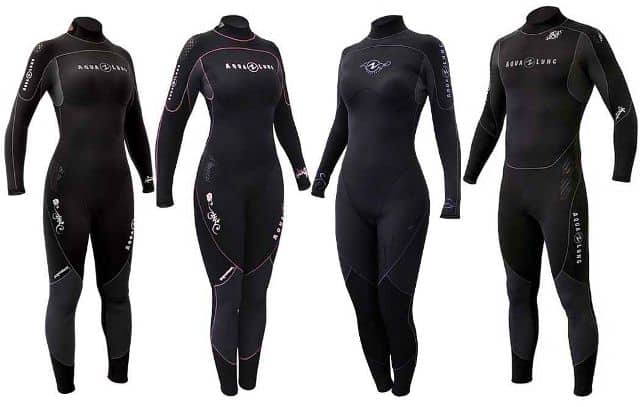 There is a wide selection of wetsuits that you can choose from, depending on the type, style, thickness of neoprene and the water and weather conditions you might encounter when diving.
Photo credit: www.nauticexpo.com
But before you strut your stuff to dive shops, here are some of the factors you might consider when choosing a wetsuit:
1. Fit- Getting the right fit means that the wetsuit shouldn't be too loose or too tight for you. If it's loose, water will continue to enter the suit while diving. On the other hand, you might encounter some breathing problems or movement restrictions when the wetsuit is too tight for you. The right wetsuit should snug you perfectly in all places and fit like a second skin, but not too tight please. Always bear in mind also that wetsuits tend to feel tighter when they are dry than they do underwater. Do check the wetsuit sizing chart carefully, which are offered by most of the dive stores/shops before you make a purchase.
2. Thickness- The thicker your wetsuit is, the warmer you are. The thickness of the suit determines how warm the diver will remain after time spent submerged in the water. Neoprene prevents the cold sea water from getting in and disturbs the temperature within the suit. Depending on the water temperature, wetsuits are usually pieced together in various Neoprene thicknesses: 3mm, 5mm and 7mm. It is usually thinner on the arms, legs and shoulders and heavier on the chest and back areas. As a rule of thumb, the thinner the suit, the better flexibility of movement you will have but with less warmth and buoyancy. You can wear the 3mm wetsuits when diving in the tropics. The 5mm wetsuits are ideal for diving in Red Sea and other similar areas while you can don the 7mm suit when diving in spots where water temperature is below 15 Degree Celsius.
3. Type of Neoprene- The type of neoprene used in your wetsuit affects its quality. A gas blown wetsuit is the highest quality of neoprene and the most durable. Avoid a chemical blown wetsuit for it usually wears out faster.
4. Style- Depending on the style you want to flaunt, there are several choices to make. You can sport on the Shorty, a wetsuit ideal for diving during the hot summer days. It has short arms and often finishing just above the knee. You can also try the Farmer John or Jane. They are a two piece suit. Each suit has sleeveless top and long legs piece. The most popular is the full scuba diving wetsuit. It is one piece and has long arms and legs. This is suitable for cold water diving.
5. Quality- Just like any other diving equipment, a wetsuit should be made to last. Check that the wetsuit has inside stitching as it will support the seams, which can prevent holes to form in the suit. Side panels can also reduce the restriction that can be felt around the chest which fosters comfortable diving experience. It will be easier to wear too if your wetsuits has leg and wrist zips than those without. Bear in mind that zips should be metal (not plastics!), as they are less likely to break.
6. Prices- Your comfort and warmth under the ocean should be one of your highest priorities when buying diving wetsuits. If you're freezing and feeling miserable because you didn't spend enough on a good quality wetsuit, even the most panoramic underwater scenery will do little to brighten your day. Choose wetsuits that have higher grade neoprene. They are often lighter, are anatomically cut and have more strategically placed cuts/panels which can fit you in all the right places. This will also encourage more flexibility in the water.
7. Gender- It might sound a little discriminatory and biased, but gender also matters when selecting the right suit. Women have those extra bumps and curves compared to men. You know what I mean?

Tall and skinny women also get cold quicker. Different folks get cold at different rates.
Click play to learn more about the different styles/types of wetsuit!

So if you want to stay warm on your dive, a scuba diving wetsuit is indeed necessary. Choose the right one. Choose wisely! Happy diving!

Related Posts