After a long stretch with no logged dives for me, considering the pandemic that's been putting the travel world on hold for the past 2 years and the fact that I don't do cold water diving, it's been a wonderful return to bubbles and coral! If you have read my previous post, you are aware that I was accompanying a friend in her discovery scuba experience. My friend was quite nervous about scuba diving for the very first time, and so I felt I had to pick a very good, not to say outstanding, diving club to help her feel safe and well guided. The good news is, I think I can say: mission accomplished!
My online research led me to discover the Salty Endeavors Diving Club and I got to admit… they had me on the hook just with the club's name. 😉 Let me explain… as someone that lives in a country better known for maple syrup, mountains and cold winters but who, deep in her soul, is drawn to the seaside, long travels and boat rides, I very often say "Stay Salty!". Indeed, that's my salty endeavour… to keep this traveller and beach girl mindset even while living a different, yet awesome, reality here up north! Anyway… Salty Endeavors is much more than their names, and it will be my pleasure to introduce you to them while I tell this tale of two wonderful dives.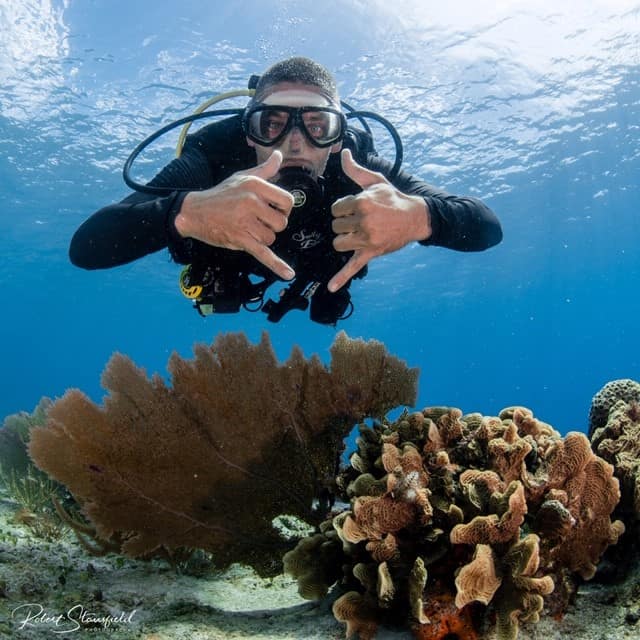 Planning your diving day
First things first, setting up the diving day with the club was a breeze, and that's precious as you feel safe and organized from the very beginning! Their website is very thorough, and they link you to everything you need to know if – like me – you reach out through email to plan your dive day with them. If you are staying on Cozumel, they will tell you where they can pick you up and if you are staying on the Mayan Riviera (Yucatan peninsula's coast) you will arrive on the island by ferry and they pick you up at the next pier! A breeze, really! Should you have to take a class before the dives, either Discovery Scuba or because you are getting your diving certification, hop in a taxi from the ferry terminal and get to their office, which is located more inland. Easy!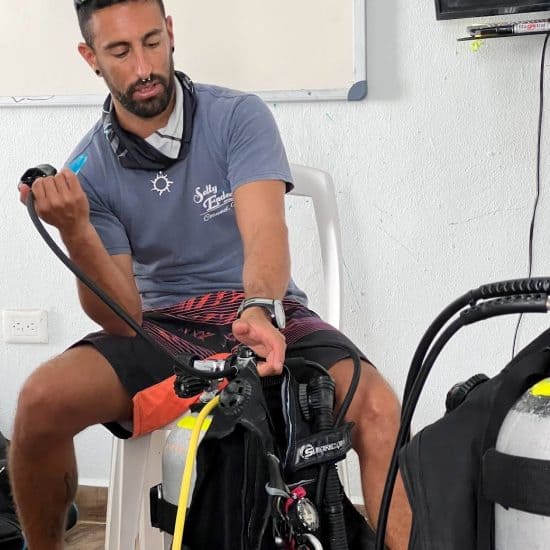 A little more on the Discover Scuba Class with Salty Endeavors
You will spend about 45 min in class, learning the very basics of scuba diving such as equalizing your ears, the signs to communicate underwater and how to swim efficiently wearing scuba gear. The instructor will show you all the equipment as well as how it works and demonstrate ways of kicking your fins, finding your breathing rhythm and much more. It might feel like a lot to take in in such a short time, but this all gets easier as you hop in the training pool, with your scuba gear on, to try your new skills. Salty Endeavors have their own training pool, so you get to start practicing right after class and get advice from the instructor as you make your first bubbles in a safe and confined space.
Diving on Cozumel
Just across the water from Playa Del Carmen, on the Mayan Riviera, the Isla Cozumel is a scuba diving paradise as it is part of the Mesoamerican Barrier Reef. In fact, this reef system is the second largest in the world, with the first being the well-known Great Barrier Reef. The Mesoamerican Reef extends from the Yucatan Peninsula to the coast of Honduras, more or less.
The dive sites of Cozumel are mostly located on the southern end of the island, boasting clear waters and plenty of walls to explore. The two dive sites we went on to explore onboard the Mental Floss's boat (they still have to explain this name haha 😉) with Salty Endeavors were both located along this coast. We took off from one of the small piers next to the ferry's pier and went straight to the farthest of the two: the Santa Rosa Wall. Eduardo and two certified scuba divers went way deeper and crossed paths with a shark… while I was enjoying the discovery scuba dive with my friend, another student and our guide, Jose. Let's just say that for this one I kinda wish I went down with my fellow certified divers! That being said, I can't complain as the dive was amazing. The visibility was outstanding, the coral was both dense and colourful and there were plenty of fish.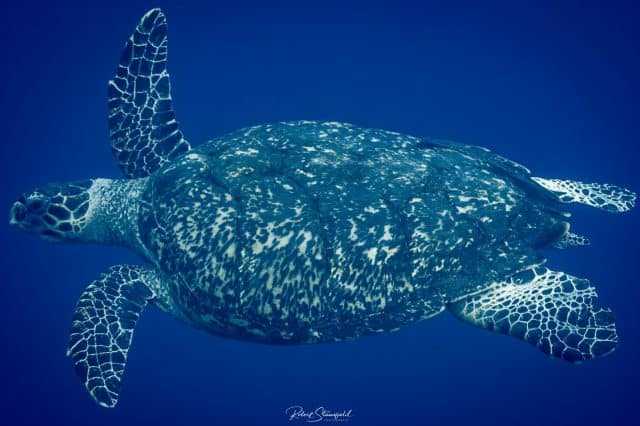 After a successful and exciting maiden dive for the two "Discover Scuba" divers, we hopped back on the boat and were on our way to the Yucab dive site. This dive site was beautiful and, I would say, both fun and a little challenging to do for beginners. You start on turtle grass and sand dunes but as you navigate between coral formations you get hooked in the current and you easily get overwhelmed as there's a lot to see! The current was mostly mild to moderate even though almost non-existent in some spots outside of the path and on sand dunes, which made it perfect to observe macro life along the outside of coral formations.
In a nutshell, we crossed paths with stingrays, one eagle ray, one big barracuda, a turtle, pufferfishes, short big eye fishes and tons of species of the most common coral fishes. The reef was vibrant, dense and full of life… there's nothing more I could've asked for! It was my first time diving on Cozumel and on the Mesoamerican Barrier Reef, but it definitely won't be the last!
Have you ever been diving on Cozumel ? We wanna read your stories in the comment section below!

Related Posts