If you have been to Mexico-Yucatán before, please share your experiences, ideas and feedback (Hotel, Excursions, General Feeling,…) in the comments section below, by doing so you will help fellow travellers to plan their next trip

Diving the east and west coast of Mexico is oceans apart. Literally, the east coast gives us diving in the Caribbean Sea or the Gulf of Mexico extensions of the Atlantic ocean. The west coast gives us the Pacific ocean and its extension the Gulf of California/Sea of Cortez. This page will be about diving the east coast, the Gulf of Mexico and the Caribbean. Look at our Mexico-Pacific review for the west coast.
The Yucatán Peninsula (Spanish: Península de Yucatán) is one of the most popular diving destinations in the world. The Yucatán Channel or Straits of Yucatán is a strait between Yucatán Peninsula Mexico and Cuba and it represents the separation of the Gulf of Mexico and the Caribbean Sea. North is the gulf, while south is the sea. The strait includes the far northern extension of the Mesoamerican Barrier Reef System which includes the Belize Barrier Reef, which is the second largest barrier reef in the world.
The Yucatán Peninsula contains such vacation havens as Cancún and what is called the Mayan Riviera. Scuba diving here and around the island of Cozumel is very popular with good reason. Yucatán diving also offers Cenotes, which are sinkholes created when the roofs of underground caverns collapse. Many of these underground caverns are connected by an underground river system. They fill with rain water which mixes with the river water. Some of the rivers open to the sea and are salt water themselves.
In this page you will find practical information to plan a scuba diving trip to Mexico-Yucatán:
Where to stay?
Simply, the only drawback to the area is that it does not have a major liveaboard presences. The liveaboards sailing from Mexico are on the west coast, around Baja California. So diving the Mayan Rivera and Cozumel is done from dive centers and resorts. Where you stay is more of a personal choice.
Cancun is well known for their large all inclusive resorts, while Cozumel is more laid back. As you move further south along the Mayan Rivera coast you get a wider selection of accommodations. If diving the cenotes or exploring the ruins is one of your priorities, then staying on the Yucatán Peninsula may be a better option.
Activities and excursions in Mexico-Yucatán
The Mayan Rivera is known for much more than having the greatest scuba diving in Mexico. It has a unique blend of recreational and cultural activities. It is great for those who would like to lay around and be waited on hand and foot as well as those looking for an adrenaline rush.
Mayan ruins: The Yucatán Peninsula was once the home of the ancient people the Mayans. While there are still people who can trace their lineage back to this wonderful race, much of the knowledge they had has been lost to modern times. The Classic Period, which began around A.D. 250, was the golden age of the Maya Empire. Classic Maya civilization grew to some 40 cities, including Tikal, Uaxactún, Copán, Bonampak, Dos Pilas, Calakmul, Palenque and Río Bec; each city held a population of between 5,000 and 50,000 people. At its peak, the Maya population may have reached 2,000,000. There are three sites that are now often visited by tourist. The Tulum Ruins sits on a small cliff overlooking a beach and the Caribbean Sea. Tulum was one of the last cities built and inhabited by the Maya; it was at its height between the 13th and 15th centuries and managed to survive about 70 years after the Spanish began occupying Mexico. It is believed to had been an important trading center with land and sea trade routes. Cobá may have been the most important city in the Mayan civilization from 200AD to about 800AD. Over 50 roads have been found leading away from the city, one that is ovr 60 miles/100 kilometers long. Chichen Itza Ruins are considered as the greatest of the remaining ruins.
Jungle Activities: Once you get away from the coast line you will find that much of the Yucatán Peninsula is still untamed jungle. This provides for a number of activities such as hiking, ATV or 4 wheel drive exploring and horseback riding. Nature hikes are popular.
Cenotes: A Cenote is a sinkhole filled with water. They not only attract scuba divers but also swimmers and snorkelers as well.
Nightlife: The area is known for a great selection of restaurants in a wide range of taste and prices. The nightlife is also well known.
Beaches: There are miles and miles of great beaches.
Best time to visit Mexico-Yucatán
The best time to visit the Mayan Rivera is very subjective.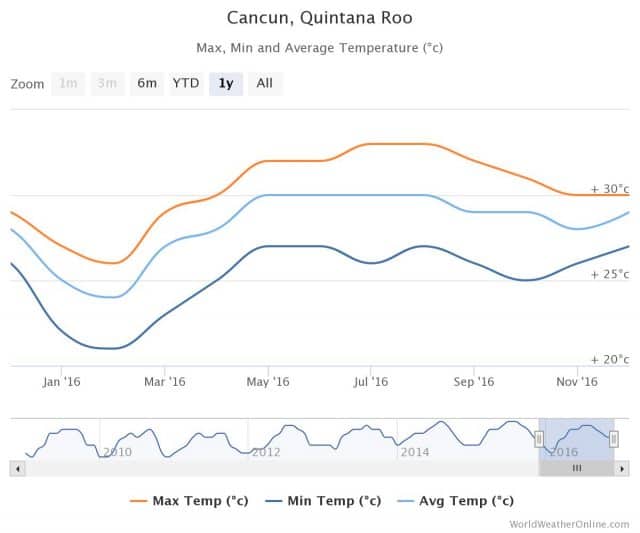 March is one of the most popular times to visit the area, however, much of that popularity is because it is college spring break. Families may want to avoid the wildness that unsupervised teenagers might enjoy.
December through February are the most popular months for general tourist. People taking a break from the harsh winters of Canada, parts of the US and northern Europe.
July is popular with families, as children are out of school.
September through November are the three least favorite months these are during the rainy season and it is also the Caribbean hurricane season.

May and June are often best for those looking for a value but do not want to risk the rainy season.
Health and Safety
Health care in the area is acceptable with a number of international standard hospitals. However, it is important that you verify with your health insurance provider that the policy covers hospital visits out of your country. Mexican hospitals will not release you until they have been paid in full or have a confirmation from your health insurance that they will pay the full amount. In serious cases, air medivac is an option.
You will find that most of the major hotels have stand by doctors. For less serious concerns just head to a drug store. Many drugs that require a prescription in other countries can be received over the counter or prescribed by the pharmacist.
If you are planning an upcoming dive trip or travelling to Mexico-Yucatán, it is a really good idea to invest in travel insurance for scuba diving, because you never know what could happen and when you might need it (because accidents do happen!). I recommend this diving insurance as they offer worldwide coverage and focus on providing scuba divers a quality insurance and medical assistance service.
Where is Mexico-Yucatán located in the world?
Yucatán Peninsula is on the east coast of Mexico and separates the Gulf of Mexico and the Caribbean Sea. It is the south eastern portion of Mexico. While the Yucatán Peninsula is generally considered Mexican, a portion of the peninsula extends into Belize and Guatemala.
How to get to Mexico-Yucatán?
There are four international airports in the Mexican portion of the Yucatán Peninsula, if you include the offshore island of Cozumel, and a few domestic and private airports. Cancún International Airport (CUN) and Cozumel International Airport (CZM) are the major entry points.
Cancún has flights from over two dozen US cities and a dozen from Canada. There are also a few direct flights from Europe that are seasonal.
Cozumel has a few international direct flights, however, many guest arrive in Cancún and transfer flights to the island.
Flights and transfers by way of Mexico City is also a popular choice. Because of the large number of flights and a selection of airlines, it is frequently possible to find outstanding airfare bargains to Cancún.
Chetumal International Airport (CTM) and the Campeche Ingenerio Alberto Acuna Ongay International Airport (CPE) are the other two international airports, however, they generally just have flights from other Caribbean destinations.
Do I need a visa for Mexico-Yucatán?
Nationals of 65 countries and jurisdictions holding normal passports do not require a visa to enter Mexico as tourists, visitors in transit or business visitors. Tourists and business visitors can stay in Mexico for up to 180 days. Visitors in transit can stay for up to 30 days. However, if you are traveling by way of the United states or Canada you most follow their visa requirements as well.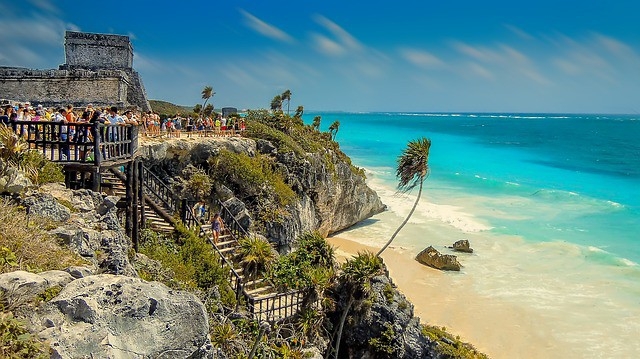 Getting Around
Getting around is fairly simple in the Mayan Rivera and Cozumel. Taxis and shuttles are available at the airports to take you to your hotels. For short distances around down, you can walk, rent a bike or take a pedicab. Rental cars and taxis are available if you are looking at longer distances.
Also, you will find a well developed bus system around and between the towns. At the Cancún International Airport you can get a shuttle bus that will take you to the central bus station where you can get a bus to different locations in the Yucatán Peninsula and further destinations in Mexico. Playa Del Carmen has ferry service to Cozumel.
Diving the Mesoamerican reef and the cenotes of the Yucatán Peninsula should be on every divers bucket list. A Caribbean coast Mexican vacation is a must do event.
Mexico-Yucatán Photos
Scuba diving
You will find all information about sea life, best time to visit, top dive spots, etc. in our review: Mexico-Yucatán Diving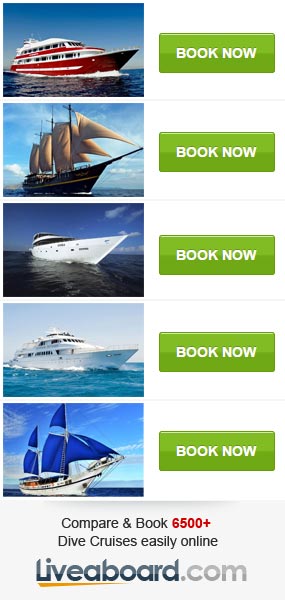 Diving Reviews for this region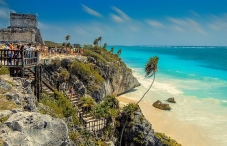 Mexico's Yucatán offers outstanding reef diving, wall dives, drift dives and the largest underwater art museum in the world.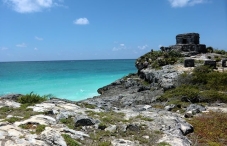 Mexico offers divers choices, Great liveaboards and large marine life encounters in the west, great reefs and cenotes in the east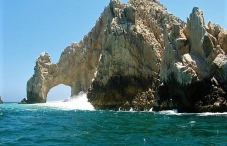 The Baja offers outstanding diving and is one of the best shark diving destinations for liveaboards.
Liveaboard Reviews in Mexico
Cruise ship Reviews in Mexico