If you have been to Anilao, Batangas before, please share your experiences, ideas and feedback (Hotel, Excursions, General Feeling,…) in the comments section below, by doing so you will help fellow travellers to plan their next trip

Anilao is a resort destination popular on the weekends as a relaxing getaway for people from Manila. Over the last decade it has also become a famous and popular diving destination in the Philippines, and for good reason. Anilao offers the best Macro Underwater Photography opportunities in the Philippines and is also one of the best places in the World to observe rare Critters and other strange small underwater creatures.
In this page you will find practical information to plan a scuba diving trip to Anilao, Batangas:
Anilao, Batangas Photos
Where to stay?
I usually use this website to book in advance my hotels in Anilao, Batangas as they usually have the lowest rates I find. I like it because it's free to cancel and change the dates.
Accommodation in Anilao is mostly high class diving resorts. It is not really a destination if you are looking for cheap, basic accommodation.
Photo credit: http://www.flickr.com/photos/jlgavino/4811878231/
Activities and excursions in Anilao, Batangas
Anilao is primarily a diving destination and a place to relax in the resorts on the weekends for people living in Manila. In Anilao, the beaches are rocky and it is not possible to swim there. For the non divers, there are other activities such as:
Try Windsurfing or Jet Skiing
Go on a day trip for Island Hopping
Go on a Snorkelling day tour or just in front of your resort
Enjoy a spa and a massage in your resort
Visit the Lake Taal
Hike on the superb Volcano
Best time to visit Anilao, Batangas
The dry Season runs from November to May
The rainy season is from June to September/October. In July, August and September there is also the risk of Typhoons.
The hottest month is May and the coldest is February resulting in water temperature being around 24°C.
Health and Safety
If you are planning an upcoming dive trip or travelling to Anilao, Batangas, it is a really good idea to invest in travel insurance for scuba diving, because you never know what could happen and when you might need it (because accidents do happen!). I recommend this diving insurance as they offer worldwide coverage and focus on providing scuba divers a quality insurance and medical assistance service.
Where is Anilao, Batangas located in the world?
Anilao is located in the Batangas Province on Luzon Island. It is only 140km from Manila, making this area a popular weekend destination for people living in there.
See the map below.
Anilao Map
How to get to Anilao, Batangas?
It takes about 3 hours to drive there from Manila depending on the traffic.
If you don't have a car, you can take the bus to Batangas from the Buendia Terminal. After stopping in Mabini, you can reach your resort by jeepney in 20min.
If you arrive from abroad you can ask your dive resort to come pick you up at Manila Airport.
If you are already in Puerto Galera, you can also reach Anilao by speed boat in 60min.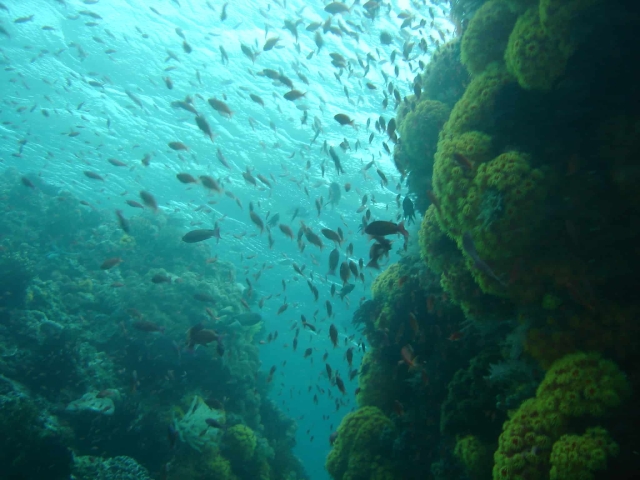 Getting Around
For short trips, it best is to go by Tricycles. If you want to visit the surrounding Batangas area, the best way is to rent a car with a driver for a day trip. Otherwise you can use the jeepneys that follow a fixed route.
Scuba diving
You will find all information about sea life, best time to visit, top dive spots, etc. in our review: Anilao, Batangas Diving

Diving Reviews for this region
The best place in the Philippines for Macro Underwater Photography! A must dive for muck diving and macro photographers. Thriving biodiversity and superb coral.
Liveaboard Reviews in Anilao, Batangas
Diving resorts in this area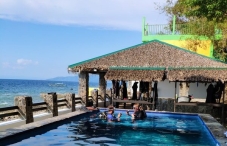 The Blue Ribbon dive resort was original
Cruise ship Reviews in Anilao, Batangas