Cost
Expensive, and Luxury!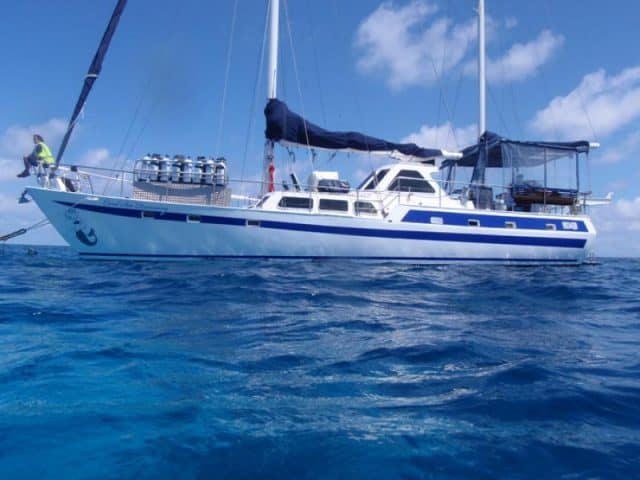 Coral Sea Dreaming dive boat review
The 16 meters Coral Sea Dreaming liveaboard sails to the Great Barrier Reef, Australia. The steel yacht was purposely built to discover the treasures of the Coral Sea regardless of the weather.
.
Boat Cabins & Layout
The Coral Sea Dreaming liveaboard welcomes up to 12 guests on-board plus the 3 crew members. Accommodations are offered in a bunk layout with a choice of private, single or shared cabin. First, there are 3 private cabins, and each features a double bed. Secondly, there is 1 quadruple occupancy cabin with bunk beds. Lastly,  single travelers have the option of 2 single cabins.
The dive boat kindly specifies that the cabins do not allow much space to store big luggage, so they store it in the office in Cairns. Also, the toilets and separate showers are shared among all scuba divers.
Visit this page to compare liveaboard & prices for Australia!
.
Coral Sea Dreaming's On-Board facilities
The main social area of the Coral Sea Dreaming is located at the back. Indeed, that's a lounge and dining room combined which offers a comfortable space to eat meals and relax. Also, as mentioned above, the dive boat wants guests to have enjoyable space on-board and that's why they kindly ask you to bring only an overnight bag on the ship. Your luggage or backpack safely remains in their office in Cairns.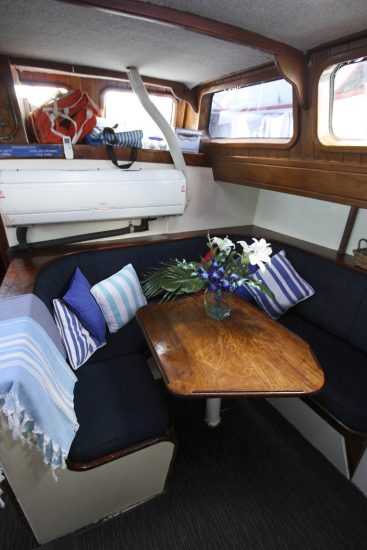 .
Furthermore, the bow area is a great open air space where you can soak in the sun, enjoy the hammock and relax. Indeed, that's also the picture perfect spot to capture the beautiful views of Australia, the land down under!
.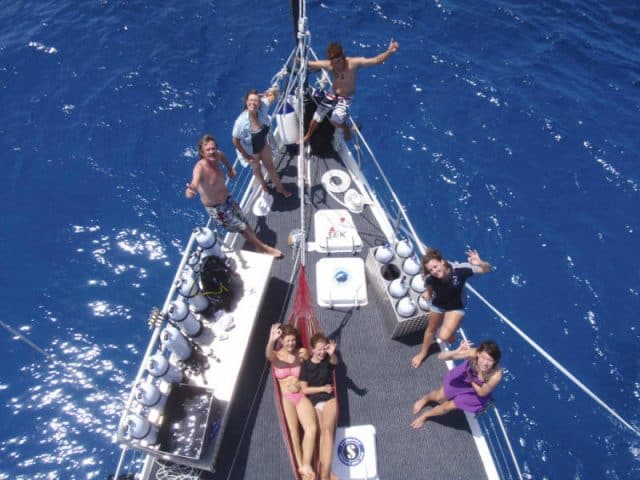 .
Vessel Layout
The sturdy, yet small vessel features all the latest navigation and safety technologies. The Coral Sea Dreaming can hardly compare to any Australian liveaboard as it's small and promises uncrowded diving. Indeed, most counterparts are big ships such as the Spoilsports and ScubaPro.
.
Scuba Diving with the Coral Sea Dreaming
The scuba diving operation is the top priority on the Coral Sea Dreaming boat. Indeed, included in the cruise is a full set of Aqualung and ScubaPro equipment for each certified diver. The dive deck area is spacious, displaying plenty of space for everyone to work around comfortably. Finally, there's a tender boat which is always ready at every location. Indeed, even when not needed, the boat is out and available in case of emergency.
---
 Please visit the vessel's webpage to view prices and schedules. 
Where does this liveaboard dive boat go?
Check out the fabulous places where this dive boat travels to.
Note: some destinations may not be listed below, please enquire for more details.

Other Liveaboard Reviews in Australia & Great Barrier Reef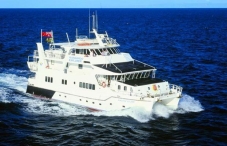 MV Kangaroo Explorer was originally buil
Dive spots reviews in Australia & Great Barrier Reef