Cost
Expensive, and Luxury!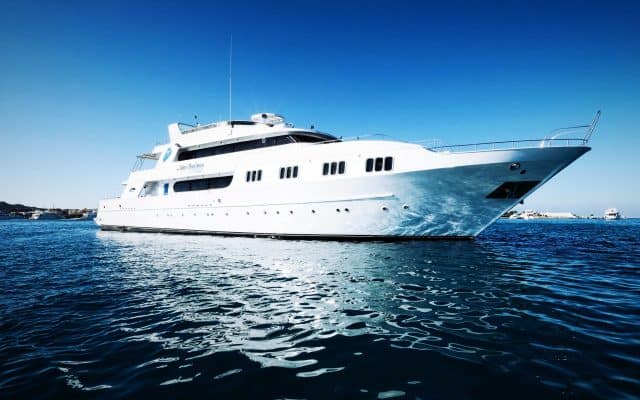 MY Blue Horizon dive boat review
The MY Blue Horizon is a luxury liveaboard cruising on the Egyptian Red Sea. As the flagship of it's world renowned fleet, Blue O Two, the Blue Horizon sets the standards high for every new boat to follow. It was built in 2006 and refitted while in it's 2016 dry dock season.
Boat Cabins & Layout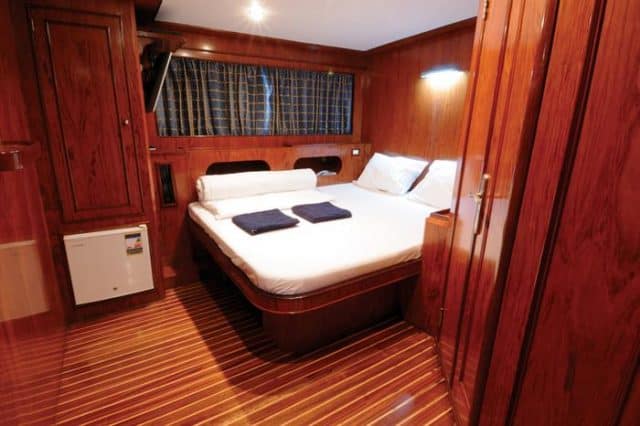 The Blue Horizon has flexible options in term of accommodation. Indeed, with 4 King Suites and 9 Deluxe twin which can also be double-occupancy, there's plenty of room for up to 26 divers.
The King Suites, as shown above, are bigger in size so they boasts more storage space and more living space, a nice added touch of luxury. The Deluxe cabins are either two twin beds or 1 double-bed plus one single bed so it would be perfect for either buddy or couple share. Every cabin comes with ensuite bathroom facilities, air-conditioning, mini-fridge and personal entertainment system.
You can check the latest schedule & prices for this liveaboard here.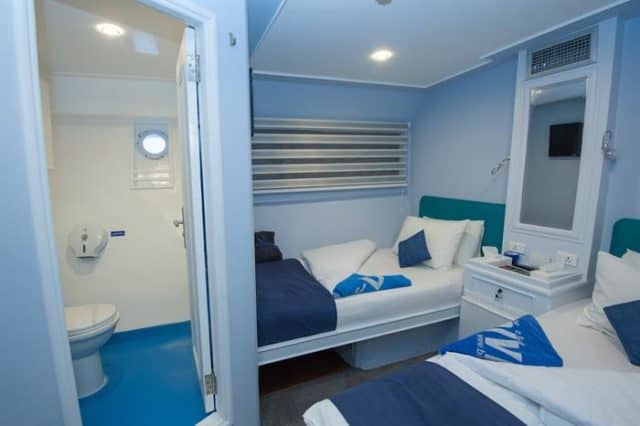 Blue Horizon On-board Facilities
The MY Blue Horizon was made nearly perfect in order to set the standards high for the next Blue O Two liveaboards. Indeed, the boat is surprising in term of communal areas and living space. All in neutral and blue tones, there is cushioned seating available on every corner of the vessel! First, the dining room and adjacent salon area are both lavish, all in space and comfort.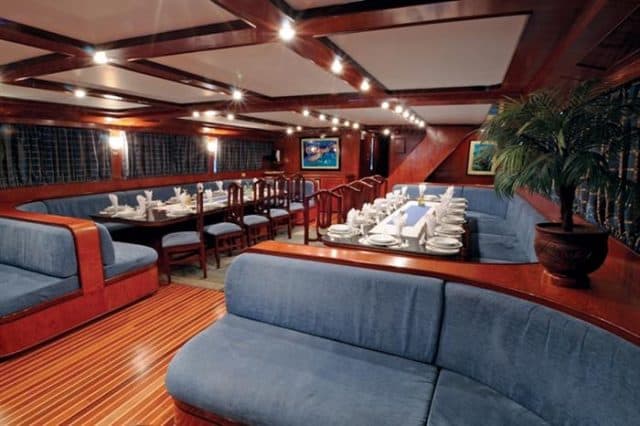 Furthermore, most social  areas are equipped with a media streaming system, including movies and TV series. Also, there is plenty of outdoor lounging space. The sky deck lounge is all in white, offering plenty of comfortable seating space. There's also a shaded deck area as well as a proper sun deck, again with plenty of loungers space!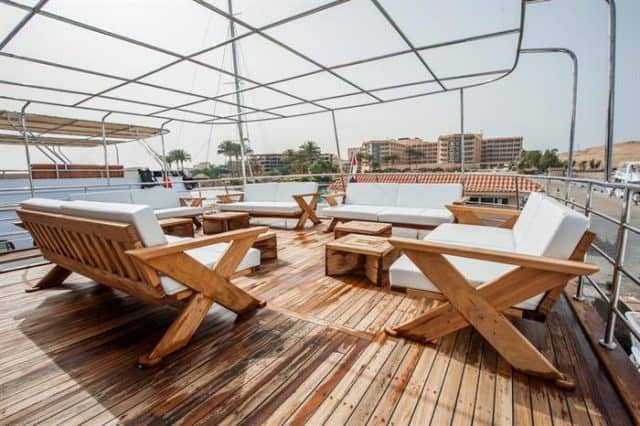 Here comes the sundeck, all in style and comfort with cozy days beds. Perfect to read, sip on a cocktail if your done diving for the day or simply work on that northerner's tan line! Moreover, just below sundeck, there is a hot tub located at the bow. Can't you imagine… admiring a sunset while relaxing in a jacuzzi on the Red Sea?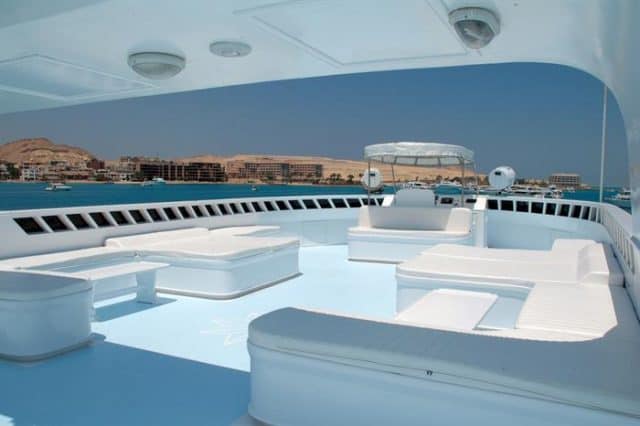 Vessel Layout
With a length of 41 meters and a beam of nearly 9 meters, the Blue Horizon stands out a bit! Indeed, it's bigger and has about the same number of guest than it's sister ships, Blue Melody and Blue Fin.
You will notice the Blue Horizon among the top Best Red Sea Liveaboard – Reviews from 2016. The DIVER Magazine awarded the Blue Horizon in 2015 as being the 'Liveaboard of the Year'.
Diving with the Blue Horizon
The spacious dive deck along will the convenient dive platform won't miss to please even the most discerning diver. Indeed, the dive deck features plenty of storage space,  including personal lockers. The dive boat is very well organized and equipped with the best basics such as a camera charging station, fresh water rinse tanks, nitro and air filling stations, etc.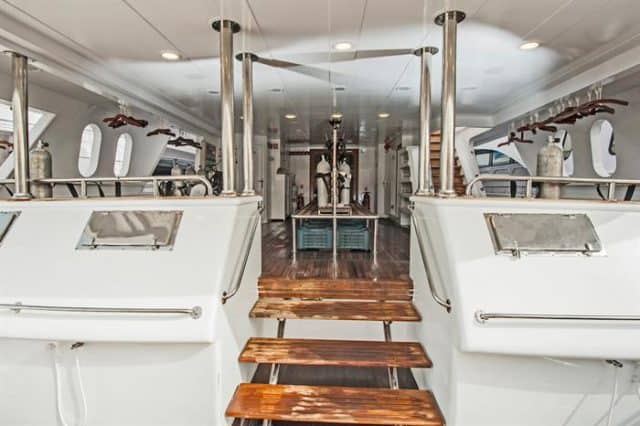 The scuba diving operation is happening either from the sizable platform or from  one of the 2 dive tenders. Ultimately, you can always expect the best service from the professional crew members from Blue O Two. All set for an unforgettable diving holiday!
---
Price starts at 850$US for 8 days / 7 nights – Northern Wrecks and Reefs
1040$US for 8 days / 7 nights – Project Sharks & Best of Brothers
*** Price may vary depending on time of the year ***
Where does this liveaboard dive boat go?
Check out the fabulous places where this dive boat travels to.
Note: some destinations may not be listed below, please enquire for more details.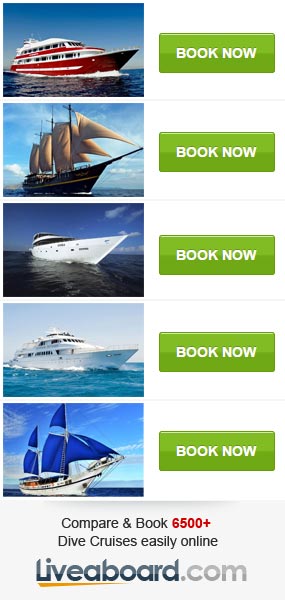 Other Liveaboard Reviews in Egypt & Hurghada & Red Sea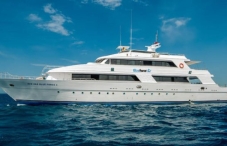 The 40 meters Blue Force 3 is a luxury l
Dive spots reviews in Egypt & Hurghada & Red Sea