Sea life
Amazing fishes & life!
Visiblity
Am I dreaming?! 30m+!
Level Advanced Divers
Dive depth Normal diving depth, 10-25m
Abu Nuhas dive site offers some of the best Wreck Diving in the Red Sea. It is an offshore reef in the Northern Red Sea where at least 7 wrecks have sunk! Four of the Wrecks are suitable for recreational scuba diving. The great news is that because the wrecks are quite shallow, it is even possible for inexperienced divers to dive here. Abu Nuhas is also home to an array of great Marine Life and beautiful hard and soft coral.
The 4 wrecks are
Carnatic
The Carnatic is the oldest Wreck of Abu Nuhas. It is a former 90m long British Cargo steam ship sunk in 1869. It is also called the «Wine Wreck» as it was carrying wine (as well as gold)! 2 months after the sinking, the British sent another ship to recover the Gold (so no luck there for those divers thinking they could find the jackpot!). It is still in very good shape and offers fantastic picture opportunities and easy penetration into the holds. The Marine Life is great and soft Coral covers the entire wooden hull.
The Carnatic now lies in 22m of water and is suitable for all divers.
Chrisoula K
The Chrisoula K dive site is also known as the « Tile Wreck » because, you guessed it, this ship was transporting tiles from Italia. It is a former 98m long Greek cargo vessel. The Chrisoula K sunk in 1981 fortunately with no losses of life after hitting the Abu Nuhas Reef. The Chrisoula K is broken into two parts. The stern lies 28m deep in a sandy area and the bow is in shallow waters at around 4m deep. Penetration inside the engine room is possible however it is not easy and you need to be an experienced wreck diver to go there! There are also many easy swim-throughs suitable for all divers.
Giannis D
The Giannis D sunk in April 1983, which is a former 100m long Japanese freighter. It now lies 24m deep for the deeper part but the mast is only 4m deep and makes a great spot for your safety stop. This former cargo was transporting soft wood and that's why the Giannis D is also called the «Wood Wreck». The Giannis D is broken into 3 parts: the bow and the stern are in good shape but the middle is in bad condition. Penetration is possible at the stern and you can reach a pocket of trapped air as well as the engine room.

Giannis D is originally called Shovo Maru and was built in Japan in the 1960s. She was later renamed Markos in the 1970s and was eventually named Giannis D in the 1980s by the Greek company that bought her. Today, the shipwreck is one of the most famous wreck diving sites in Abu Nuhas.
More often than not, wreck diving is not suitable for new divers. However, Giannis D is one of the few wrecks that even an inexperienced diver can explore. Its engine room is very accessible, making exploration of the wreck easy and enjoyable.
Kimon M
The Kimon M sunk in December 1978 after hitting the Sha'ab Abu Nuhâs Reef due to a quick response from another passing cargo ship. This former 120m long cargo vessel was carrying Lentils and is therefore also called the «Lentil Wreck». The Kimon M lies now in 32m of water at the stern.
Another Wreck called the «Sea Star» lies at 89m deep and was also carrying lentils. However this wreck is far too deep for any recreational scuba diving.
Conditions
The Sea conditions can be quite rough around Abu Nuhas with some very strong currents and a choppy surface. However, the visibility is generally very good all year round.
Access
You can dive the Sha'ab Abu Nuhas wrecks from El Gouna (the closest gateway), from Hurghada on a day trip (It takes about 2h30min) and from Sharm El Sheikh (but it is a very long trip of 3h30 min). Many Liveaboards explore the Northern Red Sea and dive around Abu Nuhas Wrecks as well as the famous SS Thistlegorm Wreck!
I usually use this website to book in advance my Liveaboards in the Red Sea as they usually have the lowest rates I find. I like it because they have an easy booking system.
This location is a Reef. Most people are here for
Wreck Diving
.
You can dive Abu Nuhas all year long. Access: from the Shore. See the map of Abu Nuhas on the right for the exact location.
Fishes you may spot while diving Abu Nuhas
Batfish

Bumphead Parrotfish

Dolphin

Gobie

Lion Fish

Moray Eel

Napoleon Wrasse

Nudibranch

Octopus

Pipefish

Triggerfish
... and more fishes & sea life, Flatworm, Glassfish, Scoprion Fish

Photos
previous
Huge Hammerhead Shark patrolling the reef in French Polynesia

Beautiful & Colorful Mandarin Fish

Yellow Seahorse in Lembeh Strait

Photo by Agnes Tjandranegara

Blue Nudibranch in Lembeh Strait

Clown fishes waiting in front of their blue anemone house

Blacktip Shark patrolling the crystal clear water... EPIC photo!

Dolphin and scuba diver side by side...

Lion Fish swimming in crystal clear water

Photo by Agnes Tjandranegara
next
Diving Reviews for this region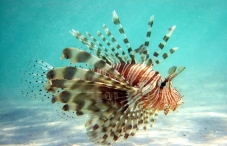 Lots of good wrecks to dive and good place for Underwater Photography. Starting Point for Liveaboards to the South Red Sea. Very Good Visibility and good place to learn scuba diving.
Liveaboard Reviews in Hurghada
Dive spots reviews in Hurghada
The Brother Islands are a world famous scuba diving destination. It offers some of the best diving in Egypt and in Red S...
The Rosalie Moller Wreck is a great deep dive for experienced divers only. You can either dive on a regular single tank ...
Diving centers in Hurghada