Cost
Simply the best of everything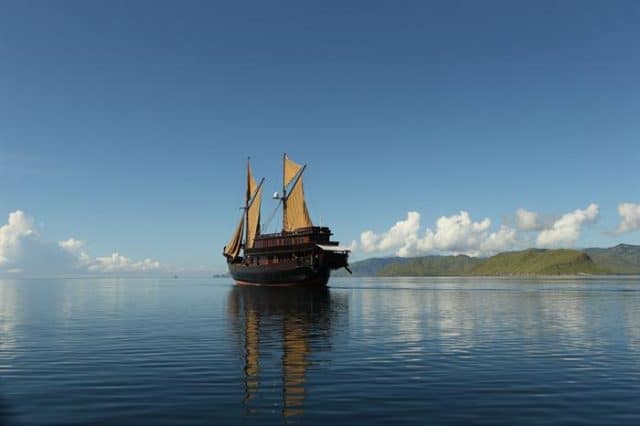 Alila Purnama dive boat review
The Alila Purnama liveaboard is simply the best of the bests, in Indonesia but also everywhere else. Indeed, this 46 meters traditional wooden Phinisi is a 6 stars floating hotel. Yes you read correctly, 5 stars would not make it justice. Forget about the unpleasant seafari stories you've heard and expect to splurge it all on this stunning luxury liveaboard.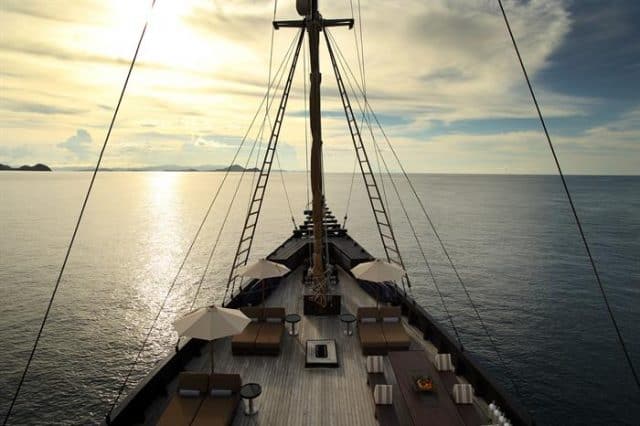 Boat Cabins & Layout
The Alila Purnama welcomes a maximum of 10 guests in 5 luxurious suites. Every cabin includes a spacious en-suite bathroom with separate toilet, individually controlled air-conditioning and a comfortable hotel-like queen bed. Moreover, there are double closets and a writing desk in every room. The Alila Purnama's cabins were conceived to match Alila's resorts standards and offer an unparalleled experience at large.
You can check the latest schedule & prices for his liveaboard here.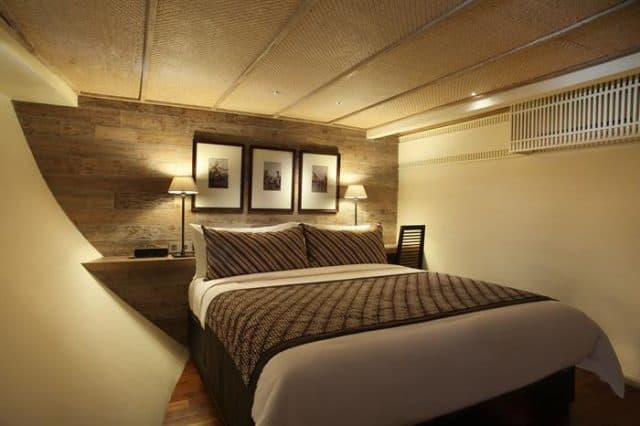 The stunning Sriwijaya Master Suite is the ultimate experience. Indeed, this suite is even more spacious than the others. Most noteworthy is that the suite has a private balcony and private sundeck with loungers. Perfect for honeymooners!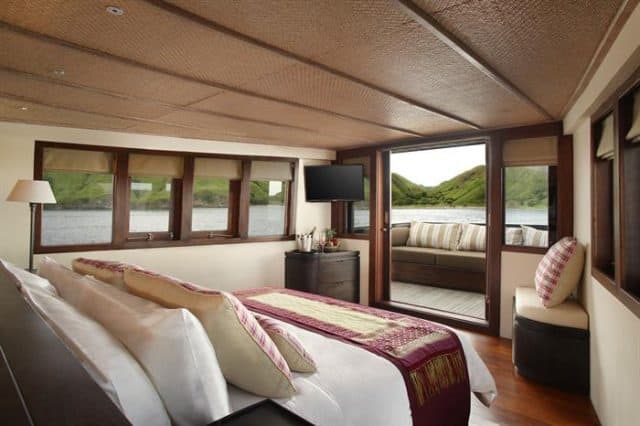 Furthermore, the numerous communal areas of this dive boat will please the most discerning guest. The incredible space, given the size of the boat and the small amount of divers on-board, brings a great sense of freedom and privacy. There is a spacious indoor lounge with a dining area, all complimented by wall to wall windows. Moreover, there is plenty of cushioned seating available outside as well as an outdoor dining area.
Of course, the Alila Purnama has an extensive bar service available. All the non-alcoholic beverages are included while the large selection of wine & spirits is offered at an extra cost.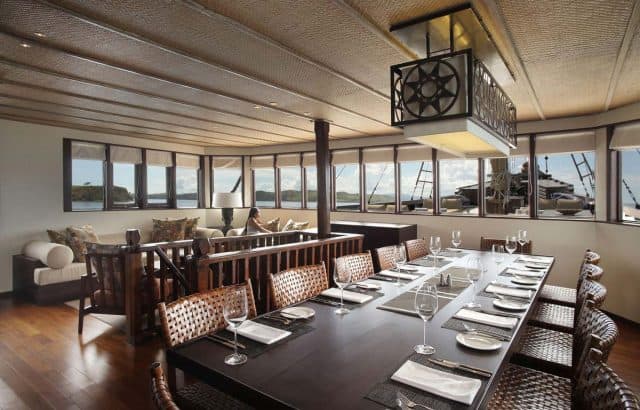 Alila Purnama On-Board Facilities
If you still think there's space for boredom on-board the Alila Purnama, you will most likely be satisfied with a complete library. Indeed, this diving cruise boast a cozy salon where you can watch TV, find books or listen to music. Of course, you can also look at your best photos of the day on the television!
If you require additional relaxation, spa treatments are available during the dive cruise. Indeed, there will always be professional spa therapists on-board, to help your muscles relax after an extensive diving day!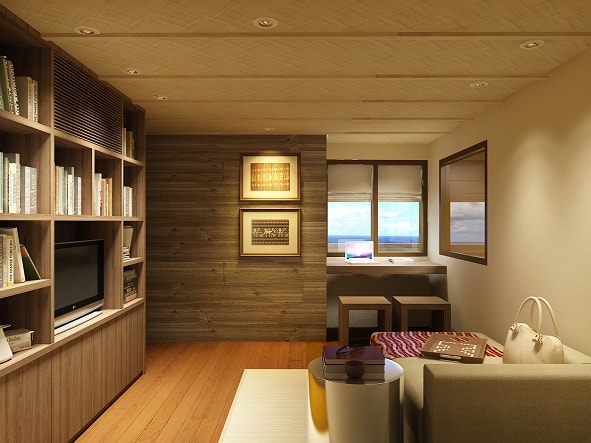 Needless to say that the Alila Purnama is not quite comparable to anything else in term of quality and prices. If you wish to compare it with other dive boats, look at our list of the Best Indonesian Liveaboard of 2016.
The Alila Purnama was built with divers comfort in mind but the Scuba Diving part of the operation was never neglected. See below for diving related information.
Want to peek at how it's like to be part of a luxury diving cruise on the Alila Purnama? Watch the video!
Diving with the Alila Purnama
This liveaboard has it's own, fully licensed, dive center on-board the vessel. Most noteworthy is the fact that the divers can hire the diving equipment from the Alila's dive center at no charge. Also, the Alila Purnama includes and takes care of all the national park fee and permits for 10 guests. Plus, a professional diving crew is supervising the dives. Dives are stated as "unlimited" by the Alila Purnama's website. Sounds great, doesn't it?
The itineraries available include  Komodo, Ambon or Raja Ampat. Shore excursions, snorkeling and island hopping are also possible during the cruise.
---
Price starts at 7250$US for 7 days / 6 nights – Raja Ampat Expedition 
Where does this liveaboard dive boat go?
Check out the fabulous places where this dive boat travels to.
Note: some destinations may not be listed below, please enquire for more details.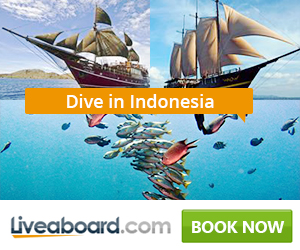 Other Liveaboard Reviews in Indonesia & Komodo Island & Raja Ampat
Dive spots reviews in Indonesia & Komodo Island & Raja Ampat