Cost
Simply the best of everything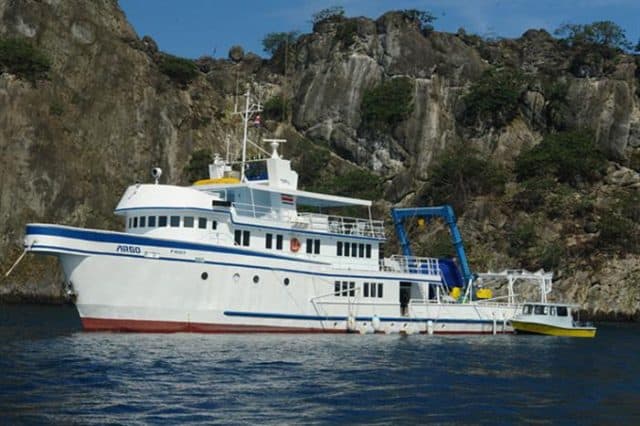 MV Argo dive boat review
With world-class facilities, world-class vessels and world-class diving, the Undersea Hunter Fleet are one of the key dive safari operators visiting the amazing Cocos Islands. MV Argo is the newest vessel on their stunning fleet and the sister vessel to MV Sea Hunter and MV Undersea Hunter.
The Cocos Islands, off the coast of Costa Rica, were designated as a protected marine park back in 1978. Today, still equally impressive, they remain home to some of the most impressive pelagic life on the planet. There is a great diversity of marine and still the chance to see large groups of sharks and rays in their natural habitat. Some experts also speculate that during the correct season whales utilise the Cocos Islands to take shelter from the open ocean, congregate and give birth. With in excess of 25 endemic fish species, including such special species as the red-lipped batfish, the Cocos Islands are a wonderful playground for experienced divers.
MV Argo is the newest addition to the fleet. She was built in 2008 to be a hybrid of luxury liveaboard and working ship. The owners, Underseahunter Group, consider her to be the culmination and amalgamation of all their knowledge and experience running vessels in these waters over the past years. Argo is 129ft/39m long, 26ft/8m in beam and – with her strong steel-hulled construction – weighs in with a displacement of 205 tons. She's sturdy, safe and ready for action! And, with a powerful 850hp CAT motor she's capable of powering to and from these famous islands at a cruising speed of 10 knots.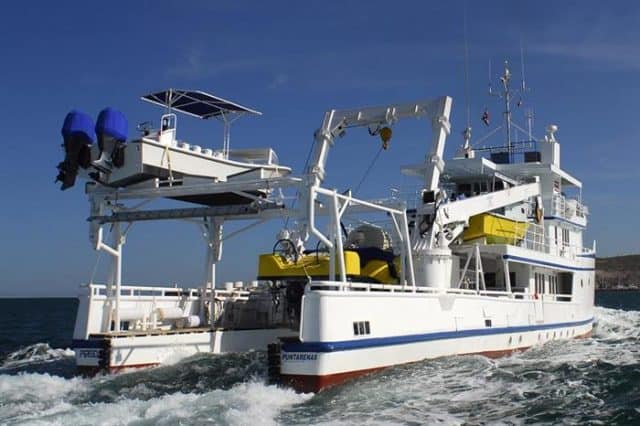 As you would expect with this class of vessel, there's the full range of safety, navigation and emergency equipment. Argo is equipped with depth sounder, radar, GPS and radio (VHF/DSC/SSB), life rafts, fired detection and fire-fighting equipment, first-aid supplies and a crew trained in dealing with emergency situations. In addition, Argo has a crane on the aft deck and a Deep See Submersible for which is able to take 3 passenger and explore the oceans. This allows even non-divers to witness first hand some of the amazing aquatic life.
You can check the availability and prices for this Boat here.
Cabins and Boat Layout
Argo is able to cater to a maximum 18 guests over 9 cabins known as 'Staterooms'. Each stateroom is interchangeable to either a twin or double occupancy, is air-conditioned and has ensuite facilities including shower and toilet. There are also TVs in the cabins should you wish to view media. Clean and comfortable, you're sure to wake refreshed and ready for the day's scuba action!
Food is served in a buffet style and is a mixture of tasty local and traditional western dishes. Vegetarian options are available if specified. Snacks are available throughout the day ensuring you spend you voyage with your appetite satiated.
The vessel features a comfortable salon/lounge area and an spaciously proportioned sun-deck for relaxing between dive
Argo has a comfortable lounge area with soft chairs where you can chat, relax or even have a little nap on your surface interval! There's TV/DVD, games and a refrigerator stocked with drinks to make your time here as hospitable as possible.
The dining room serves up a nourishing combination of western and Costa Rican meals. On offer are fresh tropical fruits, salads, along with stunning meals – both vegetarian and non-vegetarian. All meals are prepared in a variety of styles by one of the chefs onboard who work wonders within the confines of the galley.
Up on the top deck is the bridge and a spacious sun-deck. Admire the vista or have a cold drink soaking up the night sky. The choice is yours.
Diving onboard Argo
The facilities onboard Argo are truly amazing. A toy box for grown-ups!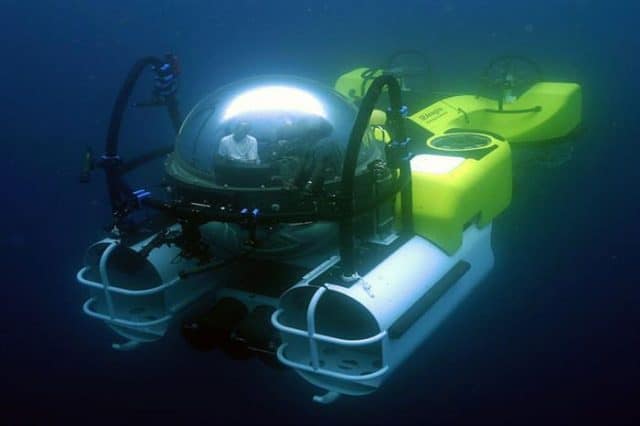 Beginning with the diving facilties, Argo has a large, spacious dive deck. She is, naturally, scuba and nitrox friendly. In addition, for the more technically minded, she offers CCR support.
There are 3 support dinghy/skiffs. Powered by twin 115hp motors, each 8m in length and equipped with VHF Radio, navigation and safety equipment. for diver transportation to and from the dive site, taking lucky guests to and from the shore or tracking the submersible.
Yes, Argo has it's own submersible – 'Deep See Submersible'. ABS approved and certified with a Schilling Orion robotic arm; it's capable of taking 3 persons in this 1500ft/500m rated submersible.
And, to record all of these amazing experiences, there are camera stations and lots of charging points to ensure you don't miss a thing.
Itineraries
The itineraries take you to the far away Cocos Islands. The islands are a considerable distance offshore and a 32-36 hour transfer once aboard is typical. The facilities are world class and, combined with the offshore travel time, not inexpensive.
---
Price starts at 5,845$US for 11 days / 10 nights – Cocos Islands
Where does this liveaboard dive boat go?
Check out the fabulous places where this dive boat travels to.
Note: some destinations may not be listed below, please enquire for more details.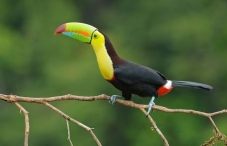 Costa Rica offers experienced divers some of the best diving in the world.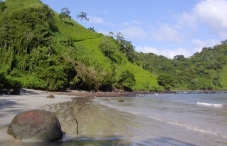 "The most beautiful island in the world." and The world's most remote diving destination with regular liveaboard service.
Other Liveaboard Reviews in Cocos & Costa Rica
Dive spots reviews in Cocos & Costa Rica
No dive sites reviews found