Cost
Simply the best of everything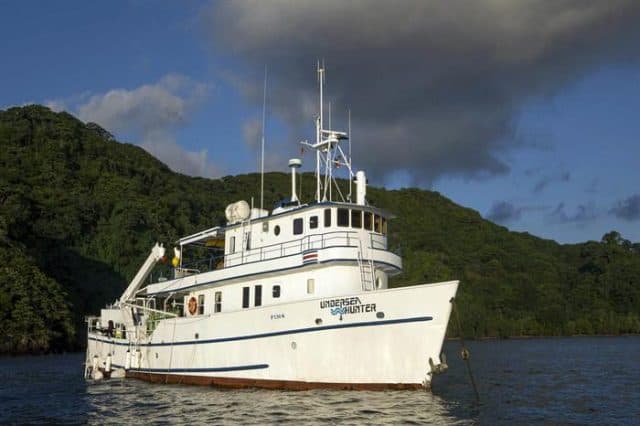 MV Undersea Hunter dive boat review
Undersea Hunter Fleet are one of the premier dives safari operators visiting the amazing Cocos Islands. MV Undersea Hunter is the eponymous mother vessel fo the fleet and the sister vessel of MV Sea Hunter and MV Argo.
Sometimes known as the 'Golden Triangle', the Cocos Islands are 550km off the coast of central America's Costa Rica. Largely unaffected by human interaction for millions of years, the Cocos are an impressive uprising of volcanic rocks and plateaus. Cocos were declared a marine park in 1978. And, today, remain home to some of the most impressive pelagic life on the planet. This is one of the last places on earth where you can still see large groups of sharks and rays in their natural environment. In the right season whales uitlise the Cocos Islands to shelter, congregate and give birth. Cocos also features in excess of 25 endemic fish species, including such special species as the red-lipped batfish. Cocos Islands are a diver's dream.
MV Undersea Hunter is 90ft long making her the smallest of the fleet. The company's 'special projects' vessel, she was originally built in 1968 and put into service for Perry Oceanography in the Caribbean. When acquired, Undersea Hunter spent 5 months being adapted from bow to stern to be an impressive liveaboard option with the modern conveniences expected by today's diver. She has twin Caterpillar motors and is capable of cruising safely at 9 knots. And, with with hull stabilisers, she is perfectly evolved for the task in hand. She has the full gamut of safety equipment in accordance with International Maritime Bureau (IMB) requirements.
You can check the availability and prices for this Boat here.
Cabins and Boat Layout
Undersea Hunter has 8 cabins to accommodate her 16 guests. She has an intimacy and charm not found on some of the larger vessels.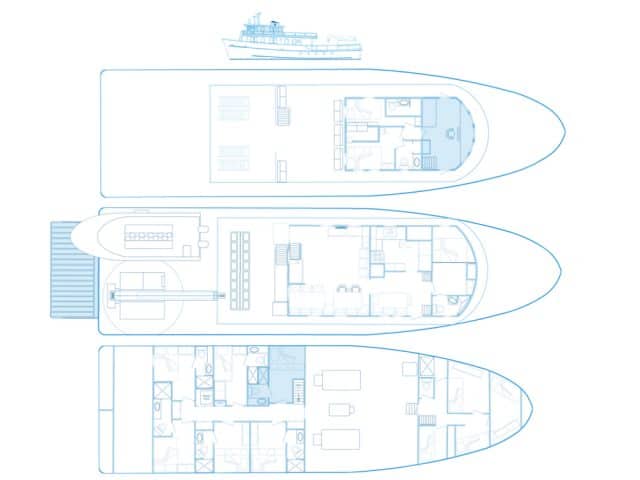 Each cabin is amenable to either a double or twin-single layout, depending on your circumstance. All have ensuite head (toilet) and shower facilities and individual air-conditioning. You're sure to have a comfortable stay.
The boat features a comfortable lounge area with soft chairs where you can chat, relax or even have a little nap on your surface interval! There's TV/DVD, games and a refrigerator stocked with drinks to make your time here as hospitable as possible.
The dining room serves up a nourishing combination of western and Costa Rican meals. On offer are fresh tropical fruits, salads, fish, chicken, beef, and much more, all prepared in a variety of ways by one of the chefs onboard who work wonders within the confines of the galley.
Up on the top deck is the bridge and a spacious sun-deck. Admire the vista or have a cold drink soaking up the night sky. The choice is yours.
Diving onboard Undersea Hunter
For the demanding Cocos Islands diver the facilities are superb. The dive deck is a spacious 38x24ft in area, offering ample space for equipment.
The vessel has been used as a support vessel for the Film Industry and even has a 15 tonne crane on the dive deck!
There are individual stations for dive equipment and plenty of places to service photography equipment onboard. You'll even find an allocated private camera locker.
Nitrox is available onboard and, should you be a CCR diver, support is available.
The trip requires certification to the trip depth ceiling of 40m. Use of Nitrox is highly recommended. Should you wish to train to use Nitrox, training onboard is available. Dive computers are neccessary.
Itineraries
The itineraries generally take the vessel to Cocos Islands. The islands are a considerable distance offshore and a 32-36 hour transfer once aboard is typical.
Voyages are typically 11 days/10 nights. Expect to pay around EUR5,100 for this length trip. This equates to EUR463/day making Undersea Hunter not inexpensive. However the diving and facilties are world class. Please note that this does not include some extras such as port/marine park fees and equipment rental. Please contact us for further details.
Where does this liveaboard dive boat go?
Check out the fabulous places where this dive boat travels to.
Note: some destinations may not be listed below, please enquire for more details.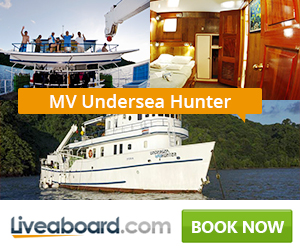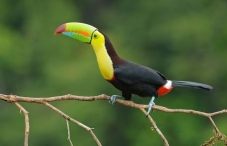 Costa Rica offers experienced divers some of the best diving in the world.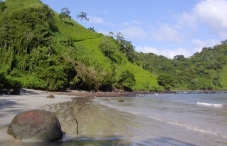 "The most beautiful island in the world." and The world's most remote diving destination with regular liveaboard service.
Other Liveaboard Reviews in Costa Rica
Dive spots reviews in Costa Rica
No dive sites reviews found