Cost
Expensive, and Luxury!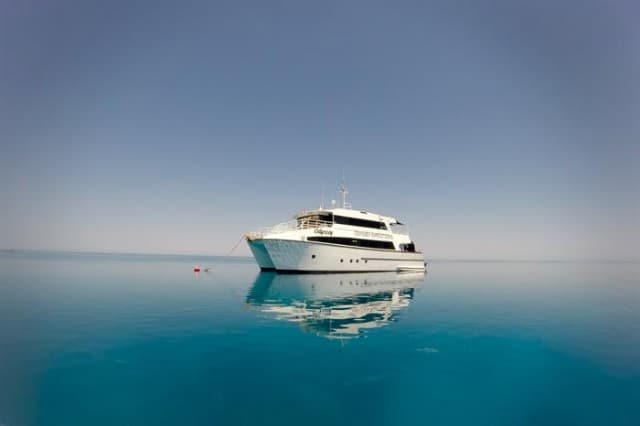 MV Odyssey dive boat review
MV Odyssey is the titular flagship of Odyssey Expeditions. Odyssey Expeditions, based in Kimberley, Western Australia, have been offering a personal service and memorable diving to lucky customers experiencing the stunning waters and landscapes of Rowley Shoals, WA, since 1998.
Rowley Shoals, located approximately 300km from the coastline, offers some of the best diving in Western Australia. Perhaps less famous than it's Great Barrier Reef cousin, Rowley Shoals offer pristine reefs that offer home to thousands of tropical fish; many species simply not found on reefs closer to the mainland. Canyons, drifts and secluded lagoons and bays. Turtles, sharks and over 200 species of coral. There is something for every diver and, with only 200 divers a year witnessing these reefs, it's an exclusive chance to see these pristine marine ecosystems.
MV Odyssey is a purpose built diving catamaran. Built in 2006 and renovated again in 2015, she is capable of powering through the waves effortlessly at a cruising speed of 10 knots. Her 24m long catamaran hull layout provides her with ample stability.
You can check the availability and prices for this Boat here.
Cabins and Boat Layout
To ensure your comfort and safety, Odyssey is limited to just 20 guests onboard per trip.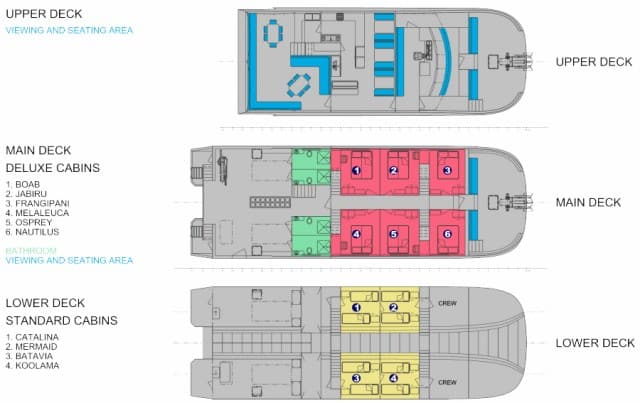 There are two air-conditioned cabin options available:
The 'Classic Twin' cabin, approximately 10m2 in area, is home to two single beds. There are porthole windows to the ocean outside, storage areas, refrigerator, hair dryer and power outlets.
The 'Deluxe Double' cabin may be configured to either twin or double layout depending on your circumstances. Approximately 16m2 in area the Deluxe offers more space, a Queen-sized bed, desk, vanity basin and large windows to the ocean outside.
Outside the cabins on the main deck you'll find 4 spacious toilet and shower facilities.
On the upper deck there is a spacious dining area inside, easily roomy enough for all guests to sit in comfort and enjoy the freshly prepared food. This area is also perfect for presentations and dive briefings. Odyssey is also equipped with the latest flat-screen TV/DVD facilities, a comprehensive library and board games.
Should you prefer, outside on the upper deck is an shaded outdoor seating area where you can eat in the sun or simply relax in between dives.
All meals and soft drinks onboard are complimentary with the itinerary and, for an additional cost, alcoholic beverages are available should you wish for a cold beer after a day's diving!
Diving onboard Odyssey
Odyssey has a roomy dive deck and the compressor quietly and speedily fills tanks between dives. The vessel is also accompanied by 'Homer' – their 12m long expedition vessel which is able to take you to the best snorkeling and diving locations.
The vessel is, of course, fully compliant with safety regulations and has a full compliment of first aid and safety equipment on board.
Itineraries
Odyssey diving tours to Rowley Shoals are typically 8 Days/7 nights.
Expect to pay around EUR2,286 for the 8 day trip. This equates to EUR285/day making Odyssey more expensive than Great Barrier Reed options but market competitive for WA. However, please note that this does not include some extras such as alcoholic drinks and equipment rental. Please contact us for further details.
Where does this liveaboard dive boat go?
Check out the fabulous places where this dive boat travels to.
Note: some destinations may not be listed below, please enquire for more details.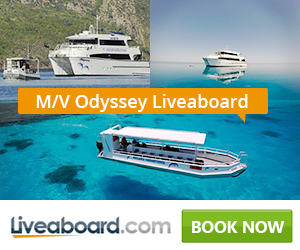 Other Liveaboard Reviews in Australia & Western Australia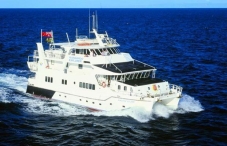 MV Kangaroo Explorer was originally buil
Dive spots reviews in Australia & Western Australia