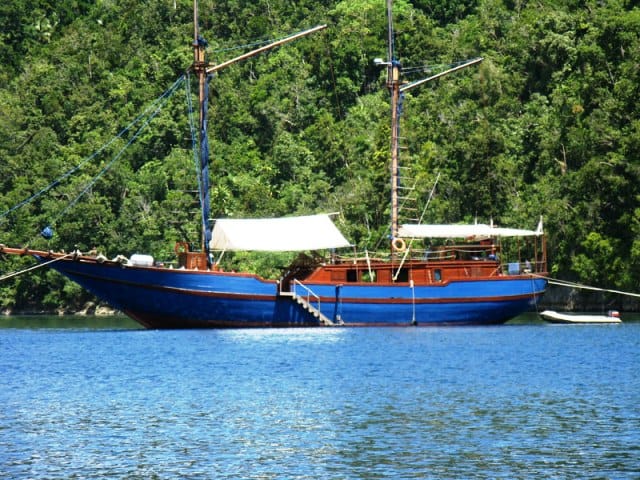 SMY Shakti dive boat review
The SMY Shakti is a British owned 106 feet long traditional Phinisi, which can accommodate up to 12 guests onboard.
The vessel offers one the lowest prices of
liveaboard tours to Raja Ampat
. The SMY Shakti is the only liveaboard vessel based out of Sorong. Aside from offering very affordable trips, what makes this liveaboard stand out is the fact that it operates throughout the entire year.
Shakti serves both Indonesian and International cuisine as a buffet style, with 2 main dishes with salads and rice. All coffee, tea, chocolate, water, fruits and biscuits are also free of charge for guests to enjoy.
Because of SMY Shakti's popularity with liveaboard enthusiasts, it is highly recommended that interested groups should plan and book in advance to ensure availablity on one of their trips.
You can check the availability and prices for this boat here.
SMY Shakti yacht on board facilities and services:
Motorised dive dinghy
35m² kit up area – Rinse tanks and camera table – 18 charging points
Saloon with laptop, CD Burner, DVD player, music system
Marine library (English, French and Japanese) with comfy cushions
50 m² sundeck with mattresses
SMY Shakti Boat Budget Range / Price: Starts at US$ 3,792 for a 10 night tour.
Click here to Check Availability and Prices for this Boat
Customer Review
"What I liked about SMY Shakti is that it offered affordable trips without compromising quality liveaboard service. I liked to stay on the sundeck which has an ample space enough for everyone to move around while sipping cocktails, reading a book or merely socializing with fellow divers. Sometimes, diving could be really tiring, so the onboard saloon was the perfect place to relax and to unwind. My cabin was clean and inviting which helped me in getting a good night sleep. I didn't get seasick too.
I want to thank her crew, who are very copious. He gave us a very comprehensive run down of the best dive sites in Raja Ampat. I asked various questions regarding the currents, weather and sea conditions and some possible rare creatures that we might encounter under water. Their dive director is a person with an amiable personality, chatty, and an interesting person with lots of things to share. I don't have any complaint regarding the boat's crew service. All of them did their job well. From guidance in our diving activities to assistance in setting up our equipment, they attended to our needs with a smile on their face. The housekeeping team also kept the place clean and tidy. The chefs cooked fresh and delightful Indonesian and international dishes. Guests look forward to the varied menu everyday. For those who are in a special diet, you don't need to be anxious about your meal. Special diets are catered as well. I also appreciate the management of SMY Shakti when it comes to the organization of diving schedules and their utmost care and passion for protecting the area of Raja Ampat from possible environmental effects of massive tourism.
If you're looking for adventure and terrific diving escapade at an affordable budget, I would highly recommend SMY Shakti!"
-Jason, 2015, USA
"What an adventure!
The diving quality offered by Raja Ampat is the first highlight, as it should be. It's amazingly colourful, vibrant, full of life and of surprises. You cannot possibly know better. Second highlight is the staff aboard the Shakti… Really! Their attentions for their guests are genuine, they are constantly going out of their ways to help and make sure you get the most out of your experience. They are smart, fun and interesting to talk to. Everything is kept in order and their organization is always efficient and insuring that everything runs safely and smoothly. Good job!"
–Sabrina, 2015
Where does this liveaboard dive boat go?
Check out the fabulous places where this dive boat travels to.
Note: some destinations may not be listed below, please enquire for more details.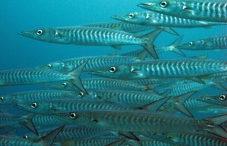 Richest Reef in the World, Amazing Biodiversity, Wonderful Coral, perfect place for underwater photography.
Other Liveaboard Reviews in Raja Ampat
Dive spots reviews in Raja Ampat
No dive sites reviews found