Cost
Expensive, and Luxury!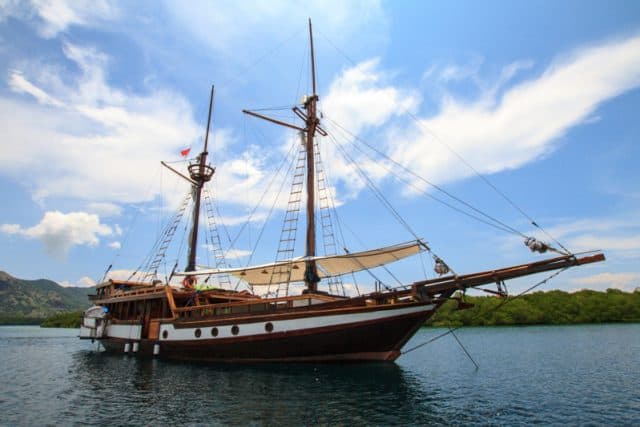 MS Wellenreng dive boat review
The 22 meters MS Wellenreng is a charter liveaboard sailing around the thousands of islands in Indonesia. The beautiful traditional Indonesian phinisi sails to world renowned destinations such as Komodo, Raja Ampat and Alor.
.
Boat Cabins & Layout
The Wellenreng features 3 spacious cabins, welcoming between 6 and 9 guests. Indeed, every cabin has a large double bed, but also an extra single bed, meaning the layout can be great for couples but also for friends or even small families! Moreover, each cabin has it's own private bathroom as well as air-conditioning. Plus, as a nice touch, quality bathrobes and towels are provided to you.
  Visit this page to compare liveaboard & prices for Indonesia!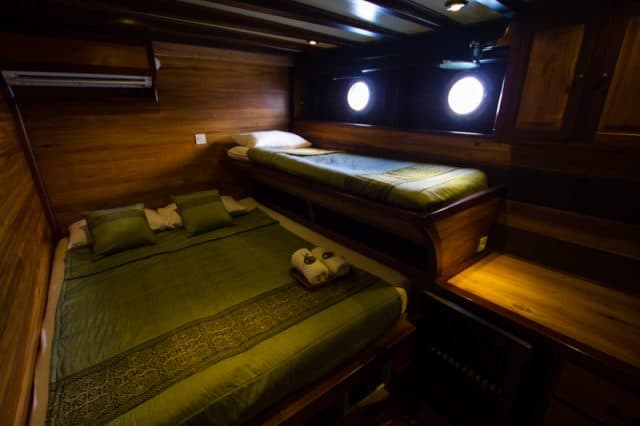 .
Wellenreng's On-board Facilities
The principal indoor area is a 25 square meters salon located on the main deck. This lounge is used either as a social area where you can hang out, and as the dive briefing room. Indeed, the salon is fitted with cozy booth-like seating and a complete audio/video system to watch movies or your most recent footage! It's also where you will find a bar with coffee, tea and non alcoholic refreshments during the day as well as drinks, wine & beer later on!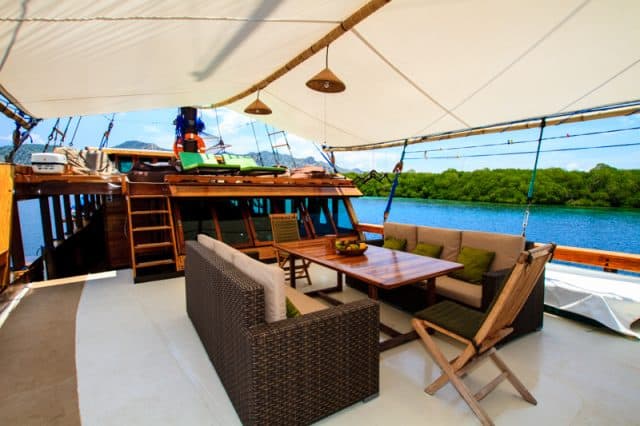 Otherwise, as you can see on the picture above, the most beautiful place on this boat appears to be outside, along with the views of Indonesia! There's plenty of space for you and your friends to enjoy the sun on the uncovered sundeck. Indeed, you'll find a choice of bean bags, hammocks and loungers to lay on and relax! A little below is the outdoor lounge, and often the dining area, with a table and couches to be cozy!
.
Scuba Diving with the Wellenreng
The MS Wellenreng can compare to other luxurious charter boats of Indonesia such as the Samata. Indeed, they are similar in style and itineraries they offer like Raja Ampat and Komodo, but the Wellenreng is smaller and more intimate.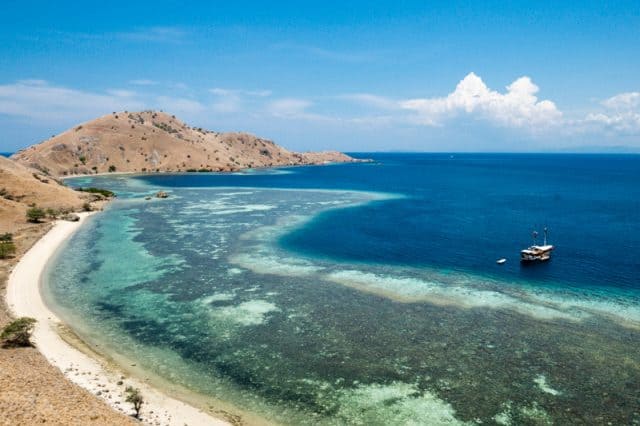 Furthermore, the Wellenreng is equipped with the expected navigation and safety technologies to ensure a worry-free journey! The whole scuba diving operation is made easy on the Wellenreng as they have a 6 meters fiberglass diving tender to help! Of course, this gets you right to the action and also eases the water entries and exits. Plus, all the equipment is stored on the dinghy, leaving more space to live the cruising life on the ship!
---
Please visit the vessel's webpage for schedules and prices. 
Where does this liveaboard dive boat go?
Check out the fabulous places where this dive boat travels to.
Note: some destinations may not be listed below, please enquire for more details.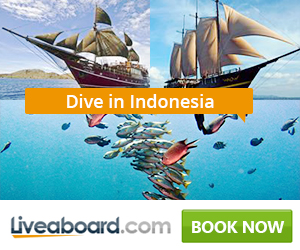 Other Liveaboard Reviews in Indonesia & Komodo Island & Raja Ampat
Dive spots reviews in Indonesia & Komodo Island & Raja Ampat