Eldene Eyssell from South Africa is telling us about her diving trip in Madagascar on a remote island not far from Nosy Be. Enjoy the ride! If you wish also to publish your article, contact me.
How to get there
I have no idea how you get there from Europe or America or Australia.
Take a direct flight from Johannesburg, South Africa, to Nosy Be, on certain days of the week. The trip should be about 3 ½ hours, if your plane isn't delayed for 4 hours, as mine was. You can also go via Antananarivo on mainland Madagascar and catch a connecting flight to Nosy Be, but you may have to spend a night there.
Take a 40-minute taxi ride from Nosy Be airport to the beach.
Take a 20-minute ferry ride to paradise.
Stay at Sakatia Lodge (http://www.sakatia.co.za/), who will arrange the taxi and ferry.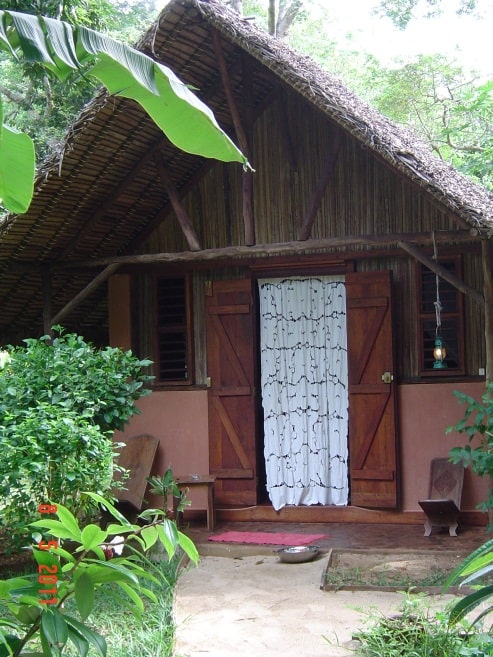 My bungalow. For ten days, I didn't close the door, wear a watch, or put on shoes. Lemurs danced on my roof at night.
Sakatia Lodge
As far as I know, this is the only place to stay on the small island. There are no roads, no cars, no bicycles, only hidden footpaths. The owners are super friendly and speak English, French, Italian, and Malagasy. The food is a wonderful mixture of French and Malagasy cuisine. Try the vanilla- or basil-infused rum. The accommodation is comfortable, but don't expect air-conditioning or televisions (thank goodness; the lodge operates on a generator). There are fans and sea breezes.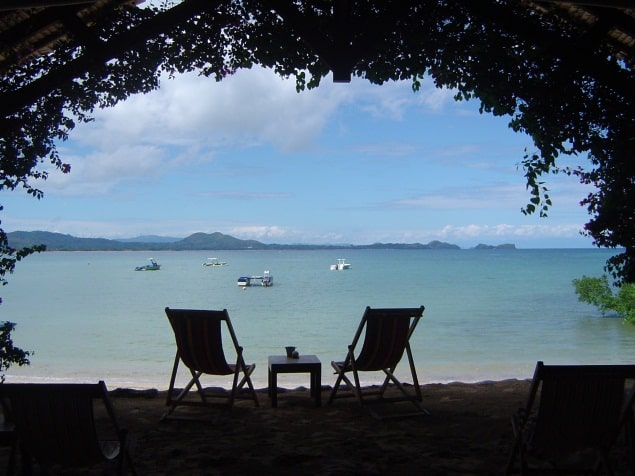 View from the restaurant/lounge area
On the one semi-rainy day, I was woken very early by this golden light
Scuba Diving around Sakatia
The lodge's dive centre is very well equipped. The divemasters, José and Jacques, really know their reefs. The launch is easy: depending on the tide, you could just step on to the boat right at the lodge.
Many days I was privileged to dive with only a divemaster, or maybe one or two other people, for as long as our air lasted. (I went in early May.) Looking at my logbook, I see that I have noted quite a few "best ever…" Was my "best ever dive" because of the caves, pinnacles, and lace coral? Or because José opened a whole new macro world for me by giving me a magnifying glass? (Wow, nudibranchs have texture as well as colour.
There are amazing minute porcelain crabs to be found living in coral.) Was my "best every safety stop" because of the walls of fusiliers in mid-water? I can't remember. I really should make more detailed notes. We also swam with dolphins. And you may be lucky enough to see the manta rays.
Visibility averaged 15m
Depths ranged from 15.3m to 28.5m (the scuttled trawler, Mahaveluma)
Water temperature 30°C
Other things to do
Hiking – After about six days, I thought perhaps I shouldn't be spending my days only Scuba Diving, sleeping, reading, eating, and sunbathing. So I hired a guide to take me for a walk to the other side of the island. (Okay, it wasn't really a 'hike'; more like a stroll.) The other side is wilder. Beautiful scenery, very few people. Exquisite chameleons and snakes. (There are no poisonous snakes in Madagascar.)
Spear fishing and free diving – I didn't try these, but they are also available at the lodge.
Island hopping – The lodge organised a whole day of island-hopping for me on my last day. The little boat leaves from Nosy Be and stops off at Nosy Komba (Lemur Island) and various others. At lunchtime we stopped at an island that is a nature reserve, where we were fed a wonderful fish lunch on the beach. Also great snorkelling. On the way back we stopped at the market on Nosy Be – only because our taxi got a puncture and we had to amuse ourselves while it was being repaired. Best things to buy in Madagascar: vanilla, coffee, ylang ylang essence, rum.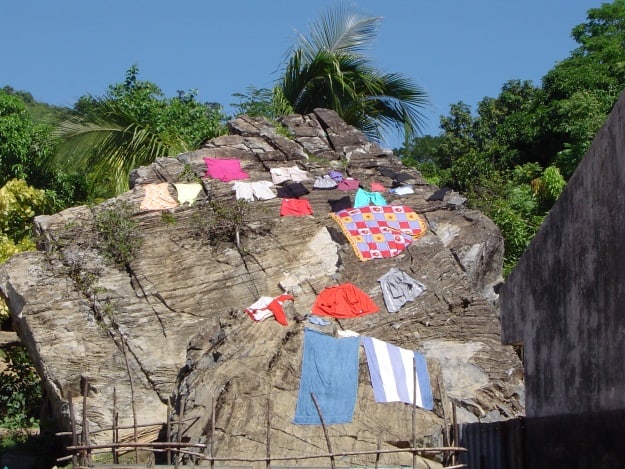 Washing day on Nosy Komba
Some island or other
Downside
Some may think that it's a mission to get there, but it's not so bad. My taxi driver was waiting for me, late at night after my flight was delayed, with a big friendly smile. He stopped along the way to show me chameleons and to pick me fragrant ylang ylang flowers. On my ferry ride, I saw more stars than I've ever seen before.
Try to find a time between the rainy season and the high holiday season, though Sakatia Lodge sleeps only 30 people, so it's never overcrowded. I seem to have got it perfectly right in May. However, friends who went at a similar time, found the visibility poorer and didn't see so much fish life, all of which had something to do with the tides. Ask the lodge.
There is a risk of malaria.
Related Posts