If you have been to British Columbia Canada before, please share your experiences, ideas and feedback (Hotel, Excursions, General Feeling,…) in the comments section below, by doing so you will help fellow travellers to plan their next trip


British Columbia is the province that covers the entire west coast of Canada. In fact, except for some bigger cities and thousands of small villages, the province offers wilderness and the great outdoors! Indeed, traveling to British-Columbia brings you a nice blend of modern cities and untamed wilderness just out of the backyard. In many places, all that you will find are rugged coastlines and glaciers.
In this page you will find practical information to plan a scuba diving trip to British Columbia Canada:
British Columbia Canada Photos
Where to stay?
The best destinations in British Columbia will depend on what you enjoy but are clearly perfect for anyone looking for great outdoor time!
Vancouver: this modern city is not only an outstanding destination, it is also a gateway to many outdoor activities.

Blogger's input: Put a sporty outfit on and take a 15 minutes trip to Grouse Mountain from the city. Then hike up a single path to reach over 1,200 meters of elevation. In fact, it's 2.9 km of natural stair-master machine… worth leaving the hotel for as you get the most stunning cityscape view from the top! The good news is that there's a skyride that can take you down afterward (and up as well if you don't wish to hike).

Victoria: A bend of nature and traditional architecture brings you an interesting destination.
Sunshine Coast is located on the southern coast of British Columbia, Canada, extending 177km (ca. 110 miles) between the entrance to Desolation Sound on the northwest and Howe Sound, north of Vancouver, on the southeast. This area is easily reached by car or ferry from Vancouver. The area has many fjords and other inlets. Fishing is a favorite activity as is hiking and camping.
Activities and excursions in British Columbia Canada
There are many activities and excursions that are available to the visitor in BC.
Cruise the inner passage along the coast of the Pacific Northwest and discover thousands of offshore islands. The area between the outer islands and the coast is called the Inside Passage, and continues into Alaska. Cruise ships travel this route to the glaciers up north. Shorter boat tours and many of the ferries will expose you to this wonder.
Whale watching: Whales live in BC waters for part of the year depending on migration patterns. Plus, lots are easily found in the summertime!
Vancouver is more than just a city as it's very cosmopolitan and offers both culture and style!
Victoria, the capital of BC is a blend of a city and nature as it is smaller. Definitely a charming place where to spend a few days, discover the parks around the city and hang around the shores.
Explore first nation customs: The pacific northwest region had been settled for hundreds of years before Europeans arrived. Thus, in British-Columbia you can experience some of the ancient culture.
Visit nature in the raw, including old-growth forests on Vancouver Island and the Sunshine Coast. You will find some of the biggest trees in the world in these dense forests of Douglas firs and Cedars.

Pacific Rim National Park is a personal favorite!

Ski some of the best ski resorts in the world.
Best time to visit British Columbia Canada
The southern portion of BC have a mild summer and it may be the best time to visit. As you go further north, you will still see summer weather however, many portions of the province has a snow/ice pack that last year round. Activities in the wilderness areas are best in the summer.
Furthermore, British-Columbia is also known for winter sports. If you are a fan of skiing, then, by all means, do visit BC!
Health and Safety
Canada has an outstanding universal healthcare system and the quality of care is very high. It is, however, very expensive for travelers and everyone who does not qualify for the universal health care. Make sure you have a proper travel insurance and you will be fine.
On safety issues, Canada is in the top ten for safest countries in the world. Still, you should take normal precautions.
If you are planning an upcoming dive trip or travelling to British Columbia Canada, it is a really good idea to invest in travel insurance for scuba diving, because you never know what could happen and when you might need it (because accidents do happen!). I recommend this diving insurance as they offer worldwide coverage and focus on providing scuba divers a quality insurance and medical assistance service.
Where is British Columbia Canada located in the world?
Canada makes up the northernmost portion of North America, with it's only land border being with the United-States. The country is very wide, both from north to south, and from the Eastern Provinces to the westernmost province of British-Columbia, called BC by most locals.
British Columbia is bordered by the Pacific Ocean to the west, and Alaska to the northwest. Plus, just south of BC you can cross right into Washington State, USA. The metropolitan area of Vancouver, on the mainland, and the area of Victoria, on Vancouver Island, are the southernmost point of the province. Northward, the coastal side of BC slowly gives way to the US states of Alaska and it's Inside Passage. Inland, the province's north border is mostly with the Yukon and Northwest Territories of Canada.
How to get to British Columbia Canada?
There are two international airports in British Columbia, Vancouver International and Victoria International. Victoria is the capital of the British Columbia province and is located at the southern tip of Vancouver Island.
Vancouver is the province's largest city and is located on the mainland. Air shuttles fly between the two airports taking 30 minutes or you can take a ferry that is two and a half hours. Seattle, in Washington state, is right across the border in the US. In fact, Vancouver is less than 3 hours away from Seattle by bus.
Do I need a visa for British Columbia Canada?
All travelers to Canada will need a valid passport. Also, U.S. citizens traveling between Canada and the United States by land or sea may present a valid WHTI-compliant document.
Anyone with a criminal record (including misdemeanors or alcohol-related driving offenses) may not be able to enter Canada without first obtaining an approval for rehabilitation well in advance of any planned travel.
Canada has a visa exemption program. Nationals of countries that are exempt will need an Electronic Travel Authorization (eTA) to board their flight to Canada. However, these travelers do not need an eTA if entering by land or sea – for instance driving from the U.S. or coming by bus, train, or boat, including cruise ship.
Our advice remains to check all visa information directly with the relevant authority, in this case the Canadian Government's webpage.
Getting Around
The cities have good transportation systems so getting around will be fairly simple. As for going between the cities and islands, you will find lots of ferries in British-Columbia, just like in the maritime provinces of Eastern Canada. Plus, seaplanes and small aircraft are a common means of transportation. Also, note that in the winter most ferries stop  their service.
If you love nature, British-Columbia is perfect for you! Indeed, if mountains, lakes, old-growth forests and possibly some temperate diving and surfing is of interest, then BC should be your next vacation. Experience nature at its very best in Canada!
Scuba diving
You will find all information about sea life, best time to visit, top dive spots, etc. in our review: British Columbia Canada Diving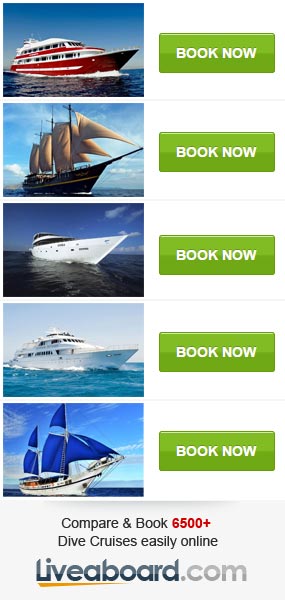 Diving Reviews for this region
The Best Temperate Water Diving in the World.
Liveaboard Reviews in Canada
Cruise ship Reviews in Canada