Cost
Expensive, and Luxury!
MY Blue Fin dive boat review
From the world-renowned Blue O Two fleet, the Blue Fin is a liveaboard offering dive cruises on the Red Sea, in Egypt. The Blue Fin offers a unique layout with luxury accommodations and services. Read below to find out about all her great amenities.
Boat Cabins & Layout
The Blue Fin welcomes up to 24 guests on each trip, departing from Hurghada. There are 12 lavish cabins, all with air-conditioning, full en-suite bathroom, mini fridge and entertainment system.
You can check the latest schedule & prices for this liveaboard here.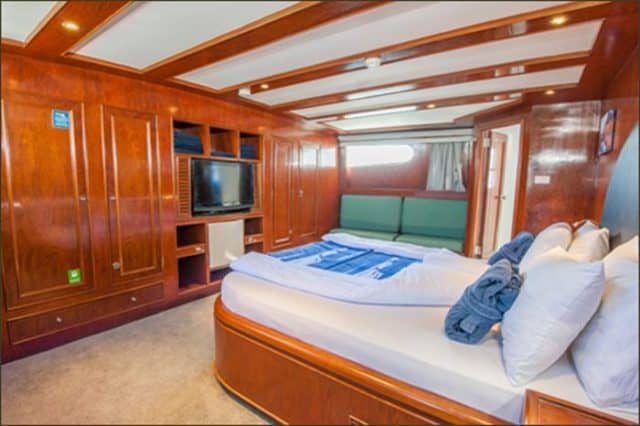 Honeymooners and couple will love the 3 Master Suite available. Indeed, those suites are an added touch of space and luxury, complimenting a special liveaboard journey. All the same amenities apply in a great and more spacious set up with a personal flat screen TV and complete streaming media library.
The 9 remaining cabins are twin shared. With en-suite bathroom and all aforementioned facilities, those cabins are perfect for friends or dive buddies.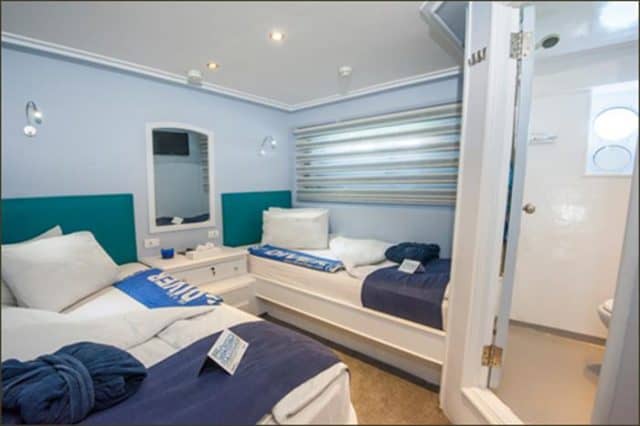 Blue Fin's On-board Facilities
Updated early 2016, the Blue Fin offers lots of space, both indoor and outdoor. The indoor salon is fitted with cozy seating and boasts a full entertainment system through apple TV. Outdoor, you'll find a great spot to admire the view all around the vessel. Plus, the partially sundeck will be your perfect place to read, work on your tan, take an afternoon nap, etc.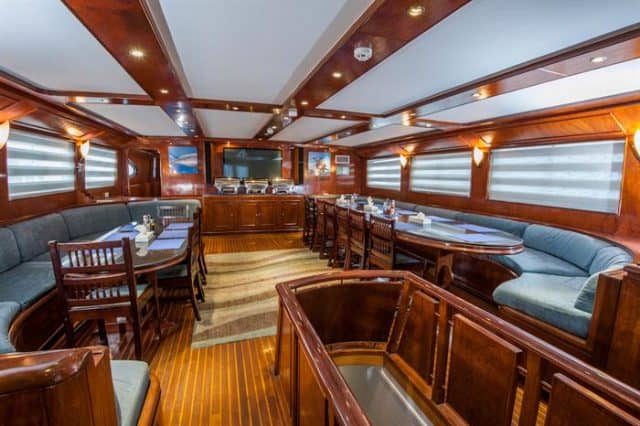 The dining area is massive and offers more than enough space for everybody to get together and enjoyed freshly prepared meals. There's also a outdoor refreshment area where you can enjoy a drink & snack while contemplating the view of the Red Sea!
Peek at this video to imagine how it's like to be on this beauty for a week!
Vessel Layout
The Blue Fin has many sister ships in the Blue O Two fleet but non is identical. That being said, we can compare the Blue Fin with the Blue Melody. The two are about the same size and have the same number of guest. Indeed, the Melody is 39 meters long and adds a cabin for a total of 26 divers while the Fin has 38 meters in length and a capacity of 24 guests. Also, the MY Blue Fin was the first built of the fleet and is nearly perfect, that gives you an idea of what to expect with Blue O Two vessels!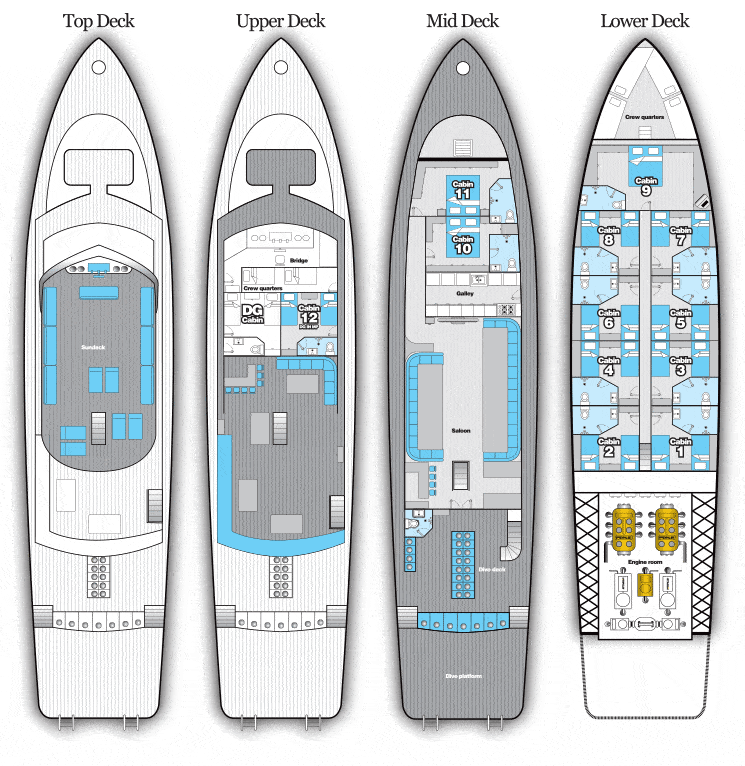 Diving with the Blue Fin
Divers will enjoy the Blue Fin's great diving amenities. Indeed, the dive deck is surprisingly roomy, offering plenty of space to get your gear on/off and store your items. The dive deck has air filling / nitrox station, is re breather friendly ans has fresh water rinse tanks. Also, there is a battery charging station and camera tables (located by the refreshment corner). No doubt, you will be amazed when you dive the cristal clear waters of the Red Sea with the Blue Fin's professional team!
---
Price Starts at 1070$US 8 days / 7 nights – Northern Wrecks and Reefs
Where does this liveaboard dive boat go?
Check out the fabulous places where this dive boat travels to.
Note: some destinations may not be listed below, please enquire for more details.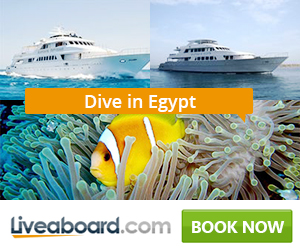 Other Liveaboard Reviews in Hurghada & Red Sea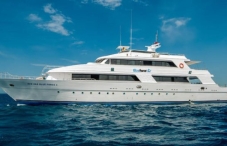 The 40 meters Blue Force 3 is a luxury l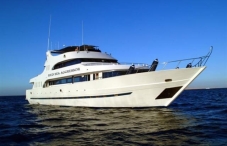 Internationally renowned liveaboard oper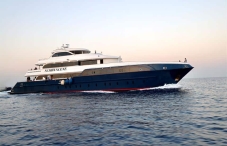 The All Star Scuba Scene Liveaboard is a
Dive spots reviews in Hurghada & Red Sea