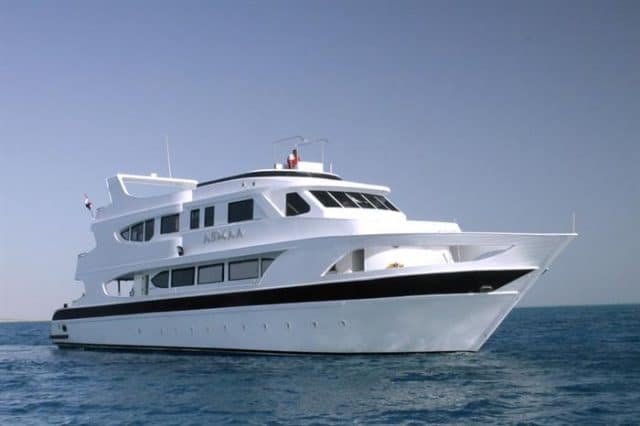 MY Emperor Asmaa dive boat review
The 30 meters Emperor Asmaa is another great liveaboard from the Emperor Fleet, delivering dive cruises on the Red Sea. Custom built in 2003, the vessel had a full refit in 2015 and is now even more adapted for divers.
Boat Cabins & Layout
The cabins on the Emperor Asmaa are spacious, air-conditioned and all comes with an en-suite bathroom. Indeed, the 10 cabins are all qualified of "deluxe", with mini bar and 2 towels provided for each guest. Up to 20 divers are welcome on board each dive cruise around the Red Sea.
All cabins have twin beds and 6 are located on the lower deck while 4 are on the upper deck.
You can check the latest schedule & prices for this liveaboard here.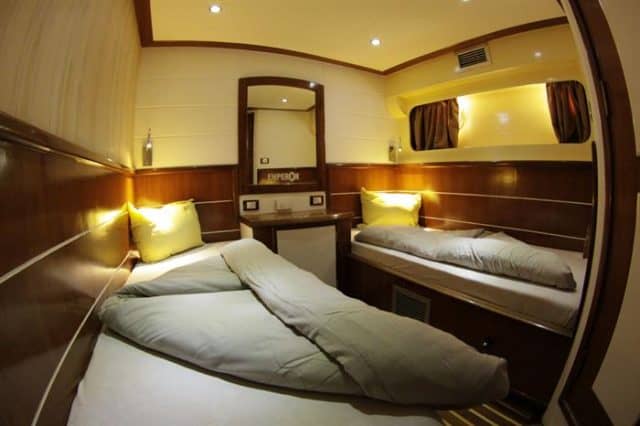 Emperor Asmaa On-board Facilities
There is a sizable dining and salon area on the main deck. This is were freshly prepared food will be served and also where you can sit back and relax. The lounge is complete with television and media library.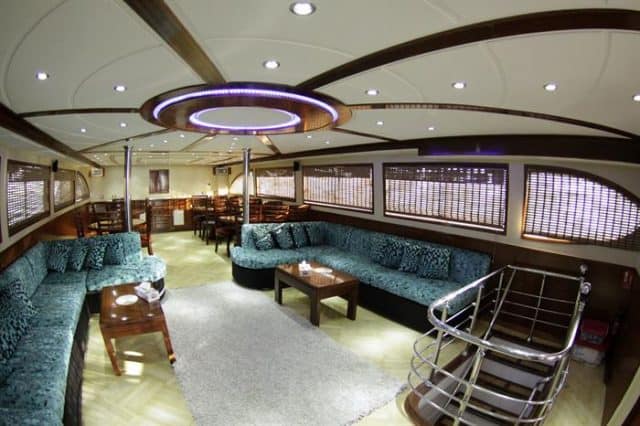 Furthermore, you'll find lots of place where to enjoy the view outside. Indeed, there's a few open-air seating area around the dive boat as well as a huge sundeck. As you can see on the picture below, you can admire a full view of the Red Sea and rest on a bean-bag-like chair. Cozy…!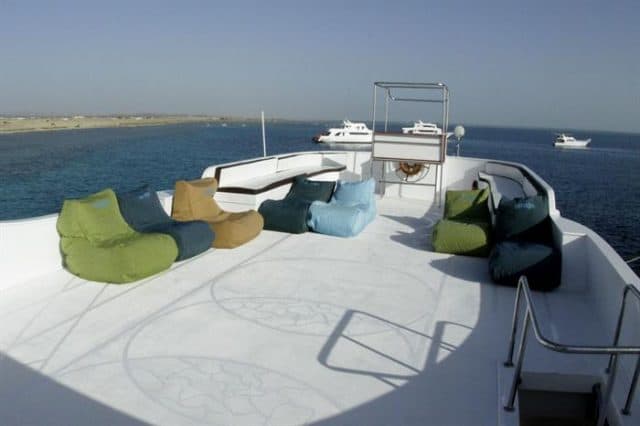 Vessel Layout
The Emperor Asmaa stands out from her sistership of the Red Sea as she is the smallest. Indeed, with a length of 30 meters, she welcomes a reasonable number of 20 guests. Now, both the Emperor Superior and Emperor Elite are bigger in size, 37 and 38 meters and host more guests, accordingly. The Asmaa is offering the same great service which upholds the reputation of the Emperor fleet.
You can see how high the scuba diving community ranks the Emperor ships, have a look at our Best Red Sea Liveaboard of 2016.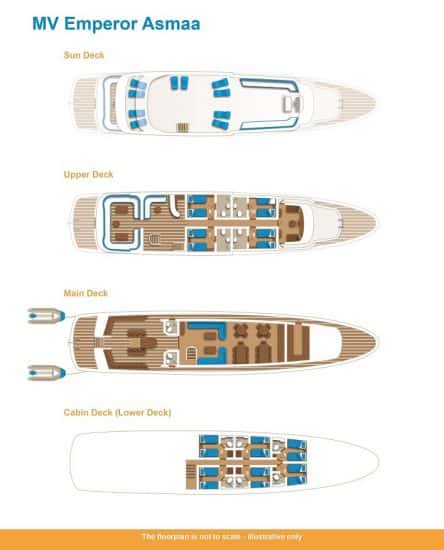 Diving with Emperor Asmaa
The usual diving itinerary with the Asmaa includes 6 days of diving (7 nights of accomodation), local transfers, guide, tanks, weights as well as the related fees such as Marine Park & port fees. Also, there are usually 2 free Nitrox fills per day included, that's a must!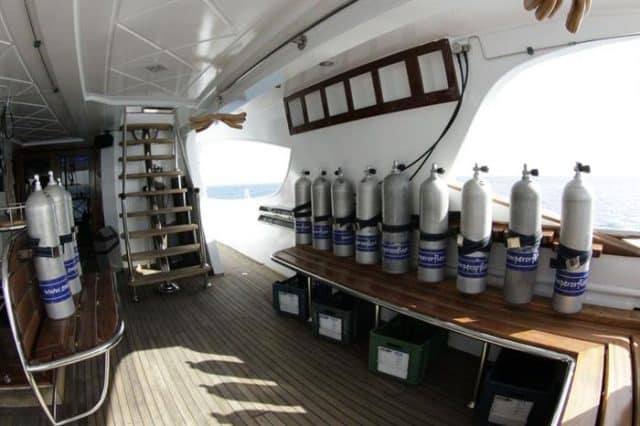 Finally, with a crew of 8 and 2 dedicated dive guides, the Emperor Asmaa will take you for a minimum of 2 dives per day and up to 4. The itineraries offered are various, you will sure find one that suits you!
---
Price starts at 664$US for 8 days / 7 nights – South & St-Johns 
Price goes up to 1162$US for 8 days / 7 nights – Furry & St-Johns
Where does this liveaboard dive boat go?
Check out the fabulous places where this dive boat travels to.
Note: some destinations may not be listed below, please enquire for more details.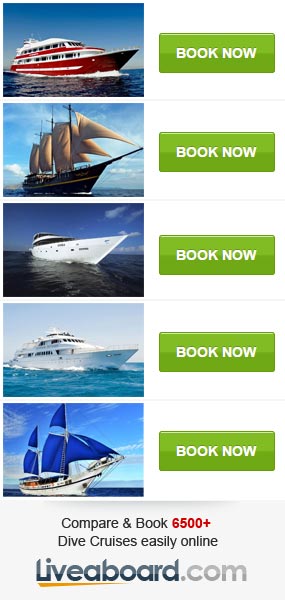 Other Liveaboard Reviews in Egypt & Hamata & Hurghada & Red Sea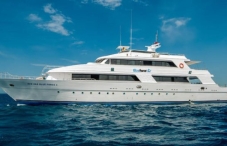 The 40 meters Blue Force 3 is a luxury l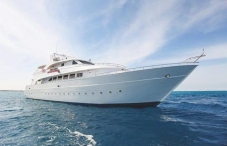 The 32 meters Red Sea Adventurer liveabo
Dive spots reviews in Egypt & Hamata & Hurghada & Red Sea