Sea life
Amazing fishes & life!
Visiblity
Am I dreaming?! 30m+!
Level Advanced Divers
Dive depth Normal diving depth, 10-25m
The Ras Mohammed National Park offers some of the best scuba diving in the Red Sea and in Egypt. Ras Mohammed dive sites are located at the South tip of the Sinai Peninsula about 12km from Sharm El Sheikh making it a very popular scuba diving place for day trips.
It takes about 1 hour to reach Ras Mohammed from Sharm El Sheikh. If you want to maximise the number of dives and to avoid crowded spots it is a good idea to take a liveaboard cruise to explore this area as well as other very good dive sites of the North Red Sea such as the World Famous Thistlegorm Wreck or the Abu Nuhas Wrecks.
The Best dive sites of Ras Mohammed National Park are:
Shark Reef and Yolanda Reef
This spot offers a great reef with beautiful coral and a teeming reef life. Keep an eye in the blue as there are also many pelagic fishes such as shoals of Barracudas, Jacks and Trevallies. Various Reef Sharks such as Grey and Blacktip Reef Sharks can also be spotted in the blue. At the end of your dive you can see the remains of the Yolanda Wreck that was carrying toilets seats!
Anemone City
This is a really beautiful dive site with an interesting underwater topography featuring many plateaus cutting the steep reef slope. The coral formations are really nice and of course there are lots of Anemones and Clown fishes! Pelagic and Reef Sharks are also a common encounter.
Shark Observatory
This a great wall dive with many cracks full of life and hard and soft coral. You will also spot many Groupers, Snappers and Napoleon Wrasses as well as all usual reef fishes of the Red Sea. Whitetip Reef Sharks are usually spotted in the deeper section of the wall.
Ras Ghozlani
This an easy and shallow (15m deep) wall dive. The hard and soft coral is prolific and very beautiful. This is a great dive site if you like to observe small reef species. This a really beautiful spot and less crowded than the previous ones.
Jackfish Alley
Jackfish Alley dive site is a steep wall with several small caves to explore. There are also two sandy plateaus where you can find many stingrays giving to this spot its second name: Stingray Alley! The marine life is teeming and the coral is beautiful.
Ras Zatar
This is a wall dive a bit like Ras Ghozlani featuring many fissures and small caves. Very interesting site if you like to explore small cracks to take nice underwater pictures! The hard and soft coral is beautiful and the marine life is teeming.
Massive schools of fish, lots of sharks and swimming
manta rays
! Could a diver ask for more? Ras Mohammed is truly an exciting dive site!
Best Time to visit
It is possible to dive in Ras Mohammed Marine National park all year round like in all the Red Sea. However if you look for warm water, it is better to come during the Summer as it can be a chilly 22°C in February for example! If you want more information about the weather and the best diving season, please visit the Sharm El Sheikh diving page.
If you are not scuba diving, operators in Sharm El Sheikh also offer Snorkelling day tours around Ras Mohammed National Marine Park to discover Coral Gardens and a teeming Reef life!
This location is a Reef.
You can dive Ras Mohammed all year long. Access: from the Shore. See the map of Ras Mohammed on the right for the exact location.
Fishes you may spot while diving Ras Mohammed
Barracuda

Black Tip Shark

Napoleon Wrasse

Trevally

Tuna

Turtle

Whitetip Shark
... and more fishes & sea life, Grey Reef Shark

Photos
previous
Clown fishes waiting in front of their blue anemone house

Blacktip Shark patrolling the crystal clear water... EPIC photo!

Huge Hammerhead Shark patrolling the reef in French Polynesia

Beautiful & Colorful Mandarin Fish

Yellow Seahorse in Lembeh Strait

Photo by Agnes Tjandranegara

Lion Fish swimming in crystal clear water

Photo by Agnes Tjandranegara
next
Diving Reviews for this region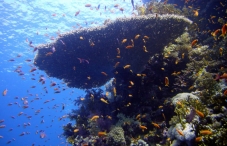 Magnificent Reefs at Ras Mohammed and one of the best dive site in the World, the wreck of the SS Thistlegorm.
Liveaboard Reviews in Sharm El Sheikh
Dive spots reviews in Sharm El Sheikh
Diving centers in Sharm El Sheikh