Sea life
Amazing fishes & life!
Visiblity
Am I dreaming?! 30m+!
Level Advanced Divers
Dive depth Deep diving, 25-40m
The Dunraven Wreck is a former 80m long Bristish Steamship. In March 1876, on its way back from India, she hits the Beacon Rock reef. Its cargo of wool and cotton then set on fire before sinking, with no loss of life. The wreck was only discovered in 1979 and it took some time to identify the Ship.
She now lies upside down in 2 pieces with the deepest part being around 28m deep and the shallowest around 18m deep. It is possible to dive the whole wreck on a single dive and to enter the hull in several places by large holes.
The Dunraven Wreck is a wreck site that is easy to dive. It can easily be penetrated and explored. It is a picture of a rich and abundant reef community. Schools of soldierfish, cardinalfish and other fish will greet you as you explore the wreck.
You will find inside schools of Goatfishes, Glassfishes and Moray Eels with beautiful soft and black coral. The marine life is excellent around the Dunraven, especially for the small stuff. It is a good spot for macro underwater photography where you can find along the hull Nudibranchs, Scorpionfishes, Pipefishes and even the rare and beautiful Ghost Pipefish has been spotted!
You can finish your dive on the nearby reef for great coral and a teeming reef life. There you can spot Barracudas and Turtles as well as curious Batfishes. Dolphins can also sometimes swim by ;-).
It is an easy wreck dive due to the generally good conditions and its sheltered location. The Dunraven Wreck is often the first dive of a North Red Sea wreck dive Safari before exploring the excellent and famous Thistlegorm Wreck!
Access
You can scuba dive the Dunraven Wreck on a day trip from Sharm El sheikh. It takes about 2 hours by boat to go there. Another option is to take a Liveaboard exploring the North of the Red Sea. They usually start from Sharm El Sheikh or Hurghada.
Dunraven Wreck is classified as a
Deep dive
. Most people are here for
Wreck Diving
.
You can dive Dunraven Wreck all year long. Access: from the Shore. See the map of Dunraven Wreck on the right for the exact location.
Fishes you may spot while diving Dunraven Wreck
Barracuda

Batfish

Crocodile Fish

Dolphin

Goatfish

Grouper

Moray Eel

Napoleon Wrasse

Pipefish

Scorpion Fish

Turtle
... and more fishes & sea life, Ghost Pipefish, Glassfish, Jack, Squirrelfish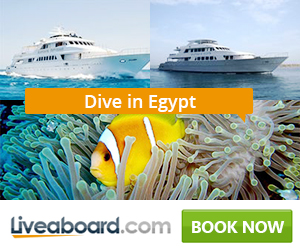 Photos
previous
Dolphin and scuba diver side by side...

Batfish Bubbles

Photo by Matthieu Billaud

Batfish Closeup

Photo by Matthieu Billaud

Yellow Moray Eel Rangiroa
next
Diving Reviews for this region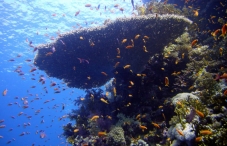 Magnificent Reefs at Ras Mohammed and one of the best dive site in the World, the wreck of the SS Thistlegorm.
Liveaboard Reviews in Sharm El Sheikh
Dive spots reviews in Sharm El Sheikh
Diving centers in Sharm El Sheikh