The Black Manta is a 32 meter long steel haul vessel that can accommodate up to 20 guests. It has high quality cabins with hot water bathrooms.
KM Black Manta dive boat review
.
---
Please note…
The Black Manta has been sold and is no longer operating with the White Manta Fleet. We will update upon newer information. 
Also, White Manta has re-flagged to Indonesia, apparently running the former Black Manta routes. 
---
.
KM Black Manta has an indoor saloon as well as other spots for relaxation. This liveaboard operates and offers tours to Raja Ampat from November to April and Komodo in Indonesia. They serve Asian, Thai and western meals to guests and food is served buffet-style. Coffee, tea, soft drinks, hot chocolate, fruit, water, snacks and biscuits are provided free of charge. If you are a vegetarian, you can advise the crew in advance for your diet requirements or preference.
You can check the availability and prices for this boat here.
KM Black Manta yacht onboard facilities and services:
Enriched air nitrox
2 motorised dive dinghies
40m² dive deck & platform with rinse tanks
Air-conditioned saloon with plasma TV, DVD video & music
Dining area
Large sundeck with mattresses
Underwater cameras available for rent
Massage service
Water dispenser
KM Black Manta Boat Budget Range / Price: Starts at US$ 2,400 for a 6 nights tour.
Customer Review
"After my week on the Black Manta, I still couldn't catch my breath. I just lived the most magical experience of my life. My friends ask about my favourite dive and all I can answer is "every single dive was my favourite!!!" Seriously, I could not name one site more than another, it was all different, all unique and fantastic in different ways. The marine life if stunning and so diversified. The reefs are… Impossible to describe. The ocean floor's topography goes up and down and is beautifully challenging to navigate. The vessel is newly refurbished and very luxurious! It's super study so even when the ocean goes crazy you won't feel it so much. The sun deck is awesome! We could even jog on it! The food was above all expectations and the crew was very knowledgable and helpful!"
– Kari
"The Black Manta boat is phenomenal. Our cruise and dives unfolded smoothly and nicely for our greatest pleasure. Safety was always super important. The staff does not hesitate to go out of their path to help you with anything. The diving sites offered in Raja Ampat were simply majestic and pristine. The equipment they provide is great and the boat itself is spacious and comfy. A hidden gem!"
–Eugene
Where does this liveaboard dive boat go?
Check out the fabulous places where this dive boat travels to.
Note: some destinations may not be listed below, please enquire for more details.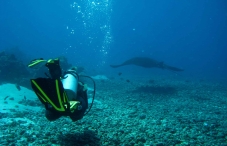 Diving in Komodo is all about action! It is BIG fishes land! With wonderful coral, it is just incredible diving all year round.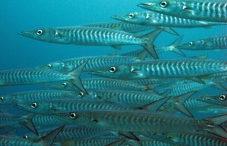 Richest Reef in the World, Amazing Biodiversity, Wonderful Coral, perfect place for underwater photography.
Other Liveaboard Reviews in Komodo Island & Raja Ampat
Dive spots reviews in Komodo Island & Raja Ampat