Cost
Expensive, and Luxury!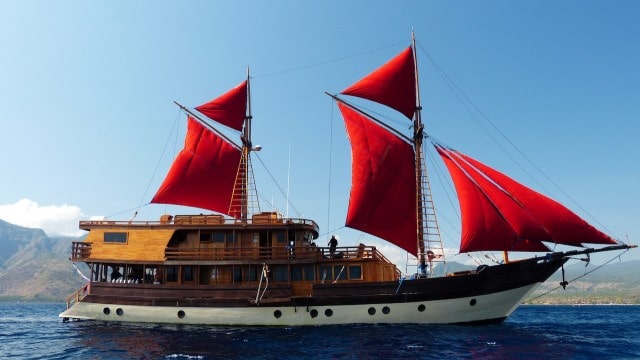 La Galigo dive boat review
The phinisi La Galigo is a traditional Indonesian sailing vessel that has been built specifically for liveaboard diving practicality and style. Based in Raja Ampat – Indonesia, La Galigo provides high quality of diving, accommodation and meals.

La Galigo has been built by traditional Southern Sulawesi craftsmen in Bira in 2012. She is a traditional two mast Phinisi style sailboat, which the Buginese have perfected over hundreds of years. Her sturdy hull has been built from Kalimantan ironwood and the rest of the vessel has been finished to perfection in warm tropical teak.
You can check the availability and prices for this Boat here.
Boat Layout
The vessel consists of 3 main decks for living and diving plus an additional roof top deck that is opened during favourable conditions.


This liveaboard is 33m long and has a 8m beam with a leisurely average cruising speed of 6 knots. There is plenty of room on board La Galigo to find your own space, or sit around in the indoor and outdoor communal areas with new and old friends.
Onboard you will find a full array of state of the art Scuba diving equipment, most purchased new in Late 2015. La Galigo is equipped with 2 compressors plus nitrox production. They cater for DIN and YOKE diving clients, and if you need to hire any gear we have a selection of rental equipment onboard.
Raja Ampat Itineraries
South and Raja North. With the choice of 12 days, 9 days or 8 days you can choose the package that best suits your needs in the paradise that is Raja Ampat.
La Galigo Cabins
Choices of cabins are as follows:
The lower deck is where you will find four deluxe cabins, each consisting of a american style deep spring mattress double bed, a single bed, eloquent stone finished ensuite with glass shower doors, hot water and fresh chilly individually controlled air conditioning.
The upper floor is where you discover the first of the outdoor living areas, the two master cabins and the grand suite.
In the outdoor living area you can lounge back in a comfortable chair with ample shade and tranquil ocean breeze, a great way to unwind after another mind blowing dive in Raja Ampat. The next tier master cabins are more spacious and offer a double bed, a single bed, refreshing air conditioning and an even more spectacular panoramic view from your window, as well as easy access to the sun deck.
The grand suite is the premium accommodation, this is everything you need for your ultimate liveaboard experience. This huge room has a double bed, extra large ensuite, private balcony with outdoor couch, table and chairs to maximise your panoramic views of the Archipelago, own private lounge room with couches and a state of the art 48" high definition flatscreen TV, PS4 with a selection of the latest games, own private fridge, 270 degree views. The couches can also be utilised for families with children to sleep a maximum of 4 in this suite.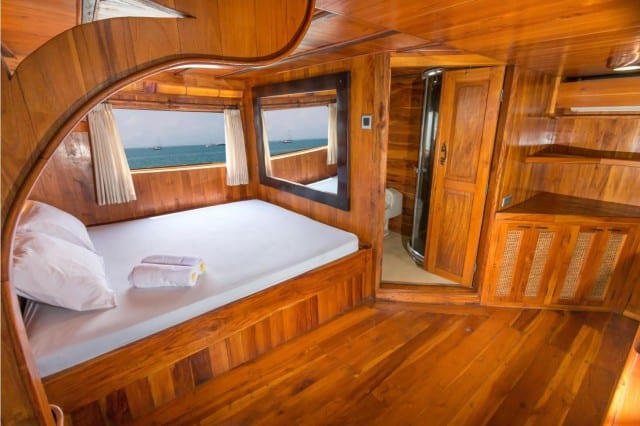 On board the La Galigo you will taste the flavours of Indonesia. If you don't have an adventurous pallet, no worries – your favourite dishes from back home will be available in addition to the local cuisine. New vegetarian and vegan friends will be catered for simply by placing a request before your voyage. Tea and coffee are included in the price of the charter, along with a selection of juices in the morning. Soft drinks, beer and wines will be available from the bar for purchase.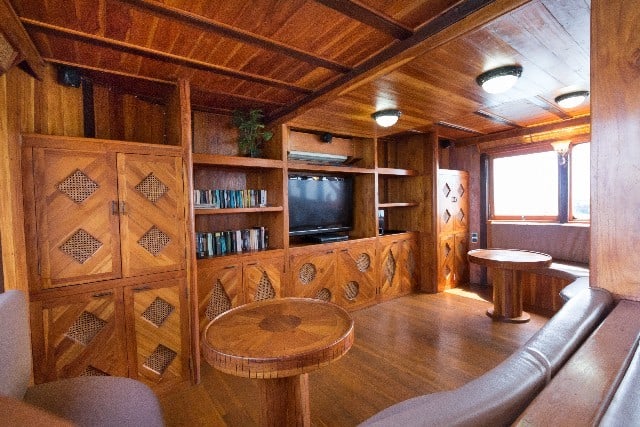 Scuba Diving onboard La Galigo Liveaboard
The main floor is the spacious living and diving area. The back area of the boat is a broad dive deck with twin curved stair cases. A well equipped preparation deck is next up from this with ample space to kit up into your gear with out the hassles of a crowded dive boat. The homey lounge area towards the vessels centre gives your new friends a perfect place to trade stories about the days diving and download brilliant photographs of your day.
This space has many power points for charging and preparing your laptop, camera and video equipment. There is also a large TV and a well stocked bookcase for your entertainment. This is also the place to enjoy the delicious creations that the Chef has been working hard on while you were marvelling at this unique underwater world.
Safety is taken very seriously onboard La Galigo, there is a fire alarm and control systems, emergency floatation devices, emergency communications, oxygen, first aid facilities and a AED defibrillator for your peace of mind.
Prices onboard La Galigo start at $2,950 USD.
Customer Review
"La Galigo fully represents life at it's simplest. Everything on this boat was thought to make our lives easier and I promise, it's a success. As soon as you get on the dive deck after a dive, you can have a fresh water shower and use the bathroom. It's right there waiting for you. All the facilities to rinse and hang your equipment are featured as well. The dive deck also offers nitrox and a camera table. I just loved everything about the dive deck. The guys in the dive team are all professional, reliable, helpful and super smart. It was a pleasure to dive and chat with them! We were only 10 on the boat, on a maximum capacity of 14. The dives were done in small groups of 2-4, it's perfect. The ensuite cabins are great, spacious, boast everything you need. La Galigo is a brand new vessel, spacious, sturdy and the space organization is ergonomic. La crême de la crême, as we say in French!"
– Coralie
For bookings and more detail check out www.lagaligoliveaboard.com
Where does this liveaboard dive boat go?
Check out the fabulous places where this dive boat travels to.
Note: some destinations may not be listed below, please enquire for more details.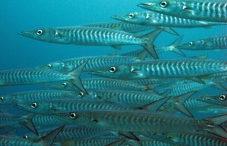 Richest Reef in the World, Amazing Biodiversity, Wonderful Coral, perfect place for underwater photography.
Other Liveaboard Reviews in Raja Ampat
Dive spots reviews in Raja Ampat
No dive sites reviews found