Cost
Simply the best of everything
MV Pindito dive boat review
MV Pindito is the only liveaboard vessel operating and touring Raja Ampat for more than 2 decades. Because of that, the liveaboard crew is one of the best and most knowledgeable in Indonesia. This is expected since this liveaboard was once voted Tauchen Magazine's Best Liveaboard of the Year.
Aside from diving, Pindito also offers land excursions and the like. Pindito serves Indonesian, American and Chinese main meal dishes. Another perk! Coffee, tea, soft drinks, drinking water, fruit, afternoon snacks and cakes, beer and spirits are all provided free of charge! So every buck you spend on this Papua liveaboard is all worth it.
You can check the availability and prices for this boat here.
MV Pindito on board facilities and service:
Enriched air nitrox
Motorised dive dinghies
Camera room with table, 220V & 110V charging points, adaptors
Saloon with laptop, CD Burner, DVD players, music system, extensive marine
General library
Email access
Waterski and wakeboard
64 m² sundeck with shaded area, lazy chairs and matresses
Massage service (choice of Balinese, aromatherapy and foot reflexology)
MV Pindito Budget Range / Price: Starts at US$ 4,985 for a 10 night tour.
Click here to Check Availability and Prices for this Boat
Customer Review:
"I am so grateful for the opportunity of travelling with MV Pindito for 11 days last year. It was one of the most memorable and inciting moments in my life as a SCUBA diver! The cruise operator and owner, was so accommodating and hospitable.
The dive guides were experienced and shared their vast knowledge about Raja Ampat and the gorgeous dive sites, and in spotting attractive nudibranches and tiny pygmy seahorses. The stunning underwater scenery in Raja Ampat keeps flashing in my mind. I couldn't stop thinking about the captivating corals, reef fishes, and other stunning sea creatures.  I enjoyed our wall diving very much. I saw an alluring array of corals, sponges and different pieces of fish.  Multitude groups of trevallies, batfish, and barracudas were also entertaining to watch.  Seeing Epaulette Shark which is endemic to Raja Ampat and seven manta rays orbiting around us give me the chills. I was so mesmerized that I almost freeze in the spot.
Pindito is run by a professional team who willingly looks out for the guests and make sure that they attend to our needs. Their seamless quality customer service is what makes the liveaboard exists for more than 2 decades. Wow!  I admire the impressive professionalism exhibited from the management down to the Indonesian and European crew. Their camaraderie was also inspiring. I wish my co-workers are like them! Haha. I'm really rooting for their superb customer service. Moreover, I also enjoyed feasting on whatever meals, dishes or snacks they gave me. All the food tasted so good! They also helped us in setting up our gear before diving and took care of them after each dive.
I was cruising with 15 other divers coming from different parts of the world. It was a very pleasant experience for me. I got to know other divers. Thanks to Pindito. We had exhilarating moments in and out of the water. I will surely miss the chitchats and the happy sharing not only about our diving getaways but also our personal lives as well!
Thank you, Pindito for the good memories!" Jane, UK.
Where does this liveaboard dive boat go?
Check out the fabulous places where this dive boat travels to.
Note: some destinations may not be listed below, please enquire for more details.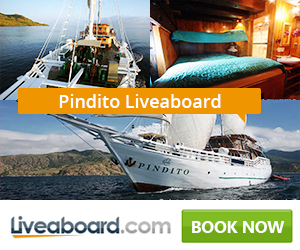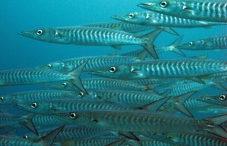 Richest Reef in the World, Amazing Biodiversity, Wonderful Coral, perfect place for underwater photography.
Other Liveaboard Reviews in Raja Ampat
Dive spots reviews in Raja Ampat
No dive sites reviews found