If you have been to Belize before, please share your experiences, ideas and feedback (Hotel, Excursions, General Feeling,…) in the comments section below, by doing so you will help fellow travellers to plan their next trip

Belize is a small country that is a surprise to many visitors. It is the only Central American country with English as its primary language having been a British colony. The country's small population is nestled mostly along the coast leaving the majority of the mainland uninhabited jungles. However, jungles that often hide a rich lost advanced civilization, the Mayans.
In this page you will find practical information to plan a scuba diving trip to Belize:
Belize Photos
Where to stay?
I usually use this website to book in advance my hotels in Belize as they usually have the lowest rates I find. I like it because it's free to cancel and change the dates.
We can group where to stay into three categories. A number of outstanding liveaboards are available in Belize. They provide a range of different dive sites to meet the needs of most Scuba divers.
Many of the dive resorts are located on the offshore Cayes or on one of the atolls. These locations are more focused on just water sports including Belize diving.
The mainland of Belize has a number of coastal cities and towns and these also have dive resorts or dive centers aligned with hotels. These facilities are better for the diver who is also wanting to explore the Mayan ruins and other land base activities available.
Activities and excursions in Belize
This year it is estimated that over a million cruise ship passengers will spend the day exploring Belize. Most will take day tours covering the sites close to Belize City and are not disappointed. The traveler with a less time restricted visit has a wide range of activities that they can enjoy. Here are just a few:
Ruins. The Mayan civilization is considered by many scientist to had been the most advanced in their time, and Belize was the center of that civilization. The number of Mayan towns is unknown and new finds of lost cities still happen from time to time. The 140 feet tall pyramid called"Canaa" (Sky Place) in the ancient city of Caracol is the largest man made structure in Belize. In 650AD that city was larger than the modern day Belize City and had twice the population. Another Mayan site,Lamanai, has been occupied for over 2,000 years. It is the largest of the Mayan ceremonial centers and has buildings covering all of the Mayan periods as well as the Spanish eras.
Nature Reserves. A large percentage of the country is jungle and much of it is set aside as nature preserves. Many of the preserves have marked trails for hikers. They range from short jungle walks to multiple day mountain treks.
ATM Cave – Actun Tunichil Muknal is a very unusual tour as it requires a 45 minute hike, followed by wading chest deep in a stream and possibly some swimming to get into a cave. The cave is an ancient burial site filled with human bones and ancient Mayan Artifacts.
Belize Zoo. The Belize zoo is a habitat zoo and is considered one of the best small zoos in the world. The zoo takes in indigenous wildlife that has either been injured or recovered from private owners. The zoo purpose is to prepare them to be reintroduced into the wild. The "cages" for these animals mimic their natural environment as much as possible.
Best time to visit Belize
Belize is a great place to visit year round.
The tourism peak is from November until April. 

Belize is a destination that those from North America and Europe travel to in the drive to escape the brutal cold weather of their countries. 

Whale shark season is March to May, and many divers consider this as the best time overall for a visit.
the dry season from November to June.

June

until October is the wet season, also called the green season.

During the green season, rain is not constant and seldom has consecutive days of rain. However, the seas can be rough and trips to remote areas might be canceled.

Belize is outside of the traditional "hurricane belt" and has a short hurricane season just August and October.
Health and Safety
The Belize government provides basic medical facilities to it's citizens. As such, every major city and town has a medical facility. The level of care in the public and even private facilities may not be up to international standards. Many Retirees from other countries return to their home countries for extensive or complicated medical procedures.
For pressure related diving injuries, the SSS Network / Belize Hyperbaric Facility operates a chamber on Ambergis Caye. Most of the dive centers charge a small per dive fee to help support the facility.
Medical insurance including dive insurance and emergency evacuation is recommended.
If you are planning an upcoming dive trip or travelling to Belize, it is a really good idea to invest in travel insurance for scuba diving, because you never know what could happen and when you might need it (because accidents do happen!). I recommend this diving insurance as they offer worldwide coverage and focus on providing scuba divers a quality insurance and medical assistance service.
Where is Belize located in the world?
Belize is a Central American country on the Yucatán Peninsula. The country borders on the north with Mexico and on the west with Guatemala. It east coast is the Caribbean sea.
How to get to Belize?
Belize has over 1.2 million visitors each year, however, over 900,000 of them are day visitors arriving on cruise ships. The remaining tourist arrive either by air or cross land borders. The Philip Goldson International Airport near Belize City is the only international airport in the small country. It has connections to the United States and a few to Europe.
Adventures travelers and those also visiting Cancun should consider the overnight bus between Belize and Cancun. Cancun is a major tourist destination and has more extensive international connections. Additionally the airfare to Cancun is often substantially lower.
Do I need a visa for Belize?
All visitors must travel to Belize on a valid passport (non-expired). The passport must be valid for no less than six months after the intended period of stay in Belize.
Nationals of the following countries do NOT require a visa to enter Belize as a tourist for a period of 30 days
Citizens of the European Union Member States (EU)
Citizens of the Caribbean Community Member States (CARICOM)
Citizens of the United States of America and dependent territories
Costa Rica
Chile
Guatemala
Iceland
Mexico
Norway
South Africa
Switzerland
Tunisia
Uruguay
Citizens of the Commonwealth Realms & Monarchies
Nationals of most other countries REQUIRE a visa to enter Belize.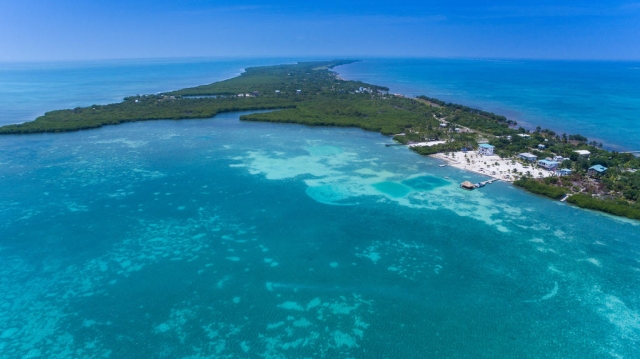 Getting Around
There is local air service to other parts of the country and many tourist travel in country by ferry boats or water taxis to destinations along the coast or to the offshore Cayes and Atolls.
Buses connected the different cities and towns.
Belize is a location that is a must do, not only for the scuba diver but for anyone that loves the outdoors or loves ancient history.
Scuba diving
You will find all information about sea life, best time to visit, top dive spots, etc. in our review: Belize Diving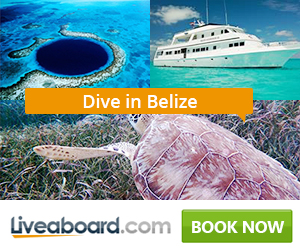 Diving Reviews for this region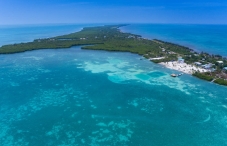 "Little known a decade ago, Belize is now a must do destination for serious divers."
Liveaboard Reviews in Belize
Cruise ship Reviews in Belize