Cost
Expensive, and Luxury!

KLM Sea Safari VII dive boat review
The luxurious Sea Safari VII liveaboard is offering scuba diving cruises in Indonesia. Indeed, the 37.5 meters dive vessel ventures to Bali, cruising around the famous island and also to Nusa Lembongan, Komodo, Flores and much more.
.
Boat Cabins & Layout
The 14 lavish cabins of the Sea Safari 7 make it possible for 28 divers to join on each trip. Moreover, each cabin comes complete with a private en-suite bathroom with hot shower, air-conditioning and it's own television.
You can check the latest schedule & prices for this liveaboard here.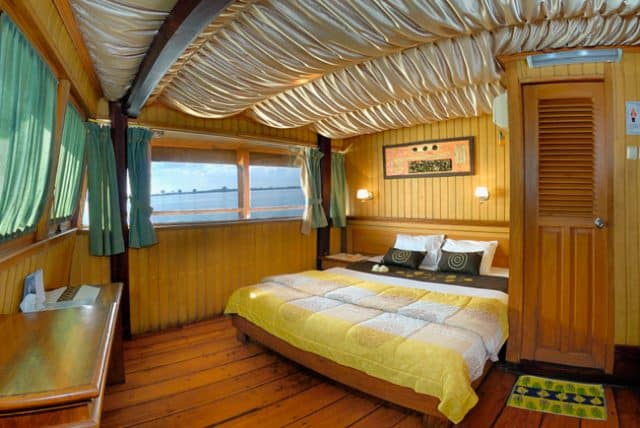 .
Also, there are multiple layout for the cabins, so that you can have flexible options. The cabins are spread over 2 decks and are either twin or doubles, making it perfect for either dive buddies and couples. More specifically, the lower deck features 6 double-bed cabins and 4 twin-shared cabins. As for the main deck, it is home to 4 double-bed cabins.
.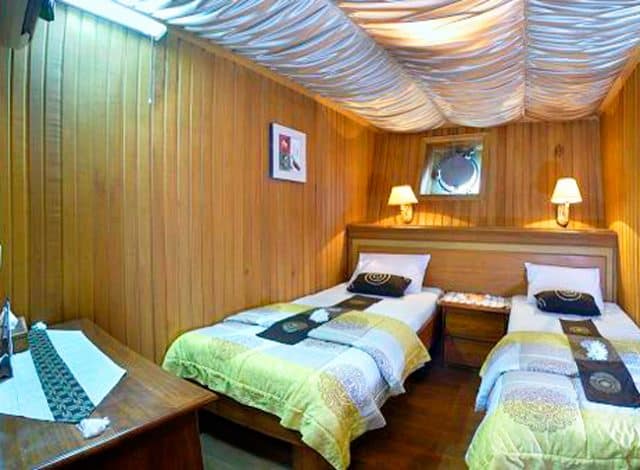 .
Sea Safari VII's On-board Facilities
The social areas on the Sea Safari 7 are massive, which is perfect cause even when the ship is at full capacity, it never feels cramped! Indeed, the massive lounge and indoor dining area that you can see pictured below offers comfort to every guests. Obviously, it comes complete with air-conditioning and TV/DVD with media library.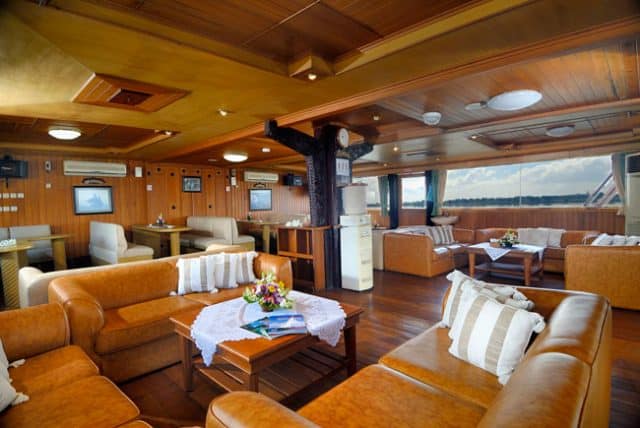 .
Furthermore, if you head outside, you will find an alfresco dining area as well as a bar lounge area. The lounge area is covered and fitted with couches, chairs and tables so you can enjoy it even through a hot afternoon. It's the perfect place to unwind, read a book and contemplate the ever changing view of Indonesia around you!
Moreover, walk a few stairs up and you will find another great lounging space… the sundeck! Featuring loungers and an unspoiled view of Bali, Komodo or whichever route you are on, it's perfect for sunbathing, star gazing and a photo shoot!
.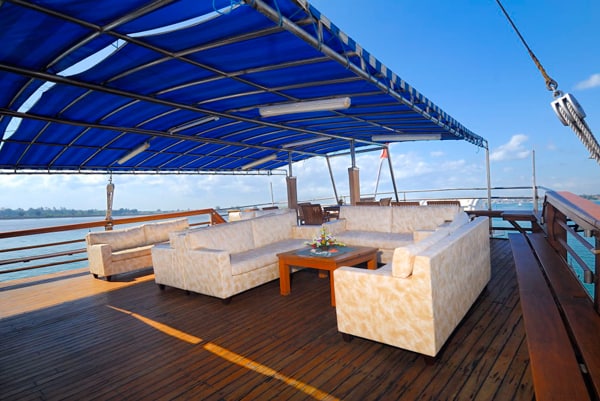 .
Vessel Layout
All in comfort and luxury, the Sea Safari VII is matching the renowned fleet standards, and beyond! Indeed, the Sea Safari Cruises fleet also brought you the Cheng Ho as well as the Sea Safari VI and SS8.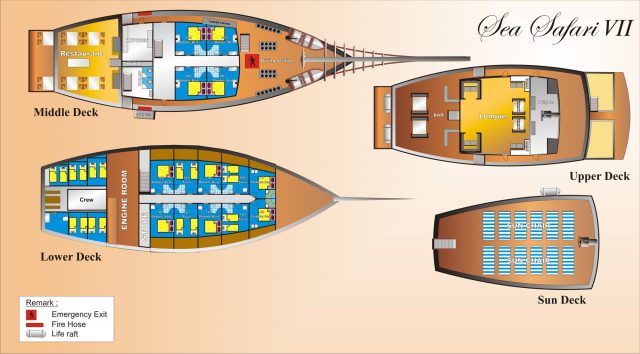 .
Scuba Diving with the Sea Safari VII
A scuba diving cruise around Bali, Komodo or Flores is already an amazing thing, spending this voyage on such a beautiful, unique and traditional vessel can only compliment it.
The Sea Safari vessel may be old looking and traditional but it's equipped with the latest navigation and diving safety equipment. Plus, the competent and professional crew is assisting and helping you in your scuba adventure.
The dive station is well organized and has plenty of space for the 28 divers to move around and not feel cramped. Photographers will also be happy as there is all the necessary material at the camera station.
---
This price table can be found complete on the fleet's website here.
Cabin Type
Night Rate per Pax
Non Diving
Diving
Lower Deck, Twin or Double
USD. 350
USD. 400
Upper Deck, Double
USD. 390
USD. 440
Where does this liveaboard dive boat go?
Check out the fabulous places where this dive boat travels to.
Note: some destinations may not be listed below, please enquire for more details.

Other Liveaboard Reviews in Bali & Indonesia & Komodo Island & Nusa Penida / Nusa Lembongan
Dive spots reviews in Bali & Indonesia & Komodo Island & Nusa Penida / Nusa Lembongan