Sea life
Very interesting sea life
Visiblity
Good visibility: 10->20m
Level Advanced Divers
Dive depth Deep diving, 25-40m
The Akitsushima Wreck is a former Seaplane Tender sunk in Coron Bay in Palawan. This former war ship is 118m long and is now one of the best dive site around Coron. It is located not far from another great spot, the Okikawa Maru Wreck.
The Akitsushima has been sunk on September 24 1944 during World War 2 by an American Air attack. It now lies in good shape on her port side 36m deep. The shallowest point of the wreck is 22m deep.
There are several penetration possibilities especially in the engine room where you can observe the machinery and the 4 engines. Due to the depth this should only be done by divers with a wreck diving certification.
The Seaplane that the Akitsushima was carrying disappeared in the explosion after she was hit at the stern and then sunk in a few minutes. You can still see the huge crane that was used to lift the seaplane. There is also an antiaircraft gun that you can find near the seabed.
You can spot also an interesting sea life with Barracudas, Tunas and Batfishes patrolling around the Shipwreck but there is not so many fishes.
Due to the depth and sometimes strong current this dive site is reserved to Advanced Divers.
Most people are here for
Wreck Diving
.
You can dive Akitsushima all year long. Access: from the Shore. See the map of Akitsushima on the right for the exact location.
Fishes you may spot while diving Akitsushima
Barracuda

Batfish

Grouper

Snapper
... and more fishes & sea life, Dogtooth Tuna, Yellowfish

Photos
previous
Grouper Resting

Photo by Agnes Tjandranegara

Potato Grouper At Night

Photo by Agnes Tjandranegara

Barracuda Alone In The Blue Sea

Batfish School Beautiful Setting
next
Diving Reviews for this region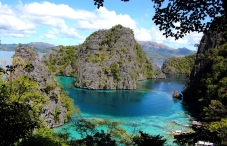 One of the Best places in the World for Wreck Diving!!! Also very interesting lake diving all within a superb tropical scenery setting... ahh bliss!
Liveaboard Reviews in Coron, Palawan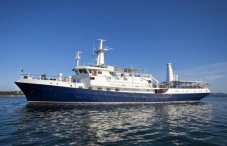 MV Discovery Palawan is one of the titul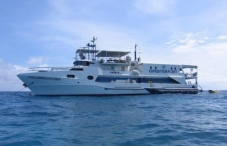 The Stella Maris Explorer is a 36 meters
Dive spots reviews in Coron, Palawan
The Irako Wreck is one of the best Wreck Dives of Coron Bay in Palawan and in the Philippines. It is a 147m long and 19m...
Skeleton Wreck is a popular Snorkelling spot in Coron Bay. It is also possible to scuba dive this small 25m long Shipwre...
Diving centers in Coron, Palawan