Cost
Expensive, and Luxury!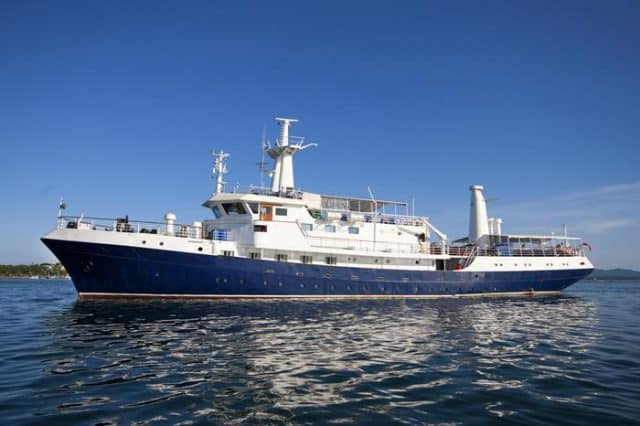 MV Discovery Palawan dive boat review
MV Discovery Palawan is one of the titular vessels of the tremendous Discovery Fleet. Offering what they claim to be a new style of cruising through the picturesque waters of the Philippines, the Discovery Fleet incorporate spectacular diving with snorkeling, kayaking, island visits and beach hopping for non-diving partners and friends.
The Philippines are in the rich waters of the Indian Ocean. Comprising approximately 7000 tropical islands, almost every type of aquatic life is a potential underwater encounter here. There are vast coral reefs. Intricrate macro life for those who love critters. Beautiful flora and fauna. And always the chance to see larger marine life too such as, potentially, whale sharks and manta rays.
If you're the kind of diver who loves twisted metal and the life it attracts, this may also be the location for you. The Philippines have comprehensive WWII history and the wrecks of areas such of Coron will more than satisfy you!
The Discovery Palawan is an immense liveaboard experience. Built in Holland in 1972, she was originally conceived as a 3-masted schooner to cruise the Caribbean. However, in 2013 she underwent a mammoth USD1.5million renovation to serve as one of the ultimate diving vessels in the Philippines.
This vast Lloyd's Registered vessel is a whisker under 50m in length, 539 tonnes (gross) and powers through the water at 10 knots. With a full array of safety equipment and no less than 3 tenders/chase boats, she is impressively capable.
You can check the availability and prices for this Boat here.
Cabins and Boat Layout
Given her vast size, Discover Palawan is capable of accommodating 32 guest across 20 cabins in style.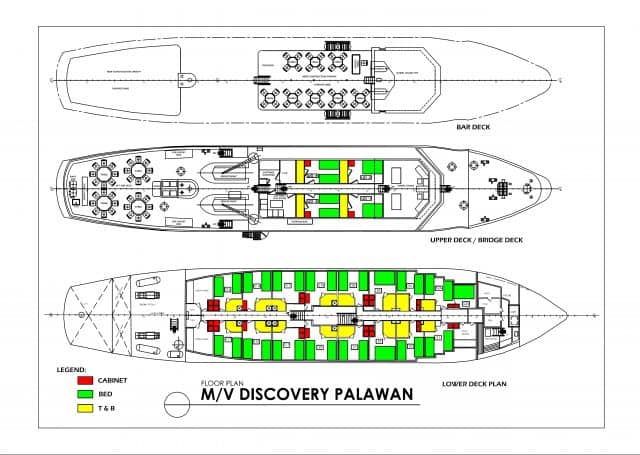 There are 4 cabin options:
Standard Twin Cabin – a twin cabin located on the lower deck with ensuite bathroom facilities and air-conditioning.
Upper Deck Twin Cabin – on the upper deck with a slightly airier feel. Also with ensuite bathroom, this cabin also has personal climate control.
Standard Double Cabin – on the lower deck with a queen-sized double bed, ensuite bathroom and air-conditioning.
Upper Deck Double Cabin – the same great facilities plus a lighter feel and personal climate control.
The vast size of Discovery Palawan means she never feels crowded. There is a vast salon/dining area indoors. Air-conditioned and with plenty of soft seating. You can relax here and watch a film, listen to music, read a book or simply make use of the space to edit your photos on your laptop.
Dining takes place either indoors or outdoors depending on your preference and the dining areas are spacious. The smiling staff are always on hand to assist with any requirements you may have as you enjoy a delicious mixture of local and international dishes.
There is a camera room for photographers, lots of charge points, and a sun-deck for the sun worshippers. For those more active, there are kayaking, snorkeling and island hopping options!
There is ample food and drink onboard and, for those interested, alcoholic drinks are available onboard for when the diving is completed.
Diving onboard Discovery Palawan
The diving is amazing and with Nitrox available onboard there is the chance to maximize your bottom time.
There are 3 chase boats to allow divers to be picked-up or dropped at precisely the right spot to make the most of the dive.
Should you be a non-diver or wishing to take the next step in your training, the instructors onboard will be happy to complete your training.
Itineraries
The itineraries depend on the season (see map). And, of course, dive site selection is obviously subject to the prevailing conditions.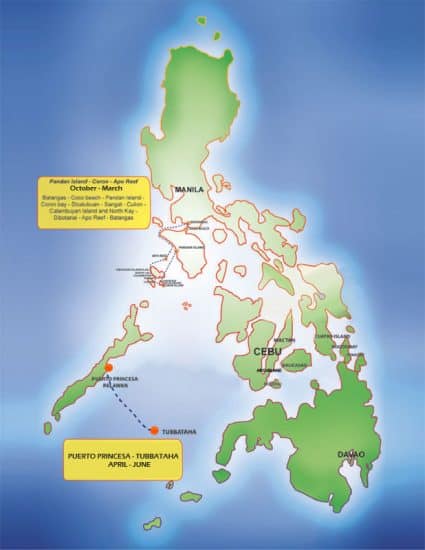 Expect to pay around EUR1,944 for a 7 day/6 night trip. This equates to 277/day, making her competitive for the region. Please note that this does not include some extras such as port/marine park fees, nitrox, alcoholic drinks and equipment rental. Please contact us for further details.
Where does this liveaboard dive boat go?
Check out the fabulous places where this dive boat travels to.
Note: some destinations may not be listed below, please enquire for more details.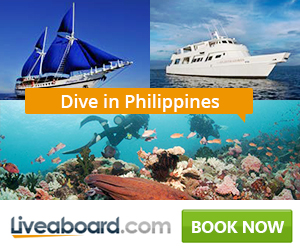 Other Liveaboard Reviews in Coron, Palawan & Philippines
Dive spots reviews in Coron, Palawan & Philippines