Cost
Expensive, and Luxury!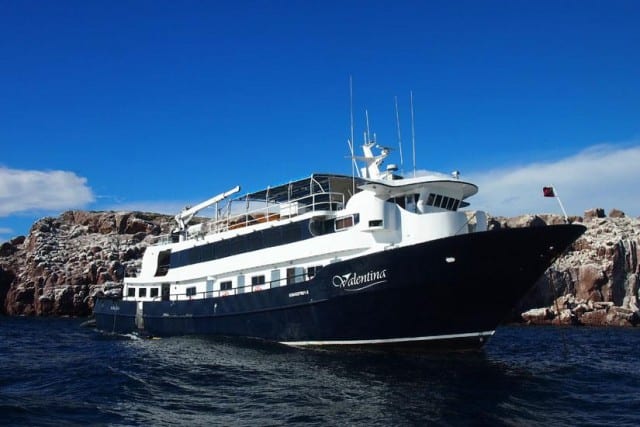 MV Valentina dive boat review
In between Mexico's rugged west coast the sunny shores of the Baja Peninsula – stretching 1000 miles south from Tijuana – lies the Sea of Cortez. Now a World Heritage Site, the  Scuba diving here can be spectacular and challenging. Conditions variable. And, of course, there is always the hope in these waters to see some of the larger ocean creatures that inhabit these waters.
There are a selection of liveaboards to choose from in this area. MV Valentina, re-branded and now owned by Fun Azul Fleet, is such a vessel. MV Valentina operates in both the Sea of Cortez and the Socorro Islands.
Cruising from the Bay of La Paz, MV Valentina liveaboard is 38m long, 10m wide and can accommodate a maximum of 20 guests. This makes MV Valentina comparable with other vessels operating in the area, such as MV Solmar V liveaboard.
You can check the availability, schedule and prices for this Boat here.
Cabins & Boat Layout
There are 10 cabins onboard the Valentina Liveaboard split as follows:
2 x Deluxe cabins with 1 double bed and 1 single bunk
1 x Deluxe double cabin with a double bed
7 x Deluxe twin cabins with bunk beds.
All of the cabins feature air-conditioning and have their own bathroom with shower. You will also, as expected, find fresh towels as required. Originally as cruise ship that was subsequently adapted for divers, the MV Valentina never feels cramped or crowded. There is ample room for all her guests.
Outside of the cabins on the main deck there is a dining area or lounge. Complete with comfortable chairs and sofas, it is also air-conditioned.
The dining area is where the on-board chef prepares your breakfast, lunch and a sublime evening meal. The food provided is a combination of Mexican, European and Asian cuisine. If you have any special dietary requirements, the crew will be sure to accommodate your needs given sufficient notice. Fresh snacks are also available throughout the day should you still feel peckish!
In this area you will also find audio equipment and TV facilities. Guests are actively encouraged to bring music and films to share and enjoy.
There is the ubiquitous sun-deck on the top level of the vessel. Here you will find sun loungers where you can top up your sun-tan or, alternatively, enjoy a cold beer when the day's diving is completed. The onboard bar is 'open' and features as selection of soft drinks, spirits and beers. However, please be aware some of these may need to be paid for onboard.
Diving onboard Valentina Liveaboard
Unlike some other diving destinations, diving is the main focus of this particular vessel.
The required oxygen, first aid and life-jackets are on the vessel. And, for additional safety, diving computers are mandatory so that no-stop times, ascent rates and required stops may be monitored. For those travelling further afield on the Socorro Island itinerary, personal GPS (such as a Nautilus Lifeline) is also required.
There is a spacious dive deck with, centrally, a camera table to work from should you be an underwater photographer.
Nitrox is available on board for those qualified at a fee of USD120 for 6 days diving and highly recommended to maximise your profile and bottom time.
At USD3,580 for a 9 nights, 10 days, 6 days of diving package, MV Valentina is not an inexpensive place to dive. However, this is reasonable to compared to it's peers. And, let's not forget, is one of the few places left in the world where you may have a chance to see these large pelagic ocean dwellers.
Where does this liveaboard dive boat go?
Check out the fabulous places where this dive boat travels to.
Note: some destinations may not be listed below, please enquire for more details.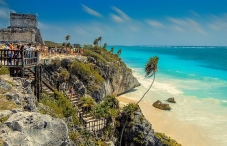 Mexico's Yucatán offers outstanding reef diving, wall dives, drift dives and the largest underwater art museum in the world.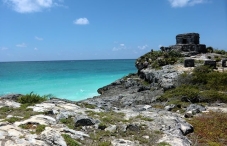 Mexico offers divers choices, Great liveaboards and large marine life encounters in the west, great reefs and cenotes in the east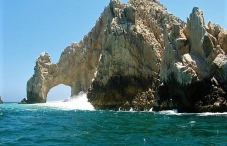 The Baja offers outstanding diving and is one of the best shark diving destinations for liveaboards.
Other Liveaboard Reviews in Guadalupe Island & Mexico & Sea of Cortez & Socorro Island
Dive spots reviews in Guadalupe Island & Mexico & Sea of Cortez & Socorro Island
No dive sites reviews found