If you have been to Cayman Islands before, please share your experiences, ideas and feedback (Hotel, Excursions, General Feeling,…) in the comments section below, by doing so you will help fellow travellers to plan their next trip

The Cayman Islands: The world's favorite dive destination. Since the early days of scuba diving the Cayman's have been awing divers.
Three islands that have over 365 dive sites one for each day of the year. Diving is one of the major draws, but not the only one. The Islands are noted for their outstanding beaches including Seven Mile Beach.
The Cayman Islands are a British Overseas Territory and is composed of three islands: Grand Cayman, Cayman Brac and Little Cayman. Not only is a popular vacation and cruise destination it is a leading honeymoon destination as well.
The Cayman Islands have two major industries: Tourism and Financial services. Financial services also called off shore banking employs about one third of the workforce. Tourism is what keeps the islands in peoples minds.
In this page you will find practical information to plan a scuba diving trip to Cayman Islands:
Cayman Islands Photos
Where to stay?
The majority of tourist who visit the Cayman Islands stay on Grand Cayman island. Here you have a wide range of hotels and resorts to choose from. Condominiums and short stay apartments are other popular options.
Accommodations on the other two islands are more limited and appeal more to those looking for a more secluded and slower environment. The Cayman Islands is also a great liveaboard destination for scuba divers. While all of the dive sites around the islands are reachable by boat, a liveaboard offers a wider range of dive sites within a typical week.
Since you are spending less of your time traveling between the dive center and dive sites you can spend more time diving. The night diving options on a liveaboard are much better.
Activities and excursions in Cayman Islands
While the Cayman Islands are well know as a dive destination, they are equally known as a general tourism destination as well. The beautiful beaches such as Seven Mile Beach are some of the best in the world. The majority of the attractions are on Grand Cayman and most are water related. Here are some other activities:
Tell your traveling companion to go to Hell, then go with them. Hell is the name of an area in West Bay on Grand Cayman Island. It is a unique black limestone formation. Stop in the Post Office and send a postcard from Hell.
Stingray City is the most popular attraction in the Caymans. The story goes that decades ago fisherman used to pull into a sandbar area in the north sound to clean fish before heading to market. The scraps attracted large stingrays who just stayed in the area. Now tourist can swim or scuba dive with these majestic animals.
Cayman Crystal Cave is a new attraction and rapidly becoming a popular attraction. Situated in a lush tropical forest in Northside, Grand Cayman, guest to the Cayman Crystal Caves can explore this three cave system.
Cayman Turtle Centre: Island Wildlife Encounter is a good place to earn about sea turtles.
Best time to visit Cayman Islands
The best time to visit the Cayman Islands is the standard Caribbean answer, any time. The Cayman Islands are within the hurricane belt so you need to consider the hurricane season. It is from June to November.
Health and Safety
Cayman Islands Hospital locally referred to as the George Town Hospital (GT Hospital), manages nearly all major medical emergencies for the three Islands. There are two other hospitals on Grand Cayman island, Health City Cayman Islands and Chrissie Tomlinson Memorial Hospital and one more on Cayman Brac.
The Joint Commission International Hospital Standards (JCI) are the highest in the world with only the best hospitals being certified. In the Cayman Islands, the JCI Gold Seal of Approval has been bestowed to Health City Cayman Islands. Health City is a growing presence in medical tourism.
The Cayman's have a low crime rate, however, normal precautions should be taken.
If you are planning an upcoming dive trip or travelling to Cayman Islands, it is a really good idea to invest in travel insurance for scuba diving, because you never know what could happen and when you might need it (because accidents do happen!). I recommend this diving insurance as they offer worldwide coverage and focus on providing scuba divers a quality insurance and medical assistance service.
Where is Cayman Islands located in the world?
The Cayman Islands are in the Western Caribbean and is a part of the Greater Antilles. It is located south of Cuba, east of Yucatan Mexico and west of Jamaica. The Cayman Islands are mountain tops of the Cayman ridge an extension of the Cuban Sierra Maestra range.
How to get to Cayman Islands?
Most tourist to the Cayman Islands arrive by air at the Owen Roberts International Airport (IATA: GCM) on Grand Cayman Island.
The airport has direct flights from Europe and many North American cities. There are also regional flights to other Caribbean nations.
The Sir Captain Charles Kirkconnell International Airport (IATA: CYB) located on Cayman Brac is also an international airport, however, it has very limited international scheduled service. It is used by international private planes and has domestic service to the other two cayman airports.
Edward Bodden Airfield (LYB) is a small airport located on Little Cayman and has daily service to the other two airports.
The Cayman Islands is a popular destination for private yachts.
The Cruise industry loves the Cayman Islands, sending as many as 10,000 tourist a day to Georgetown on Grand Cayman Island.
Do I need a visa for Cayman Islands?
There are a number of countries who's nationals are allowed to enter the country without first obtaining a visa. This list is available on the  Cayman Islands Immigration website.
Residents of the United States, Canada and UK may enter without a visa even if thy are nationals of countries that do require a visa. A comprehensive and update list can be found at the Cayman Islands Immigration site
Getting Around
Getting a rental car is the most common way to get around on Grand Cayman Island. However, you can use the public transportation system as well.
On Little Cayman and Cayman Blac you will mostly walk to get around these small islands.
There is not a ferry between the islands, so flying is the most common manner to reach the different islands. You can at time find charters that are headed to the other islands or you can charter a boat yourself.
The Cayman Islands is one of the leading scuba diving and vacation destinations in the world. The 365 different dive sites provide divers of all skill levels outstanding diving. The beaches, water sports and other activities and attractions make for a perfect combination vacation.
Scuba diving
You will find all information about sea life, best time to visit, top dive spots, etc. in our review: Cayman Islands Diving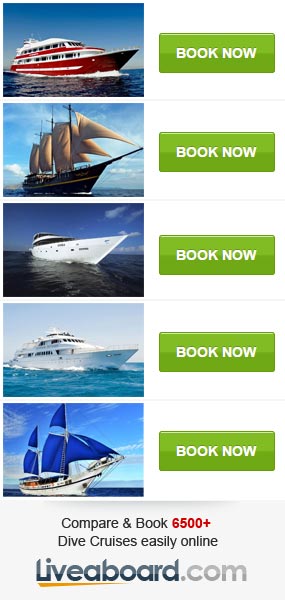 Diving Reviews for this region
Liveaboard Reviews in Caribbean & Cayman Islands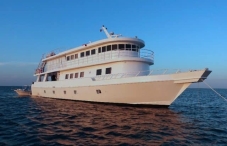 The Jardines Aggressor is a liveaboard o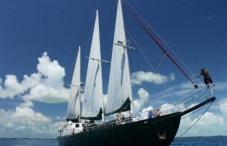 The almost 32 meters Juliet is a schoone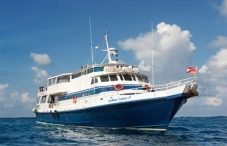 The Caribbean Explorer II departs from e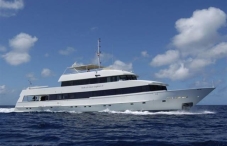 The MV Turks & Caicos Explorer II is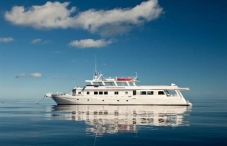 The MV Turks and Caicos Aggressor II is
Cruise ship Reviews in Caribbean & Cayman Islands