Sea life
Very interesting sea life
Visiblity
Outstanding! 20m and more
Level Advanced Divers
Dive depth Deep diving, 25-40m
The HMAS Swan is a stunning wreck dive near Dunsborough in Western Australia. The HMAS Swan is a former 113 m long and 21 m high destroyer escort. It was sunk in 1997 in order to create a wreck dive site and an artificial reef. It worked because now it is a major tourist attraction with about 15 000 dives every year! Following this success, the HMAS Perth was then sunk in 2001 also.
Dive site
Diving the HMAS Swan is suitable for beginner divers. The top of the shipwreck is only 6 meters deep. For the Experienced divers it is also a perfect playground with many possibilities of penetration and underwater photography. Larges holes have been constructed in the hull to allow easy entry and exit for divers. However there is a bit of silt so always be aware.
The Maximum depth is 30 metres with the shipwreck resting on the sandy bottom. The average visibility is about 20 meters with often none to very gentle current.
Marine Life
The wreck is home to around 100 different species of fish. For example you will have the opportunity to spot Batfishes, Bullseyes, Samson fishes, Cowfishes, and many more. The soft coral is also incredible to see.
Access
The HMAS swan is located in the peaceful Geographe Bay, 2.4 km away from Meelup Beach in Dunsborough, Western Australia. It takes about 3 hours to drive there from Perth (225 km).
In front of thousands of Australians, HMAS Swan saw sunk on December 14 of 1997. The warship now sits in calm, pristine waters and has become one of the most dived shipwrecks in Australia.
It takes 15 minutes by boat from Dunsborough to the dive site.
The best time to dive the ex HMAS Swan is from November to May.
HMAS Swan Sinking
The HMAS Swan was sunk the 14 December 1997. You can even watch the video of the sinking.
Most people are here for
Wreck Diving
.
Best time to dive: the ideal period to plan holidays here isNovember to October. Access: from the Shore. See the map of HMAS Swan on the right for the exact location.
Fishes you may spot while diving HMAS Swan
Bannerfish

Clownfish

Eagle Ray

Goatfish

Grouper

Leopard Shark

Lion Fish

Moray Eel

Parrotfish
... and more fishes & sea life, Bull Ray

Photos
previous
Clown fishes waiting in front of their blue anemone house

Lion Fish swimming in crystal clear water

Photo by Agnes Tjandranegara

Eagle Ray Closeup

Photo by Matthieu Billaud

Moray Eel Closeup

Photo by Agnes Tjandranegara

Eagle Ray

Photo by Matthieu Billaud
next
Diving Reviews for this region
Liveaboard Reviews in Australia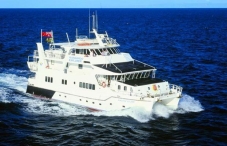 MV Kangaroo Explorer was originally buil
Dive spots reviews in Australia
Diving centers in Australia