Cost
Expensive, and Luxury!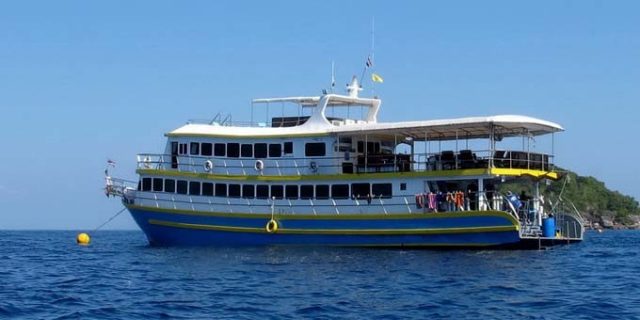 MV Oktavia dive boat review
The 30 meters Oktavia is a liveaboard operating in Thailand, more specifically cruising to the Similan Islands. Indeed, the sturdy vessel promised a nice calm voyage on the Andaman Sea.
.
Boat Cabins & Layout
The Oktavia welcomes a maximum of 20 guests on each trip, but it could certainly hosts many more. Indeed, the vessel is spacious and the limited number of guests makes it more comfortable for everyone to enjoy. Also, the various types of cabins give you a flexible accommodation choice. First, among the standard cabins you can choose from cabins with a double bed or with 2 twin beds. All of those cabins have air-conditioning and share 4 bathrooms / toilets between them. Secondly, there are 2 master staterooms, which are bigger and feature an en-suite bathroom.
Visit this page view prices and availability for this boat.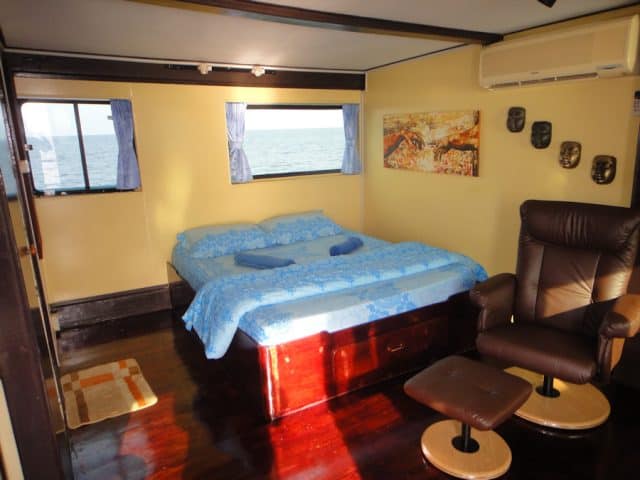 .
Oktavia's On-board Facilities
The Oktavia displays generously sized communal areas, making sure every body has ample space. The main deck is home to a large dining area, that's also where the dive briefing happens. Also, head toward the bow on the same deck and you'll find a great seating area, ideal to contemplate the surrounding landscape of the Similan Islands. Furthermore, the boat features a large sundeck, providing a picturesque view and plenty of space to sunbathe.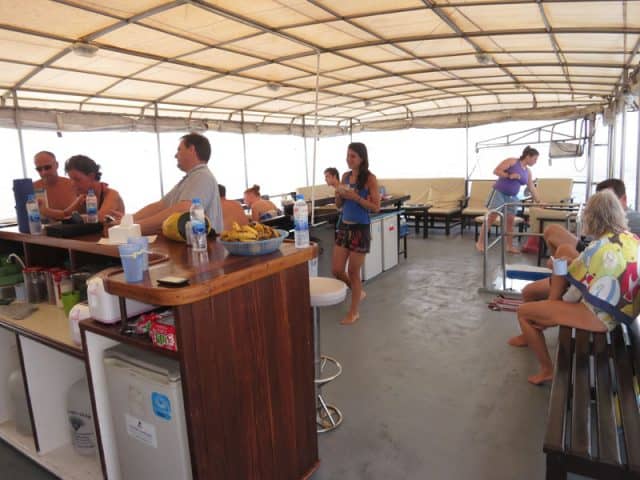 .
Vessel Layout
The MV Oktavia is a sturdy dive boat and feature all the expected safety and navigational technologies.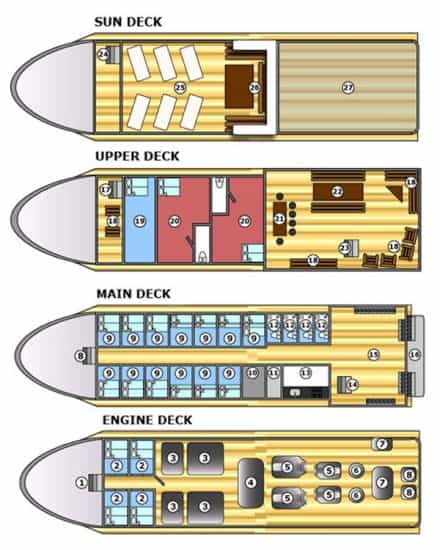 Scuba Diving with the MV Oktavia
The spacious dive deck is located at the aft on the main deck, followed by a generously sized swim platform. The dive deck has individual kitting up stations and storage for all the scuba diving equipment. Also, all the usual necessities such as camera charging stations, rinse tanks and all the safety equipment is ready for you on-board. The MV Oktavia offers different cruises and itinerary, either scuba diving or snorkeling cruises and itineraries that go from 2 to 5 days.
---
Price starts at 468$ US for 2 days / 2 nights – Similan Islands Scuba Diving
Price starts at 942$US for 5 days / 5 nights – Similan Islands Scuba Diving
Please visit the liveaboard's webpage for more details & schedules!
Where does this liveaboard dive boat go?
Check out the fabulous places where this dive boat travels to.
Note: some destinations may not be listed below, please enquire for more details.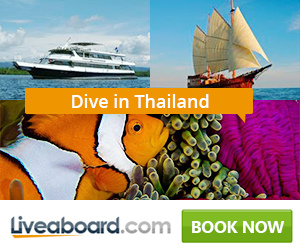 Other Liveaboard Reviews in Similan Islands & Thailand
Dive spots reviews in Similan Islands & Thailand