Cost
Expensive, and Luxury!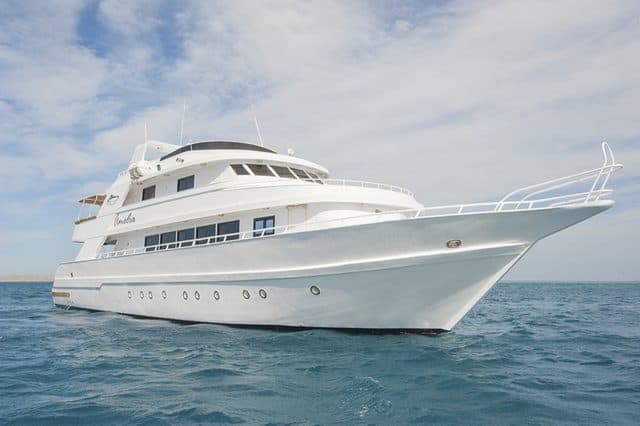 MY Amelia dive boat review
The 32 meters Amelia is a liveaboard offering scuba diving cruises on the Red Sea. She's a newer and luxurious dive vessel and as a proud member of the Discovery Diver's fleet, the MY Amelia promises great service and unforgettable adventures!
.
Boat Cabins & Layout
The Amelia welcomes up to 20 guests on-board in 10 comfortable and spacious cabins. Indeed, the cabins offer plenty of storage space are feature either 2 twin beds or 1 large double beds. Plus, the cabins all have air-conditioning as well as their own private bathroom and, bathrobes and towels are furnished.
Visit this page to compare liveaboard & prices for the Red Sea!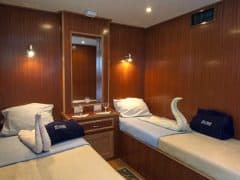 .
MY Amelia's On-board Facilities
The MY Amelia is very generous in term of communal space, either for everybody to gather together or for divers to have some privacy. Indeed, the warm atmosphere of the many outdoor spaces on the ship extends to it's interior. The large dining room has more than enough space for everyone to eat freshly cooked meals in comfort, like home. Plus the huge lounge area is the perfect place where to hang out as it has just everything you might need. Indeed, the bar doesn't only has drinks but also snacks throughout the day.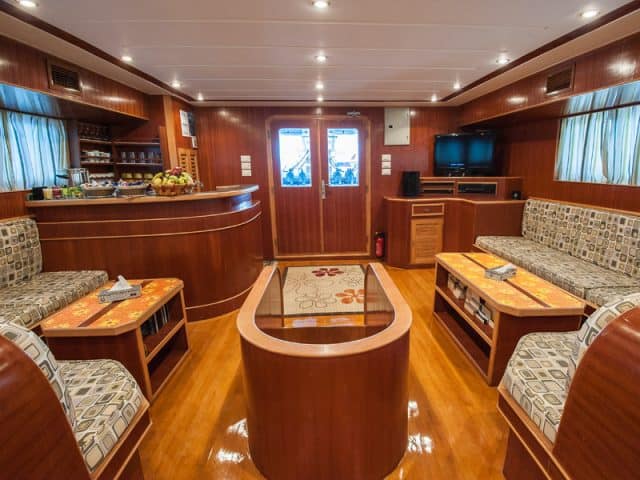 .
Furthermore, when you step outside and head to the upper deck, you'll find an open air lounge area. Indeed, this convivial space offers plenty of space, cushioned seating and a breathtaking view of the Red Sea. Plus, there's a fully stocked bar where you can enjoy soft drinks or anything from beers, spirit and wine.
Moreover, there is also a sundeck on the top deck. This is a totally open air area fitted with mats and perfect for sunbathing or star gazing at night!
.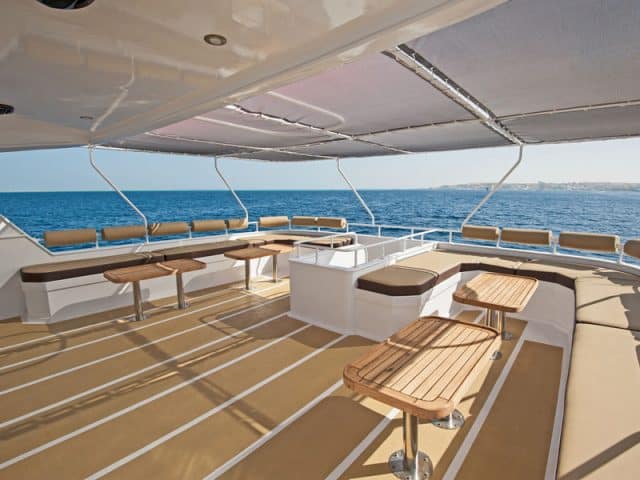 .
Vessel Layout
The MY Amelia is much alike it's Red Sea's sistership from the Discovery Divers Fleet, the MY Samira. The dive vessels are alike in term of lavish design and great service on-board. The MY Amelia is slightly smaller, but she was also smartly designed so we barely notice a difference.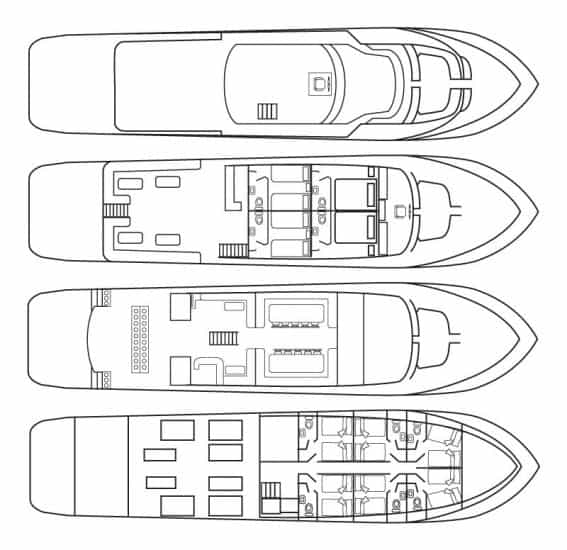 .
Scuba Diving with the MY Amelia
The Amelia has a sizable dive deck with stairs going down to a large dive platform. There's under bench storage for your gear, nitrox is available on-board and the boat has 2 inflatables tender when needed. Of course, the MY Amelia is fully equipped with the latest navigation and diving technologies.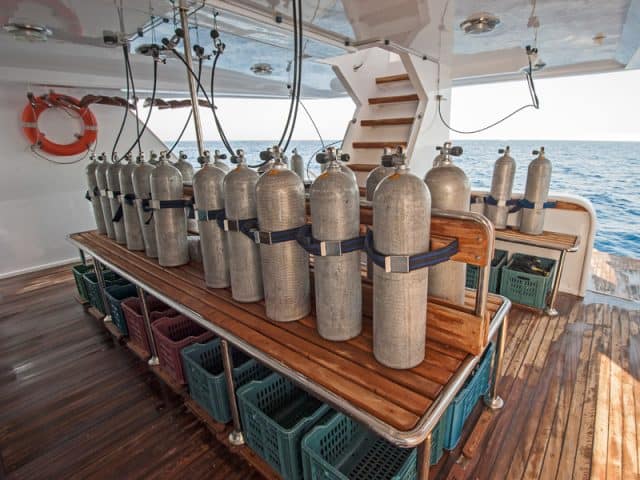 Moreover, the Amelia offers departures from different points throughout the month depending on demand and scheduled routes.  Indeed, departures and returns can be scheduled from Sharm El Sheikh, Hurgadha, Safaga, Marsa Alam, etc.
---
$ Prices vary a lot depending on itinerary and trip length.
Please see the Availability Schedule of the MY Amelia for more information.  
.
Where does this liveaboard dive boat go?
Check out the fabulous places where this dive boat travels to.
Note: some destinations may not be listed below, please enquire for more details.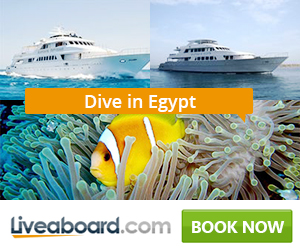 Other Liveaboard Reviews in Red Sea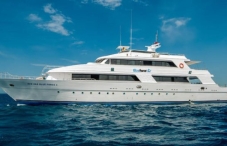 The 40 meters Blue Force 3 is a luxury l
Dive spots reviews in Red Sea