Cost
Expensive, and Luxury!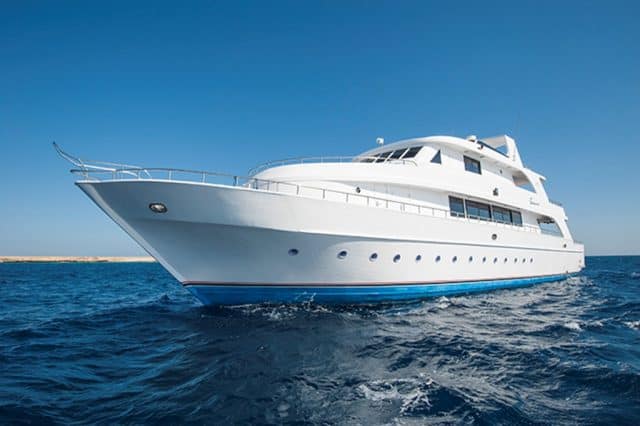 MY Samira dive boat review
The 37 meters Samira liveaboard, owned by Discovery Divers Red Sea, is offering scuba diving cruises on the Egyptian Red Sea. The beautiful wooden vessel was designed with liveaboard diving in mind and appears in luxury and comfort.
.
Boat Cabins & Layout
The Samira can accommodate a maximum of 20 divers on-boars. Indeed, with 10 double occupancy cabins plus a lot of great communal areas, there's plenty of space for everyone.
There are 8 cabins, located on the lower deck, which display 2 twin beds. Plus, each has air-conditioning and ensuite bathroom. Moreover, you'll find 2 extra cabins, said "honeymoon suites" on the top deck. Indeed, these cabins have double beds, a mini bar, air-conditioning and a private bathroom with separate shower stall. Also, those two cabins each have their own entertainment system.
Visit this page to compare liveaboard & prices for the Red Sea!

.
Samira's On-board Facilities
Pictured below, you can see the huge dining room adjacent to the indoor lounge area. Of course. the restaurant-like dining room offer a convivial atmosphere and is convenient with the buffet bar at your disposal. The lounge has plenty of comfortable seating space and comprises a full entertainment unit.

.
Furthermore, if you step outside on the upper deck, you'll find an outdoor lounge area. There is cushioned bench-like seating, tables and bean bags spread around. Plus, behind the benches there are comfortable cushioned day beds, perfect for sunbathing! Also, in the shaded part, there's a bar with choices of beers, spirits and wines.
Lastly, if you walk upstairs, you will land on the top sundeck. This one is simply an uncovered space, perfect to sunbathe and, mostly, watch the Red Sea's starry sky at night!
.

.
Vessel Layout
This wooden hulled beauty belong to the Discovery Divers Fleet and has one sistership sailing along on the Red Sea, the MY Amelia. They are slightly different in design and everything but they seem to offer the same accommodation (20 divers) and services.

Scuba Diving with the Samira
The Samira has everything a dive boat should have. Indeed, it's fully equipped with the latest safety and diving features. Indeed, the dive deck features 2 Bauer compressor, Nitrox membrane filling system, 12L aluminum tanks, etc. Plus, it's spacious and has storage for everyone's gear.
The Samira departs from different points throughout the month depending on demand and scheduled routes.  Indeed, departures and returns can be scheduled from Hurgadha, Sharm El Sheikh, Masra Ghaleb, Safaga, etc.
---
$ Prices vary a lot depending on itinerary and trip length.
Please see the Availability Schedule of the MY Samira for more information.  
.
Where does this liveaboard dive boat go?
Check out the fabulous places where this dive boat travels to.
Note: some destinations may not be listed below, please enquire for more details.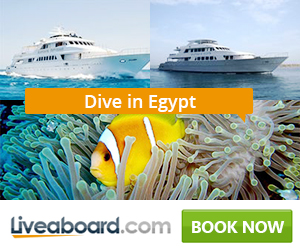 Other Liveaboard Reviews in Red Sea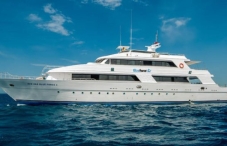 The 40 meters Blue Force 3 is a luxury l
Dive spots reviews in Red Sea