Cost
Expensive, and Luxury!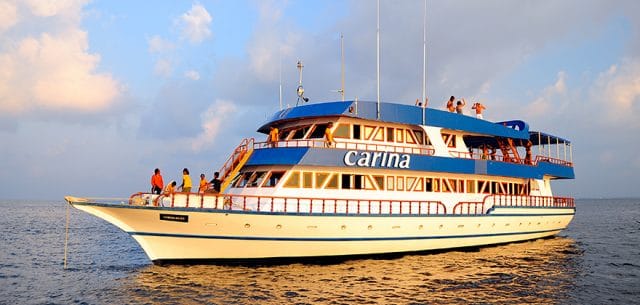 MV Carina dive boat review
MV Carina is a 33 meters liveaboard operating in the Maldives. Indeed, the beautiful boat, which was thoroughly renovated in 2012, offers various itineraries on the Maldivians atolls.
.
Boat Cabins & Layout
The MV Carina can host a maximum of 20 passenger in 10 beautifully appointed cabins. There are 4 cabins displaying one double plus one twin bed and 5 cabins are twin shared. Plus, the 1 remaining cabin features a queen size bed. Every room on the Carina comes complete with air-conditioning, a mini bar and en-suite bathroom.
Visit this page to compare liveaboard & prices for the Maldives!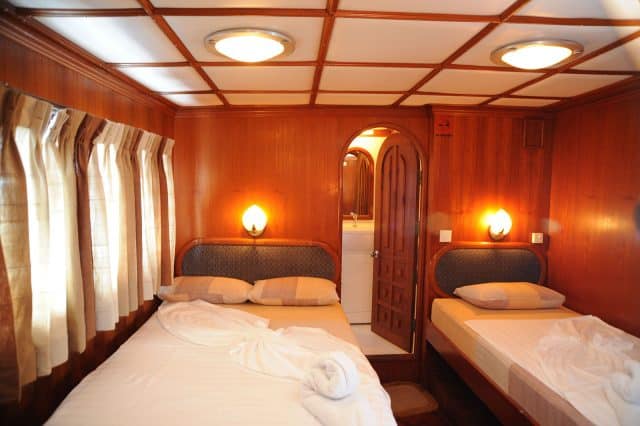 .
MV Carina's On-board Facilities
The MV Carina features plenty of space on-board for relaxation and to mix and mingle with fellow divers. Indeed, in a lavish wooden decor, the interior of the ship features a lounge and dining area. A mix of Maldivian and western fares are offered and cooked fresh every day. Also, as pictured below, you'll find a bar where you can get fresh juice or a cocktail at the end of the day and admire the Maldives stunning landscape.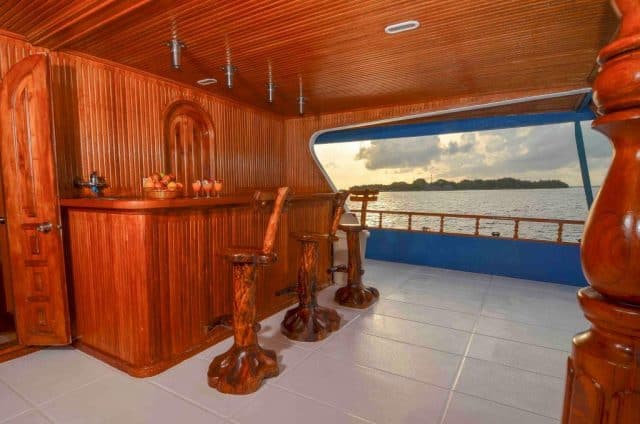 .
Furthermore, head to the very top deck and you will get another great spot to enjoy the ever changing views of atolls and crystal clear waters. Of course, the top sundeck is immense, perfect for some yoga, soaking in the sun rays or even star gazing at night time.
.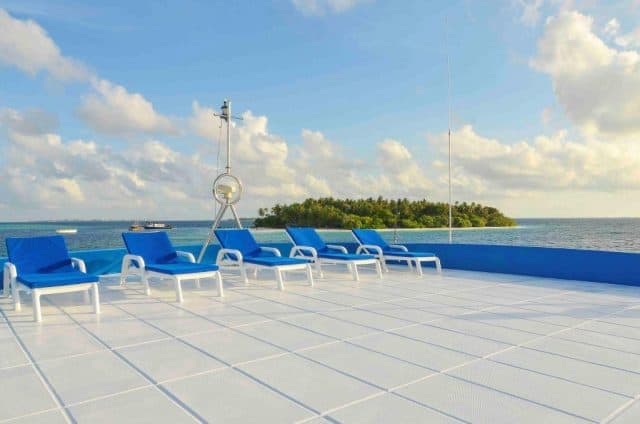 .
Scuba Diving with the MV Carina
Diving wise, the MV Carina promises a very flexible experience to scuba divers. Indeed, they proudly boast to offer flexible itineraries to suit what divers want to see but also according to the dive guides and instructor's professional knowledge. Following the seasons, and the migratory species, the itineraries are always made to insure the best scuba diving.
Finally, the Carina is equipped with all the latest navigation and scuba diving technologies, including the ENOS-diver-location security equipment.
---
---
Please visit the vessel's webpage to see schedules and prices. 
.
Where does this liveaboard dive boat go?
Check out the fabulous places where this dive boat travels to.
Note: some destinations may not be listed below, please enquire for more details.

Great Drift Dives, amazing place for underwater photography. Good chance of spotting Manta Rays and Whale Sharks!
Other Liveaboard Reviews in Maldives
Dive spots reviews in Maldives
No dive sites reviews found