Cost
Expensive, and Luxury!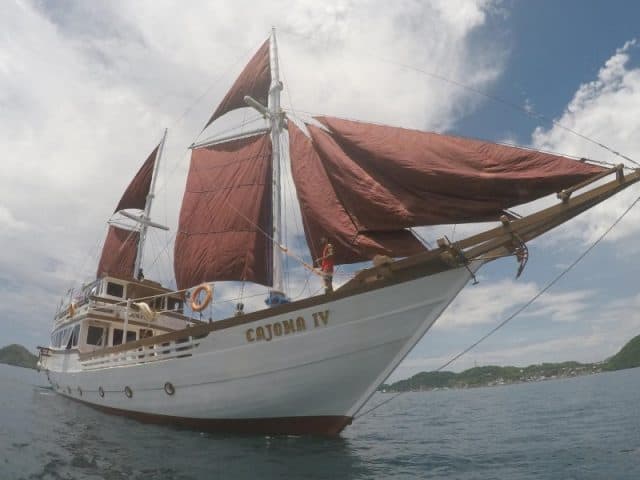 Cajoma IV dive boat review
The Cajoma IV is a newer 30 meters long liveaboard sailing the waters of Indonesia. Indeed, the traditional Indonesian phinisi vessel was built in 2015 and offers itineraries in the Komodo National Park.
. 
Boat cabins & Layout
The Cajoma 4 can cater to 8-10 divers on each voyage. Indeed, with 4 beautiful cabins each hosting 2 or more guests, that's plenty of space for everyone. All cabins can be booked in double occupancy, except for the family suite which can have up to 4 people. Moreover, each cabin comes with an en-suite bathroom, air-conditioning, plenty of storage space and regular 220V electrical sockets.
Visit this page to compare liveaboard & prices for Indonesia!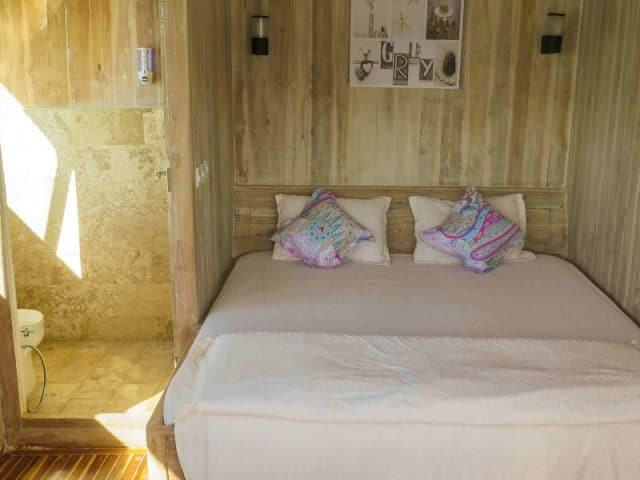 .
Cajoma IV On-board Facilities
On the Cajoma IV, most of the action and the lounging happens outside. Indeed, the outdoor lounge features lounging chairs and bean bags seating options as well as a jacuzzi tub! The lounge is partially shaded and allows a beautiful view of Indonesia. Plus, the dining area is spacious and also in an open-air area. The food is prepared fresh everyday by the team of cooks and consist of a mix of Indonesian and western fares.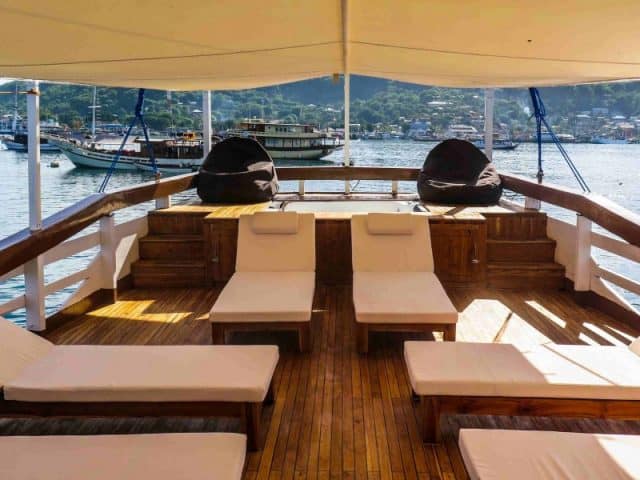 .
Furthermore, if you wish to stay inside by a hot day and take advantage of the air-conditioned interiors you may do so! Of course, there's bar and lounge area where you can enjoy a coffee, a cocktail and watch television or listen to your favorite music.
.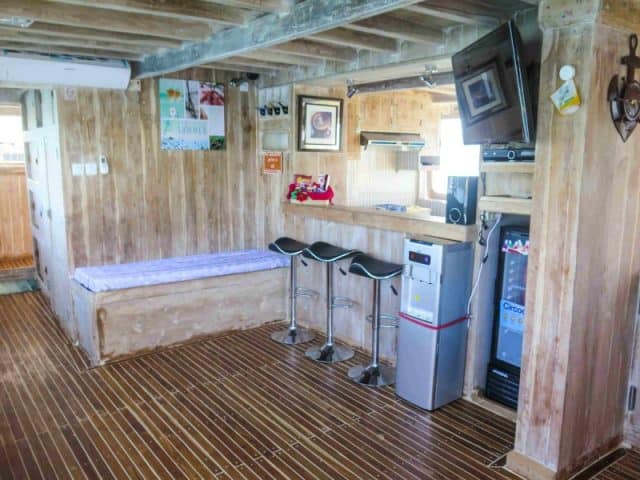 .
Take a minute to watch this stunning drone footage of the Cajoma 4!
.
Scuba Diving with the Cajoma IV
During a regular itinerary on this modern, yet traditional, phinisi dive boat, you will be able to dive up to 15 times. Indeed, regular itineraries are 4 days and 3 nights. That being said, the Cajoma 4 is more than happy to make custom itineraries for charter groups (3 nights or more).
Moreover, the scuba diving is always supervised by one (or two) experienced and professional guide. The vessel is equipped with all the latest navigation and scuba diving technologies, ready for a great dive safari in Komodo National Park!
---
Please contact Cajoma Indonesia directly for schedules & prices. 
.
Where does this liveaboard dive boat go?
Check out the fabulous places where this dive boat travels to.
Note: some destinations may not be listed below, please enquire for more details.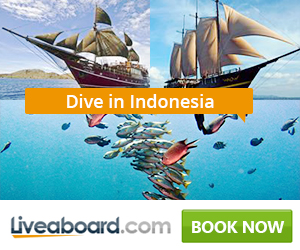 Other Liveaboard Reviews in Indonesia & Komodo Island
Dive spots reviews in Indonesia & Komodo Island