Cost
Expensive, and Luxury!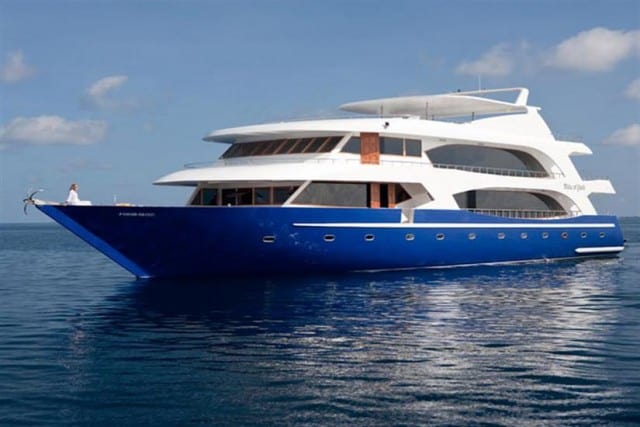 MV Duke of York dive boat review
The M/V Duke of York is owned and operated by Luxury Yacht Maldives. Based in Male, the Maldives, and with a sister office in Verbania, Italy, the company has over 20 years experience in managing successful safari diving vessels in the Maldives. The company states it's core philosophy is that the customers deserve the best quality service.
The M/V Duke of York was built and launched in 2010 and was designed specifically for its desired purpose in mind by local engineers and naval architects. The Duke of York boat was also one of the first Maldivian liveaboard vessels to offer facilities for rebreather diving – a real statement that this is a seriously equipped Maldives diving boat.
You can check the availability and prices for this boat here.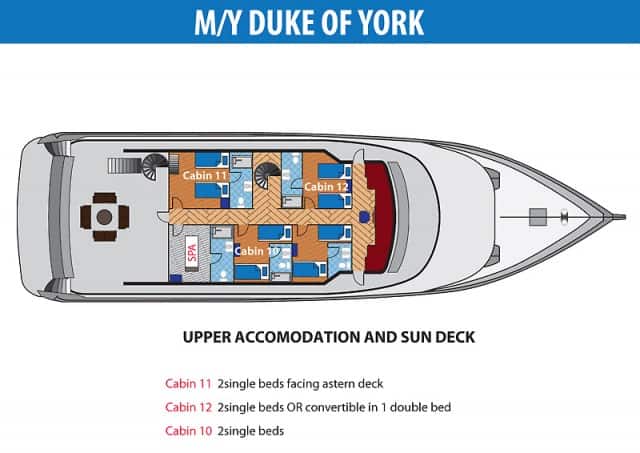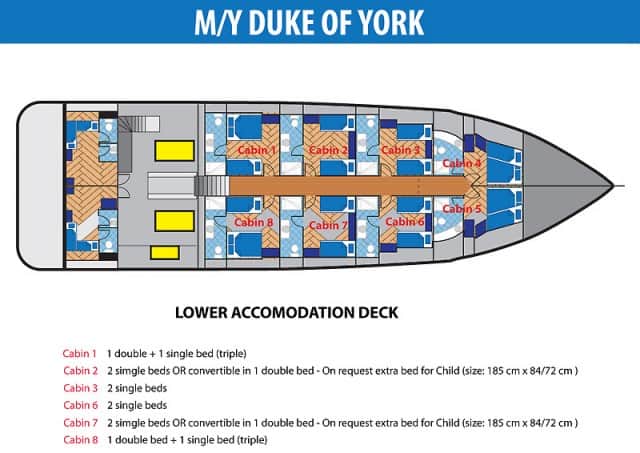 At 36m long, 11m beam and with the ability to cruise at a speed of up to 12knots, the MV Duke of York compares well with it's competitors; being marginally bigger than the Honours Legacy and Fun Azul vessels, if not quite as large as the monstrously large MV Maldives Crown.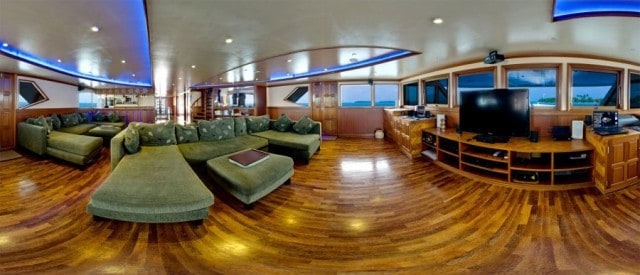 The M/V Duke of York offers 4 deck levels for your pleasure. The interior boasts parquet flooring and teak on the main deck area. Take a look at the yacht plans accompanying this article for further details.
The yacht's facilities have a strong emphasis on scuba diving. Nitrox is available along with rebreather facilities for the technical minded.
As with the vast majority of Maldivian diving safari yachts, there is a traditional Dhoni accompanying the Duke of York liveaboard. The Dhoni is equipped with 3 compressors and a Nitrox system for those wanting to extend their time under water. The Dhoni is equipped to deal with DIN, Internation and twin-tank/regulator configurations. However, should you need it, equipment hire is available if booked in advance.

Boat itineraries
In terms of itineraries, this vessel offers various options to suit any diver. Departing from Male, 7 day itineraries are run in conjunction with the Manta Trust. Or, alternatively, for those who want to spend a bit more time diving, longer 12 day central atoll cruises are available.
The vessel has 10 cabins. In addition there are quarters for the 9-10 yacht crew, 2 diving instructors, 2 maldivian dive guides and an Indian masseuse.

Duke of York layout
The 10 customer cabins are split as follows:
• 1 suite with twin beds and wide glass window overlooking the aft part of the upper deck.
• 1 double with convertible twin beds (on the second deck).
• 1 double with twin beds (on the second deck)
• 2 triples (one double bed and one single)
• 2 doubles with convertible twin beds plus single sofa bed.
• 3 doubles with twin beds.
Every cabin features air conditioning which can be modified by yourself, bathroom with shower cabin and wifi via 3G is available for an additional fee.
The restaurant onboard features a combination of Italian and Maldivian cuisine. Situated outdoors it is shaded and can be covered in the event of rain. The chefs onboard are happy to cater to your dietary needs on request.
There is also a comprehensive dining area called the 'Dinette' where there is a bar offering a wide choice of drinks, 2 comfortable sofas, which become a meeting and relaxing place for those wishing to listen to music. There is also a TV-Stereo system for those wanting to relax in the evening and watch a movie!
Outside there are 3 stunning sun decks with loungers, mats and relaxation facilities too.
Finally, with regard to safety, MV Duke of York features four tanks of medical oxygen, a first aid kit and a Nautilus life line GPS.
Expect a minimum price of USD2,000 depending on your individual itinerary.
Where does this liveaboard dive boat go?
Check out the fabulous places where this dive boat travels to.
Note: some destinations may not be listed below, please enquire for more details.
Great Drift Dives, amazing place for underwater photography. Good chance of spotting Manta Rays and Whale Sharks!
Other Liveaboard Reviews in Maldives
Dive spots reviews in Maldives
No dive sites reviews found