Cost
Simply the best of everything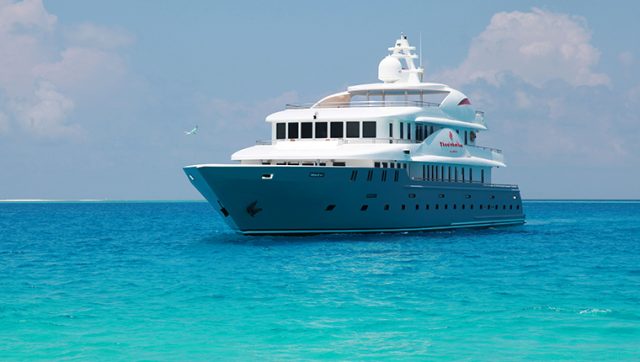 Dhaainkan'baa dive boat review
The Dhaainkan Baa is a very luxurious liveaboard yacht sailing in the Maldives. Indeed, the 5 stars, 40 meters long vessel offers custom made itineraries covering up to 2 Maldivian atolls per cruising week. Built in 2008/2009 in Himmafushi, Maldives, the Dhaainkan'baa will impress the most discerning guest. Most noteworthy is that this vessel doesn't only offers scuba diving, but also surfing, many water sports, fine dining, spa treatments and much more. It's the perfect boat to charter with your family, for a wedding or a group of friends celebrating life!
.
Boat Cabins & Layout
One of the most stunning feature of the Dhaainkan Baa liveaboard is definitely the fact that, despite it's huge size, it welcomes only 14 guests! Needless to say that with a crew of 20, everyone on-board will be spoiled and treated so well they might never want to leave. Moreover, there are 6 double cabins and 1 twin cabin, each have an immense en-suite bathroom. Have a look at the pictures below, you'll surely confirm that this yacht is a floating 5 stars hotel!
Visit this page to compare liveaboard & prices for the Maldives!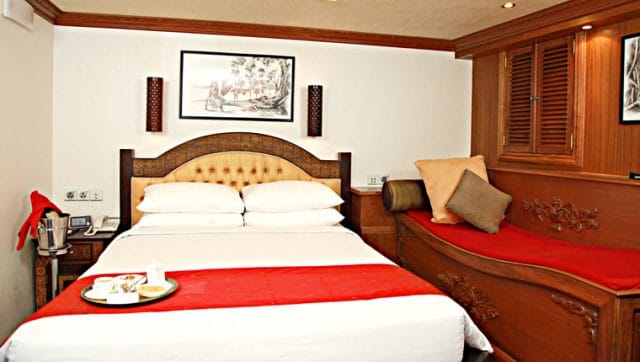 .
Most noteworthy is that each cabin features a Sattelite TV with Surround Sound System, a private and fully stocked mini bar, a nespresso coffee machine and much more!
.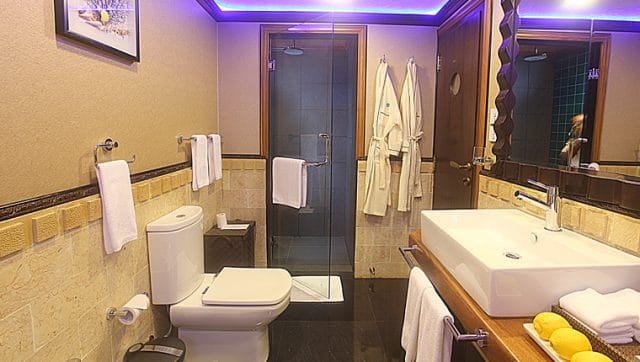 .
Dhaainkan'Baa On-board Facilities
Here comes the second most impressive feature of this vessel; the numerous and various activity possibilities you have on and out board! First of all, the restaurant's fine dining service seems very promising. Indeed, with a Chef, a sous-chef, a pastry chef and an assistant, the food is always fresh and served hot to the table!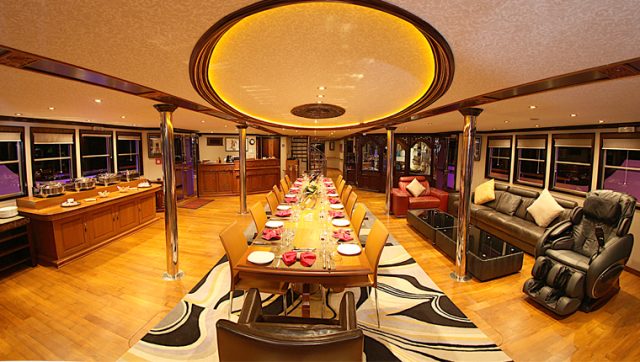 .
WINE & DINE // You can enjoy the wine & dine feature of the Dhaainkan'Baa both indoor in the huge restaurant or outdoor in the dedicated dining area. The latter comes with an incredible sunset view at supper time. Plus, there's often a beach barbecue planned during the week on an atoll so you can truly appreciate the Maldives.
.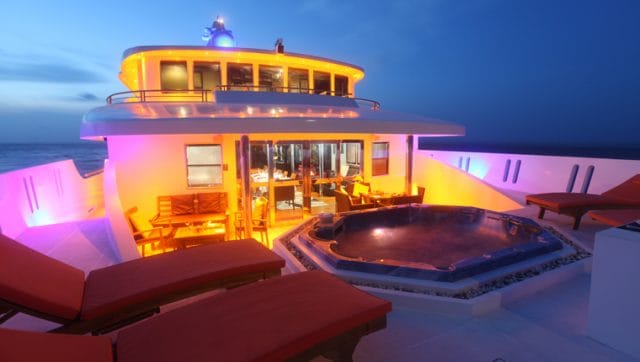 .
OUTDOOR LOUNGES // Furthermore, the many lounge areas on the vessel will make you feel like you are on a resort, not on a 40 meters liveaboard. First, at the bow there is an immense lounging area displayed around the jacuzzi tub. The view is simply perfect from there. It's soaking in the sun but you can use the umbrellas for a little shade during the day! Secondly, there's the Mathige Lounge, located on the top deck & fitted with cozy couches and pillows.
.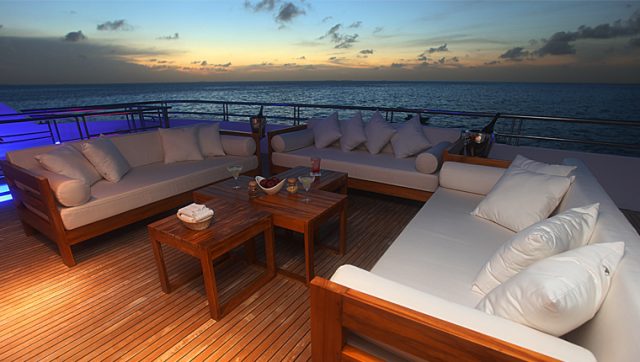 .
SPA & FITNESS // Most of all, there's a full spa and a fitness center available on the Dhaainkan'Baa liveaboard. Indeed, the spa offers various treatments ranging from hot-stone massages to facials and also presents a sauna and steam room. What more could we ask after an adventurous day or a gym session ?
.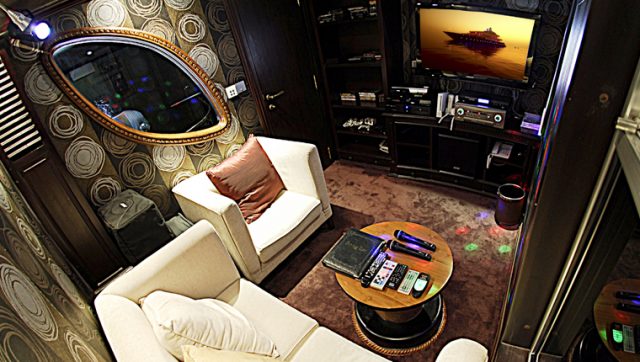 .
BAR & LOUNGE // Lastly, you can see, pictured above and below the fun lounges on the Dhaainkan'Baa! Of course, the game room will make kids, and adults, happy with a huge choice of games, movies, etc.
.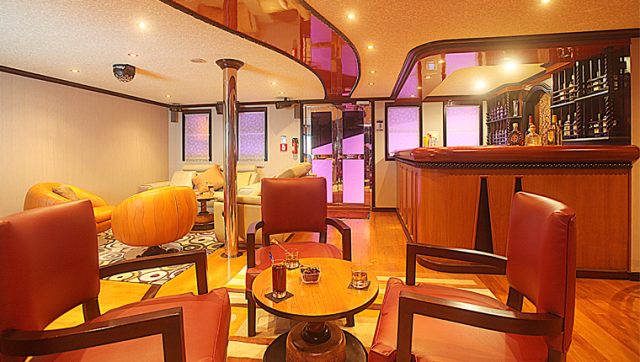 . 
Above, you can see the Medhuge Bar & Lounge, the perfect spot to have a drink, relax and even throw a party at night! Indeed, there's a karaoke system, quality sound system, disco-like lightning and a huge flatscreen TV.
.
Scuba Diving with the Dhaainkan'Baa
Finally, here comes the reason why the mother ship is so spacious, featuring so much lounging space: the 18 meters diving dhoni! Of course, it's a dive center of it's own but also an "all sport" center. It allows much more than scuba diving! You can either try windsurfing or jet skiing if you want! There's also kayaks, fun tubes and water skis available for more fun!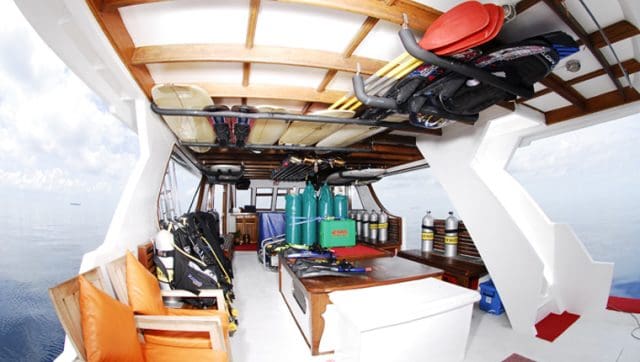 .
SCUBA DIVING // You can get any scuba diving equipment you need from them. Indeed, they have it all available; tanks, BCD, regulators, wetsuits, dive computers, weights, belts, masks, etc. They even have cameras & housings if needed! Moreover, the Dhaainkan'Baa is PADI certified and hires experienced instructors and dive masters to supervise the scuba diving operation.
---
Please contact them through the vessel's webpage for bookings & inquiries. 
.
Where does this liveaboard dive boat go?
Check out the fabulous places where this dive boat travels to.
Note: some destinations may not be listed below, please enquire for more details.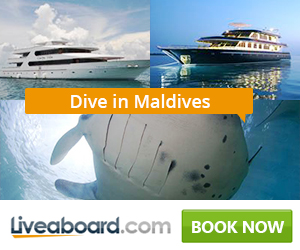 Great Drift Dives, amazing place for underwater photography. Good chance of spotting Manta Rays and Whale Sharks!
Other Liveaboard Reviews in Maldives
Dive spots reviews in Maldives
No dive sites reviews found