Cost
Simply the best of everything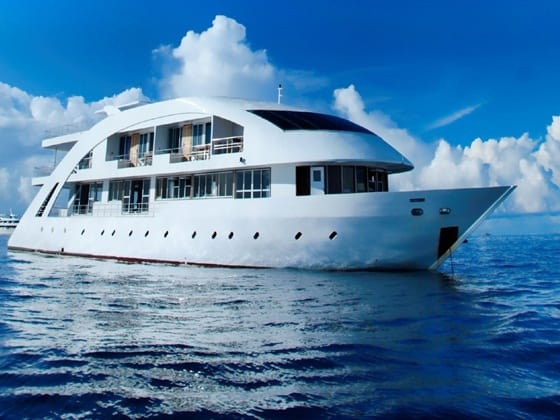 Maldives Mosaique dive boat review
There are liveaboard safari boats and then there are LIVEABOARD SAFARI BOATS (in capitals!). The MV Mosaique Maldives is a bespoke boutique vessel made in 2011 and aimed directly at the high end market. If you're looking for the ultimate way to travel the magnificent atolls of the Maldives, then this is it.
To describe the Mosaique liveaboard as luxurious would be akin to describing The Plaza hotel in New York as quite comfortable. The services and facilities of this vessel are simply astounding.
Let's begin with the cabins. The boat comprises 4 'Cruiser Cabins', which are 15sq.m, 2 'Cruiser Suites' which are 26.5sq.m, 4 'Sea Breeze' balcony rooms. Or, for the most exclusive of guests, there is the 80sq.m 'Skylight Suite' on the 3rd level of the boat which offers a 270 degree panoramic view of the stars, it's own private balcony, outdoor bath-tub.
However, don't feel hard done by if you're in one of the more modest rooms; each cabin is fitted to a high standard with shower, bath and flat-screen TV.
You can check the MV Mosaique schedule & latest prices here.
Maldives Mosaique Boat Layout


Other facilities that are on offer on the boat include a Spa, offering a series of treatments for guests to help with any aches and pains and relieve stress. A Jacuzzi. And, the vessel has a huge 120sq.m sunbathing area for those wanting to top-up their suntans!
If none of that interests you, there are LCD TVs in every cabin and public area with music and movies available on demand. The boat really does offer all the convenience and luxury of a hotel on water.
Hungry? The menu on Maldives Mosaique is stunning – their meals are described as 'creations' as opposed to meals and incorporates the best of western cuisine alongside what are described as the highlights of Maldivian cuisine.
Scuba diving is the reason to be onboard however, and the seas of the Maldives of course have a lot to offer – whether in the dryer season or the monsoon season. And the boat is, naturally, fully equipped to cater for all scuba diving requirements.
There is a 60ft/20m diving dhoni used to make the dives, with a speed dinghy as a safety vessel. The boat also has a full first aid kit and fire extinguishers as you would expect.
But, if you don't fancy diving, why not use one of the jet-skis available!
For underwater photographers there are full cleaning and charging facilities onboard. And, should you not have a camera or lap-top of your own, worry not, as if informed in advance the tour operators can supply this too – complete with 3G coverage to enable you to stay connected where possible.
All in the all, this is probably one of the most luxurious – bordering on decadent –boats on the market to tour the Maldives.
Prices are available 'on request' but expect to pay more than USD3,000 for even the most modest cabin.
Where does this liveaboard dive boat go?
Check out the fabulous places where this dive boat travels to.
Note: some destinations may not be listed below, please enquire for more details.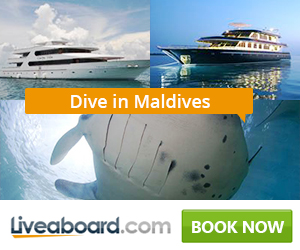 Great Drift Dives, amazing place for underwater photography. Good chance of spotting Manta Rays and Whale Sharks!
Other Liveaboard Reviews in Maldives
Dive spots reviews in Maldives
No dive sites reviews found