Cost
Expensive, and Luxury!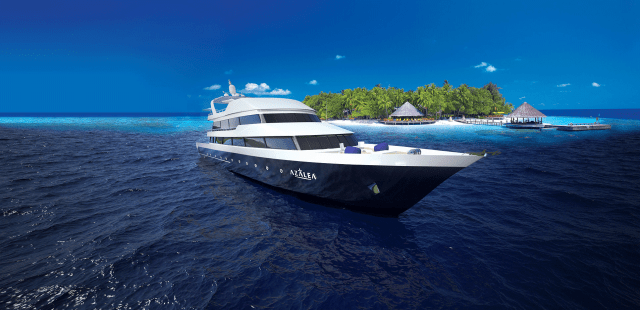 Azalea dive boat review
The stunning Azalea liveaboard is 38 meters in length and sails to the best of the Maldives. Built in 2015, the luxurious dive vessel offers a typical "Best of the Maldives" itinerary. Plus, the steel hulled vessel proudly boast to meet the highest safety standards at sea. Perhaps a journey to the Maldives could not get any better.
.
Boat Cabins & Layout
The Azalea has 9 lavish cabins to accommodate up to 16 guests. The 6 cabains located on the lower deck each have twin beds and can also be booked as single occupancy cabins on request. Each of these cabin comes with comfortable and luxurious amenities, air-conditioning and en-suite bathroom.
You can check the latest schedule & prices for this liveaboard here.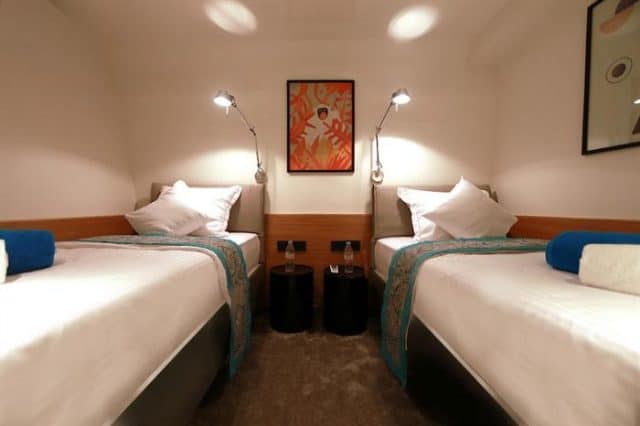 .
Furthermore, on the main deck, you'll find two luxurious rooms, fitted with king or queen beds. These cabins have huge wall to wall windows allowing you to admire the morning sunrise of  the Maldives in the comfort of your bed.
Now, on the upper deck, there's a master suite which is overly spacious and has a huge bathroom with a sizable bathtub!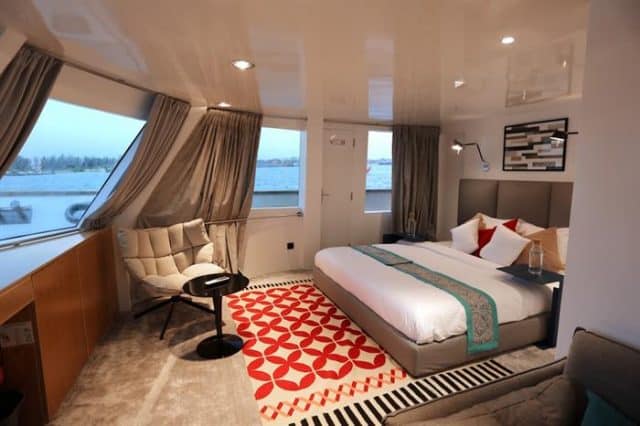 .
Azalea's On-board Facilities
The Azalea liveaboard has incredibly good looking, comfortable and spacious social areas. The main deck is home to an indoor dining room. The dining area is set up like a restaurant and that's where the dedicated crew of chefs will serve your taste buds with succulent dishes. Plus, the Azalea's menu comes with an impressive wine list to come along with your meals.
Moreover, if you head to the upper deck, you'll find an equally spacious and inviting lounge area. Indeed, the salon is fitted with comfortable chairs, couches, a television, media library and wall-to-wall windows so you can enjoy the view at all times.
.
The outside of the Azalea is just as attracting as the inside, if not more, considering the fresh Maldivian air. Indeed, on top of the indoor restaurant, there is also an al-fresco dining area just outside on the main deck. Plus there are couches at the aft for lounging before and after meals.
Furthermore, there is a huge sundeck  on the very top deck! Indeed, it's incredibly spacious and very well appointed. There are loungers, bean bags and couches all over the place. Plus, there's a hot tub and a breathtaking view from wherever you are on the partially shaded deck!
.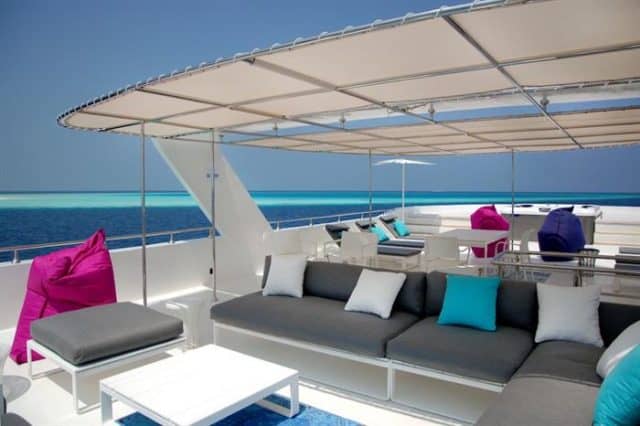 .
Vessel Layout
The Azalea is a rather unique boat but can be compared to the Ocean Divine. Indeed, both are in about the same price range and offer great, luxurious accommodations. The Ocean Divine is smaller (30m) and welcomes only 14 guest while the Azalea is much bigger and welcomes only 2 more guests.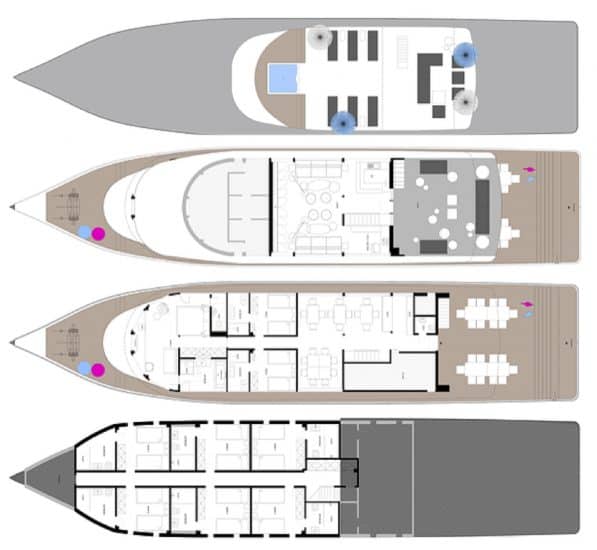 Scuba diving with the Azalea
The Azalea is the perfect choice of vessel for scuba diving, but also offers many other activities. Indeed, you'll find a hot tub, board games, kayaks, free snorkeling gear, etc. More surprisingly, you will also find activities such as excursions, water golf, fishing, whale or dolphin excursion and yoga, for example! One thing is sure, there are no room for boredom on the Azalea.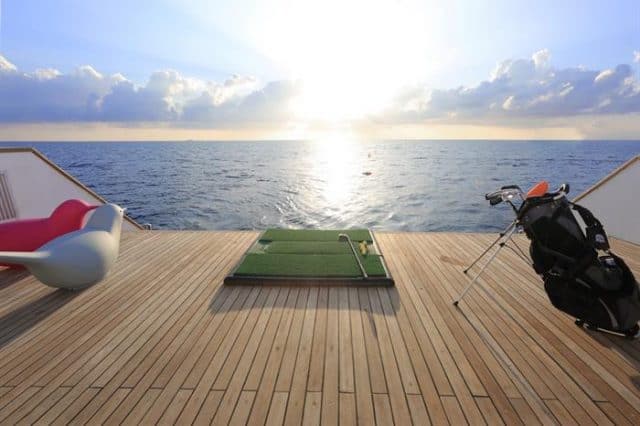 Scuba diving is one great activity which is the top of their list. Indeed, the Azalea has a full dive center from which you can rent anything from full gear to cameras. Also, the mother ship is assisted by a spacious, modern diving dhoni as it's almost the norm in the Maldives. Of course, the dive tender is fully equipped and there's plenty of space for a large group to get ready on. Finally, it's a competent and highly experiences crew that will guide you in small groups to best of the Maldives scuba diving!
---
Price starts at 2,731$US – 8 days / 7 nights – Best of Maldives
***Price may vary according to dates***
.
Where does this liveaboard dive boat go?
Check out the fabulous places where this dive boat travels to.
Note: some destinations may not be listed below, please enquire for more details.

Great Drift Dives, amazing place for underwater photography. Good chance of spotting Manta Rays and Whale Sharks!
Other Liveaboard Reviews in Maldives
Dive spots reviews in Maldives
No dive sites reviews found