Cost
Expensive, and Luxury!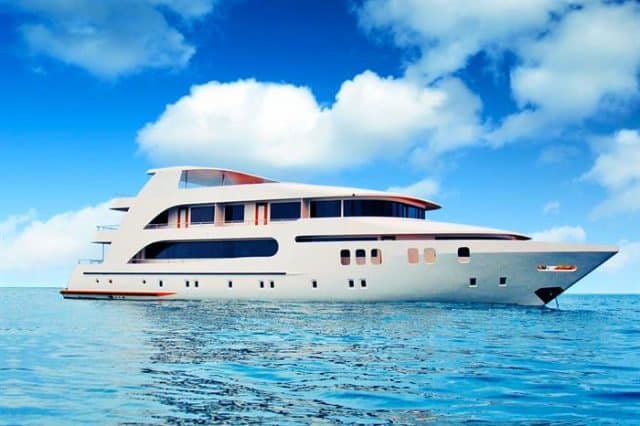 MV Adora dive boat review
MV Adora is one of the most beautiful vessels crusing the Indian Ocean. She is owned and operated by Maldive Boat Club; a company incorporated in 2002 with mission of taking divers from all over the globe on safari voyages around the Maldivian waters.
Speak to most experienced divers and there's a strong possibility that they'll put the Maldives' reefs and atolls near the top of their wish list.
Home to some tremendous topography, marine life and aquatic flora and fauna, the Maldives offer something for every level of diver. The diving experience is always breathtaking and memorable in equal measure. The Maldives are home to shoals of tuna and trevally – hunting on the reefs and atolls. Or, if you have a passion for the brightly coloured sweetlips and snapper circulating the coral outcrops, they're here too. Many come for the larger pelagic life; eagle rays, manta rays and sharks.
The MV Adora was originally built in just 2013 and has every conceivable she is up-to-date with the high standard demanded my modern scuba divers.
Adora is 123ft/37m long and 34ft/10m in beam. She is comparable is size to competitors such as Conte Max and Ocean Sapphire. Adora is able to cruise at 11-12knots through the waves due to her powerful 600hp motor. She also has all the key safety and emergency equipment; and a crew trained in first-aid, ensuring every eventuality is covered.
You can check the availability and prices for this Boat here.
Cabins and Boat Layout
A mid-sized liveaboard able to cater to 21 guests in 11 cabins.
The cabins options, depending on your requirements, are as follows:
Standard Cabin – Located on the lower deck, these are able to be set up for either twin or double berth. Well-trimmed, these cabins have ensuite facilities and air-conditioning.
Superior Single Cabin – This cabin is spacious and features a double bed, air-conditioning and an ensuite bathroom. It is described as single occupancy and would make a superb option for the single traveller wishing for privacy and comfort.
Ocean View Suite – This luxurious cabins are suitable for either double or twin occupancy. Located on the upper deck, these have a double bed and single bed, private balcony, ensuite bathroom and a lighter, more airy feel.
Each cabin also has a towel service and a TV with media facilities.
When not in the cabin the suavely designed Adora has some of the other facilities you would expect in a vessel of this class.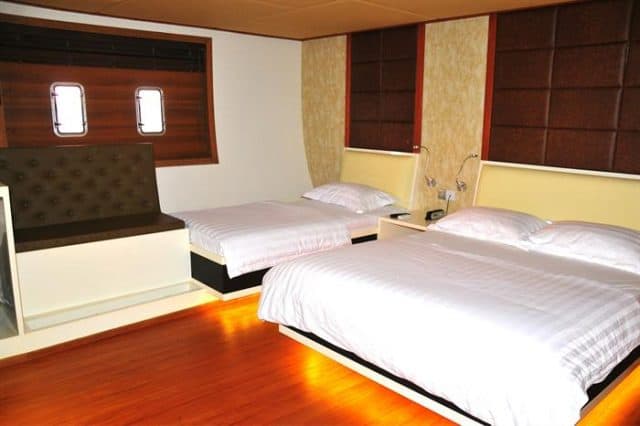 The second deck of Adora is home to a roomy dining area where you'll enjoy fresh and delicious buffet-style meals each day at breakfast, lunch and dinner.
There is also an outdoor dining area towards the stern of the vessel on this deck, should you wish to dine outside and enjoy the spectacular views of the Indian Ocean. Adora's crew are able to cater to your specific dietary requests should you have an allergy or religious belief requiring attention.
In the highly unlikely event that you're still hungry snacks and are available throughout the day.
On the same deck there is also a bar and a salon-style comfortable seating area. You may choose to slump here in the evening and watch a movie on the entertainment system. Or simply enjoy a cold beer after a day's diving in air-conditioned luxury.
The third deck has an outdoor seating area relaxing area and finally, at the top of the vessel is the sun-deck for bronzing yourself on surface intervals.
Wi-fi is available onboard Adora – dependent on location – should you wish to stay connect for business or pleasure reasons.
Diving onboard Adora
The diving deck on this purpose built vessel is amply sized and the diving takes place from an accompanying traditional Maldivian diving 'Dhoni'. The smaller vessel allows focused attention for divers and pick-ups/drops close to the reef for optimising your time in the water.
Nitrox is available onboard for those with the relevant qualification. It's a great way to stay fresh, stay at depth for extended periods and spend more time in this marine paradise.
Itineraries
There are various itineraries available on this vessel depending on the period in the season. 'Best of Maldives', 'Down South to Male' and 'North Fiesta' are three potential itineraries. Contact us to find out more about the individual voyages.
Expect to pay around EUR1,610 for a 8 day/7 night trip 'Best of Maldives' voyage. This equates to EUR201/day, making Adora very competitive, if not quite the cheapest for the region. Please note that this does not include some extras such as alcoholic drinks, crew tips and equipment rental. Please contact us for further details.
Where does this liveaboard dive boat go?
Check out the fabulous places where this dive boat travels to.
Note: some destinations may not be listed below, please enquire for more details.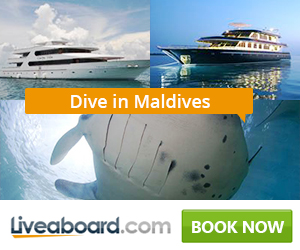 Great Drift Dives, amazing place for underwater photography. Good chance of spotting Manta Rays and Whale Sharks!
Other Liveaboard Reviews in Maldives
Dive spots reviews in Maldives
No dive sites reviews found