MY Red Sea Adventurer dive boat review
The 32 meters Red Sea Adventurer liveaboard was built in 2006 with scuba diving in mind. Brought to you by the renowned Blue O Two fleet, the Adventurer was refurbished in 2013 and updated again during 2016 dry dock season. Needless to say that the luxurious standards of the vessel are upheld and will meet expectations!
.
Boat Cabins & Layout
The Red Sea Adventurer can cater to 22 divers (occasionally 24), hosting them in 12 comfortable cabins. The rooms are spread over the 3 decks and each has and en-suite bathroom as well as climate control. Plus, cabins each have in-room entertainment systems.
You can check the latest schedule & prices for this liveaboard here.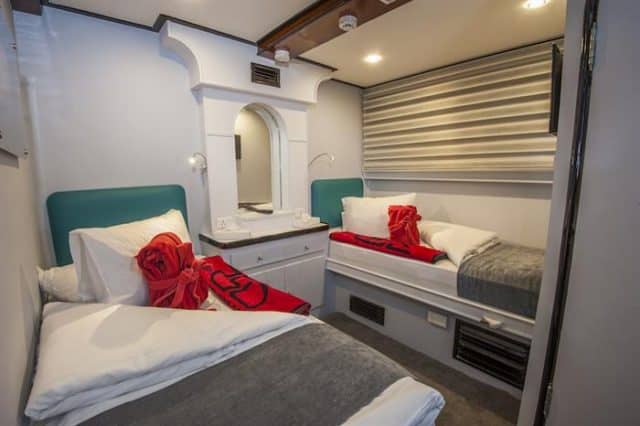 .
The cabins offer different layout, allowing a great flexibility and indeed, this boat is solo traveler friendly! Hence, there are 2 single cabins, located on the main deck, to accommodate those who travel alone. Plus, there are 8 twin shared cabins, all located on the lower deck and 2 double cabins which you'll find on the upper deck. Those are perfect either for friends, dive buddies or, in the case of the double rooms, couples!
.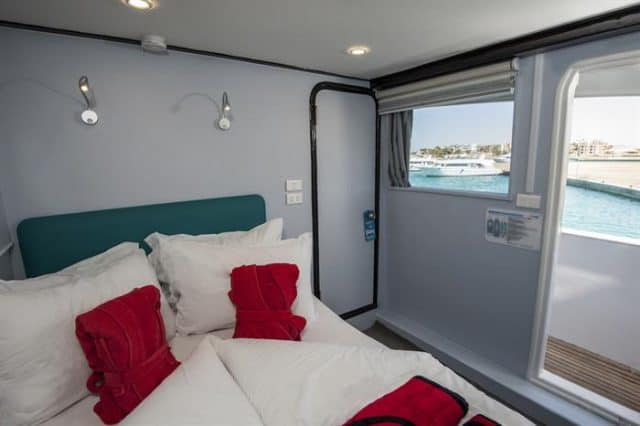 .
Red Sea Adventurer's On-board Facilities
The dive vessel features plenty of outdoor relaxation space and will sure please even the most discerning divers. Indeed, with a massive sun deck on the top deck plus a second sundeck at the aft of the upper deck, everyone gets it's bit of privacy.
The upper deck alfresco lounge and sundeck area is massive. There are tables, cushioned benches as well as bean bags to crash on. It's partly shaded, so perfect to read or sip on a drink. The top sundeck is uncovered, making it the perfect place for sunbathing and star gazing.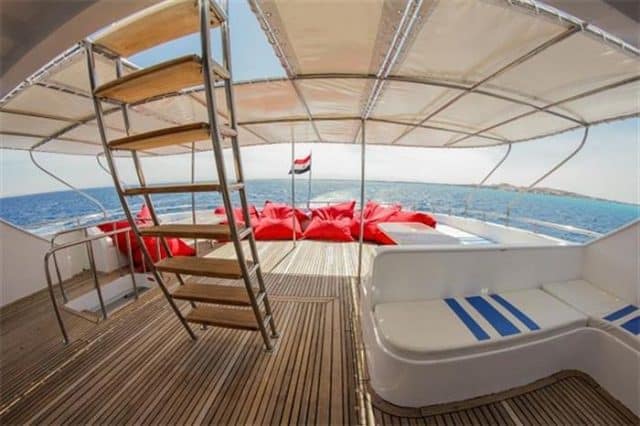 .
Furthermore, if you head inside, you will find a sizable lounge, connected to the dining room. All in wood, red and white tones, it's a lavish and neat area where some of the best moments are to be shared! Indeed, when not outside contemplating the Red Sea, you can lay on the couch and enjoy anything from a book, to audio or a DVD on the television.
.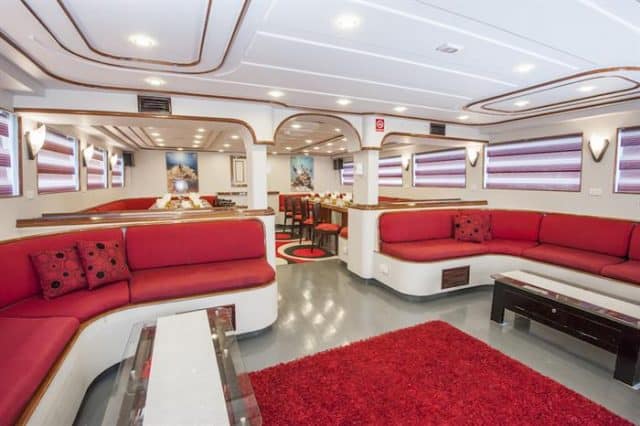 .
Vessel Layout
The Red Sea Adventurer features an outstanding service, juste like it's sistership from the Blue O Two fleet. The Blue Melody for example, is way bigger, but also welcomes more divers on board. The two dive boats are comparable in term of luxury and quality.
.
Diving with the Red Sea Adventurer
The sizable dive deck and platform will give an enjoyable head start to your scuba diving adventures. Indeed, with plenty of space to store your gear and personal items and 2 stair ways to the platform, the diving operation should not feel cramped.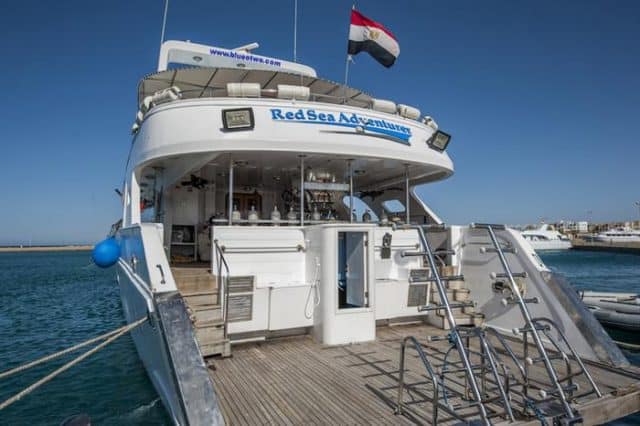 The vessel is all equipped for scuba diving and will also satisfy underwater photographers. Plus, the dive boat features a nitrox membrane, trimix blending panel, booster pump and is rebreather friendly.
---
Price starts at 760$US – 8 days / 7 nights – Northern Wrecks and Reef
***More itineraries available – other prices apply***
Where does this liveaboard dive boat go?
Check out the fabulous places where this dive boat travels to.
Note: some destinations may not be listed below, please enquire for more details.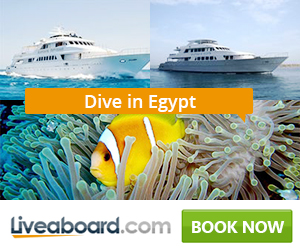 Other Liveaboard Reviews in Red Sea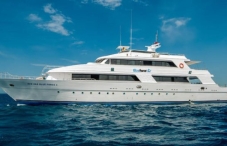 The 40 meters Blue Force 3 is a luxury l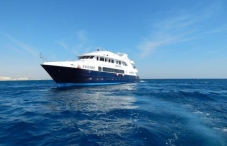 The JP Marine liveaboard has been offeri
Dive spots reviews in Red Sea