Cost
Expensive, and Luxury!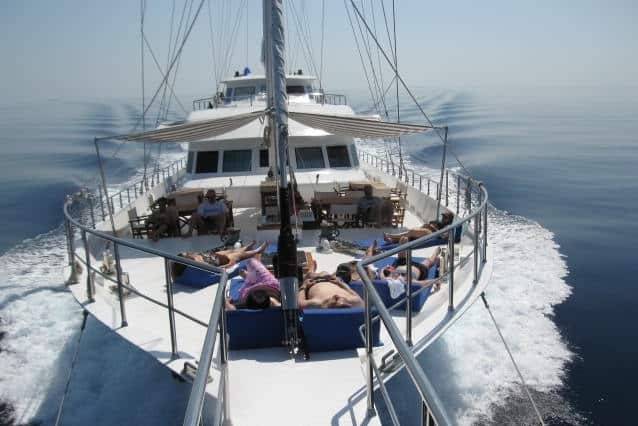 Maldives Aggressor powers through the waves! A shot from the bow.
Maldives Aggressor dive boat review
Unlike some of the purpose built safari boats you may find cruising the atolls, the MV Maldives Aggressor is a 115 ft. long yacht. With a 26 ft. beam and 9 ft. draft. Diesel powered and able to cruise at 12 knots, it looks and feels more like a real sea-going experience as opposed to some of the more boutique liveaboards available elsewhere. Safety has not been compromised however and the vessel is built to Lloyd's Registry and American Bureau of Shipping Standards.
Able to hold a maximum of 20 passengers / divers, the cabins on board are the more traditional bunks – called 'staterooms' – available in deluxe, twin and value configurations dependent on your budget. You can check here the MV Maldives Aggressor schedule.
Don't think for a minute you are compromising though. This is still a luxury liveaboard. Each stateroom has en-suite bathroom with shower, as well as its own air conditioning.
Also available on board are computer and underwater camera charging stations over and above the power points available in the staterooms (110v power at camera charging stations – for use of 110v in other areas, we suggest you bring USA 110 to 220 twin pin socket adaptors).
Boat Layout
Other facilities on board this amazing yacht include a spacious saloon area for chilling out in and also, a large flatscreen TV, where you can enjoy briefings and presentations from the dive staff on board. This doubles as somewhere where you can watch movies, read books or listen to music from the selection on board.
There is an ample sundeck onboard the vessel which is partially covered and has a seated chaise lounge area complete with a 'wet bar'. Please bear in mind, of course, that when you take a drink you become a sunbather for the rest of the day!
Please be aware of local alcohol laws in the Maldives – be sure to check if you have special requirements. Alcoholic beverages are available by special permit to international tourists traveling to the Maldives. A limited selection of beer and wine is offered at dinner. Scotch, rum, gin and vodka can be purchased by the bottle but must be ordered at least 7 days prior to departure date. The menu is a fantastic combination of western and local flavours with the facilities to adapt to any special dietary requirements.
Getting down to the nitty-gritty of scuba diving, the boat is fully equipped with 2 scuba compressors with cascade storage and, very importantly for those making multiple dives and wanting to stay fresh and extend bottom time, a nitrox membrane system. We would always recommend nitrox on repetitive dives,which is well worth paying the additional fee.
All diving from the Aggressor boat is done from one of the Dhonis – the local boats – which track you from the surface. Please be aware that currents are prevalent in the Maldives and therefore a reasonable level of experience and ability to cope with currents is advised. Please also note the dive computers are mandatory on this safari for each scuba diver – as is a surface marker buoy and surface signalling device in the event of an emergency. The local depth limit, for those with the appropriate qualifications, 98ft/30m. The Maldives Aggressor fleet sensibly follows local safety regulations.
Overall this is a well organized and set-up Maldives dive safari.
With regard to budget, prices range from USD2,295 to USD2,895 depending on your cabin choice and season.
Where does this liveaboard dive boat go?
Check out the fabulous places where this dive boat travels to.
Note: some destinations may not be listed below, please enquire for more details.

Great Drift Dives, amazing place for underwater photography. Good chance of spotting Manta Rays and Whale Sharks!
Other Liveaboard Reviews in Maldives
Dive spots reviews in Maldives
No dive sites reviews found