If you have been to Indonesia before, please share your experiences, ideas and feedback (Hotel, Excursions, General Feeling,…) in the comments section below, by doing so you will help fellow travellers to plan their next trip

Indonesia is quite simply one of the best scuba diving destinations in the world! It offers many world class dive sites and an outstanding array of marine life.
Indonesia is the biggest archipelago in the world with over 17000 islands and makes up about 20% of the coral worldwide! It is located in South East Asia between the Pacific Ocean and the Indian Ocean in the centre of the coral triangle.
Check List before your trip to Indonesia
You will find below my advices to plan your trip:
To plan my trip I usually use this guide book as they have great maps and give a good overview of Indonesia with the best places not to be missed. An Indonesia road map is also very useful. I have this one and really likes it.
I usually don't book in advance my hotel when I am travelling in places I know very well such as Bali. However, I really advise you to book at least the first nights of your trip to have a place to stay right after you land. This will save save you time, stress and even money. If you travel during the peak season such as July August and December January, it is wise to book all your hotels in advance as room rates tend to double or even triple during these periods. I usually use this website as they generally have the best fares in South East Asia.
Please do not forget to take a travel insurance that includes scuba diving. I really like this one as they offer a worldwide cover and include all the "risky" activites such as Diving, Trekking, Scooter, Surfing, snorkelling and so on.
Photo Credit: http://www.flickr.com/photos/rnugraha/148476893/
This is a truly magical country where you can still find adventure in many places. The country has many advantages, a few being that:
People are very friendly
It is very safe in most places
You can travel and dive for very cheap
Diving possibilities are so huge that you can spend a lifetime exploring them all
In this page you will find practical information to plan a scuba diving trip to Indonesia:
Indonesia Photos
previous
Clown fishes waiting in front of their blue anemone house

Beautiful & Colorful Mandarin Fish

Yellow Seahorse in Lembeh Strait

Photo by Agnes Tjandranegara

Blue Nudibranch in Lembeh Strait

Mola Mola And Moorish Idol

Flying Ray Manta in Bali!

Lion Fish swimming in crystal clear water

Photo by Agnes Tjandranegara

Beautiful Black Orange Nudibranch On Colorful Reef

Photo by Agnes Tjandranegara
next
Where to stay?
I usually use this website to book in advance my hotels in Indonesia as they usually have the lowest rates I find. I like it because it's free to cancel and change the dates.
Indonesia is a cheap destination to travel. You will find all types of accommodation, from the basic backpacker guesthouse to the top end luxury resort on some private islands. Hotel rates tend to double or even triple during high season (July, August and December, January). On the contrary, during the low season you can bargain and get a luxurious room for a very low price :-).
Photo Credit: © Amre Ghiba
Best time to visit Indonesia
The climate is tropical all around the country. That means hot and humid all year round. Indeed, most of the country is covered with tropical rain forest. During the monsoon which runs in most part of the country from October to March, there is heavy rainfall but they usually don't last more than 2 hours. Excellent diving can be found year round.
You will just need light clothes and a light sweatshirt if you plan on going to some of the mountains or volcanos. Indonesia is a Muslim country so every traveller should wear appropriate and respectful clothing especially when visiting temples and mosques. Bali is Hindu so you can dress how you like most of the time except in the Temples.
Health and Safety
There are no necessary vaccinations that you are required to get for Indonesia. Anti-malaria tablets can be useful if you travel to remote places like Borneo or Papua (Raja Ampat) so please consult your doctor for travel advice. If you stay on Java and even more on Bali and the Komodo Islands, the risk of Malaria is very low but don't forget your mosquito repellent!
Never drink tap water and it is better to come prepared with a little first aid kit containing anti-diarrhea pills and pain relief etc.
Indonesia is a very safe country! Although in the past there have been a few terrorist bombings depicted in the media, the day to day safety is really not a concern. However, like everywhere in the world it is recommended to take care of your belongings while travelling and use common sense.
The main safety issue is the road safety. You have to be extra careful if you plan to drive a car or a motorbike. Driving rules do not seem to exist here so keep your wits about you!
Photo Credit: http://www.flickr.com/photos/mazzali/2527083099/
If you are planning an upcoming dive trip or travelling to Indonesia, it is a really good idea to invest in travel insurance for scuba diving, because you never know what could happen and when you might need it (because accidents do happen!). I recommend this diving insurance as they offer worldwide coverage and focus on providing scuba divers a quality insurance and medical assistance service.
Where is Indonesia located in the world?
Indonesia is located in South East Asia, South of Malaysia and North of Australia. It is a huge country with around 17 000 islands!
See the map below.
Indonesia Map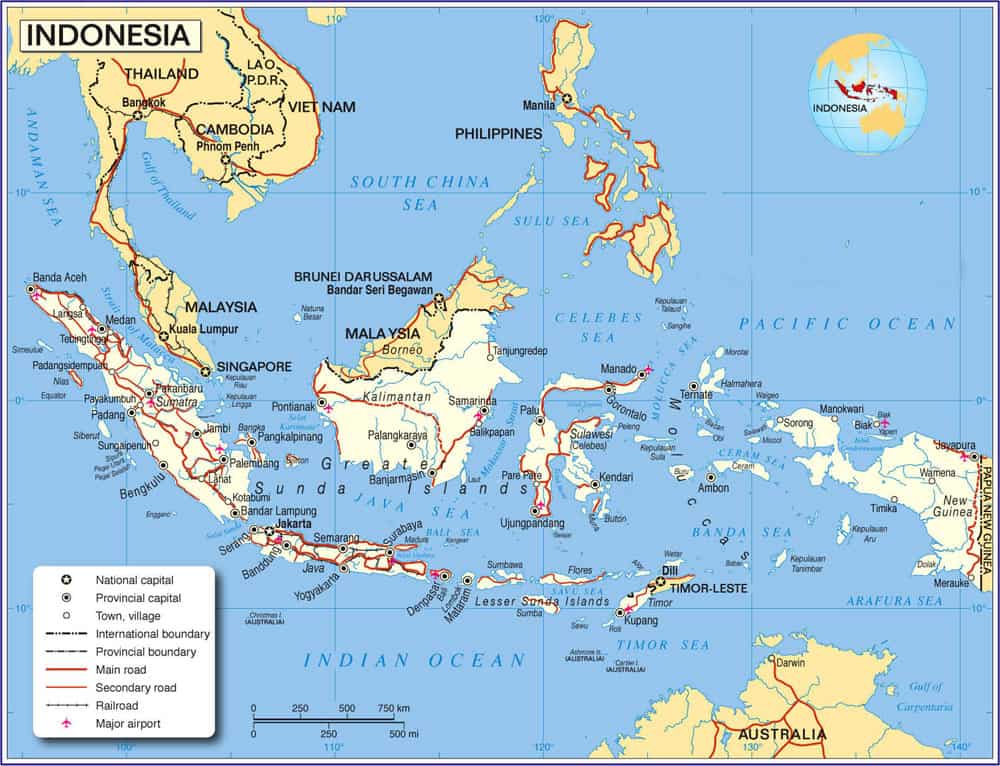 How to get to Indonesia?
There are numerous ways to travel to Indonesia. The main entry gates are the international airports of Jakarta, Bali, Manado and Makassar. There are many connections with all South East Asia main cities. If you fly from Europe, flying time will be around 14 hours with a stopover in Singapore, Kuala Lumpur, Dubai or Doha.
Getting Around
Between the islands
Indonesia is a huge archipelago. The most popular and fastest way to travel between the numerous islands is by airplane. There are many companies, with the most reliable being the national company Garuda airlines, along with the very good low cost airline Air Asia. The other main airlines are Merpati, Batavia and Lion Air.
If you have plenty of time, you can also find cargo ships travelling for example from Jakarta in Java to Borneo or Sulawesi.
Photo Credit: http://www.flickr.com/photos/rnugraha/1424205798/

On land
You can travel by train. For example, it is quite handy to land in Jakarta and take a night train to Surabaya and Yogyakarta to explore the island of Java.
Buses are also available but you may want to avoid them for long distances as travel times will be long and can often be uncomfortable and packed with people. Some people may prefer this type of travel for the cultural experience with locals.
The bemo, is the local minibus which are perfect for short rides but better to know where you are going!
Rent a car with a driver might be the best way if you can afford it. It is not overly expensive (around IRD 300 000, depending on the location) and is a very comfortable and relaxing way to travel as you don't have to worry about navigation and driving.
In many places, like Bali, you could also rent a scooter or small motorbike. It is a very good way to explore hidden places that most tourists will never see so it does give you a bit more freedom. Always be extra careful when driving and always ask for a helmet. It is also advised to have an international driving licence from your own country beforehand.
Scuba diving
You will find all information about sea life, best time to visit, top dive spots, etc. in our review: Indonesia Diving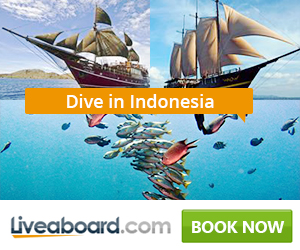 Diving Reviews for this region
Liveaboard Reviews in Indonesia
Diving resorts in this area
Cruise ship Reviews in Indonesia