If you have been to Maldives before, please share your experiences, ideas and feedback (Hotel, Excursions, General Feeling,…) in the comments section below, by doing so you will help fellow travellers to plan their next trip

For a long time now, Maldives has been a popular choice as a holiday destination for Honeymooners or those looking for a peaceful holiday staying in luxurious isolated resorts.
Over the last few years, scuba diving in the Maldives has become very popular as more and more divers come to explore the superb reefs and lagoons that Maldives has to offer! The Marine life is really great with Turtles, Sharks, Manta Rays and even the rare Whale Sharks!
Maldives Archipelago has 1190 Islands and only 100 of those are inhabited. They all offer pristine white sand beaches, crystal clear water and swaying palm trees. The rule in Maldives is one resort = one Island making it a perfect place for relaxing Holidays.
However, you may not like to visit the Maldives if you are travelling on a tight budget or prefer more adventurous travel, as everything needs to be planned and reserved in advance so therefore less opportunity for spontaneity. Diving is also more expensive here than in South East Asia in places such as Indonesia, Malaysia or Thailand.
In this page you will find practical information to plan a scuba diving trip to Maldives:
Where to stay?
I usually use this website to book in advance my hotels in Maldives as they usually have the lowest rates I find. I like it because it's free to cancel and change the dates.
There are about 100 resorts in Maldives. The rule is one resort per Island! Accommodation in the Maldives is expensive as it is resorts only. These resorts range from Basic bungalows to a luxurious villa with a private beach.
For divers, a Liveaboard can be more affordable than a resort with extra dives to pay.
Activities and excursions in Maldives
Once you are on your Resort Island, there is not much to do apart from relaxing, sunbathing, fishing, snorkelling and diving. Some places are also a great spot for surfing or sailing.
Best time to visit Maldives
Weather
The Climate is tropical in Maldives. The weather is mostly sunny all year round with air temperature ranging from 26°C to 32°C year round.
The Wet Season runs May to August with sometimes heavy rains but it usually doesn't last long and is followed by a sunny day. However there can be winds and waves that forbid diving on certain spots.
From December to March the Weather is very dry with no rain and is the best time to visit Maldives. The hottest months are from April to June.
Clothing
You just need casual beach holiday clothes like shorts, cotton t-shirts or skirts. Most of the resorts have a "No Shoes" policy ;-). Just don't forget your Sunglasses, your sunscreen and your swimming suit! As it is an Islamic Republic, going topless, even in the resorts, is forbidden.
Health and Safety
Health
There are no vaccinations required to enter Maldives. Just in case, you can take anti-diarrhea medication. The biggest threats here are getting sunburnt and cuts on the Coral

Safety
Maldives is possibly one of the the safests dive destinations on Earth! Each hotel has its own Island and it is a crime free zone! For diving safety, there are decompression chambers on Bandos Atoll in North Male and Kurumathi Atoll.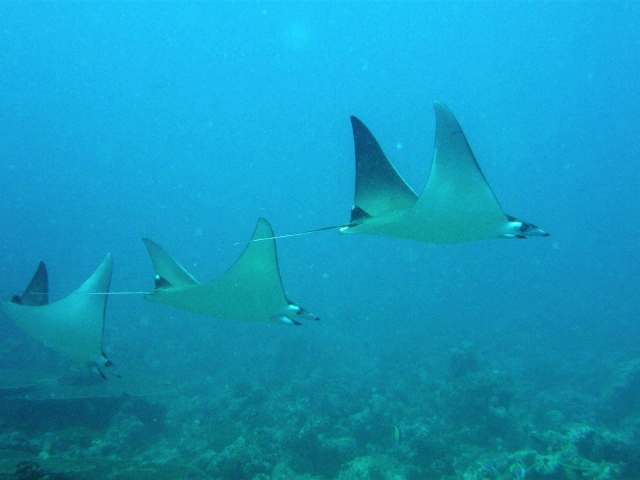 If you are planning an upcoming dive trip or travelling to Maldives, it is a really good idea to invest in travel insurance for scuba diving, because you never know what could happen and when you might need it (because accidents do happen!). I recommend this diving insurance as they offer worldwide coverage and focus on providing scuba divers a quality insurance and medical assistance service.
Where is Maldives located in the world?
Everybody seems to ask Where is the Maldives exactly?! The Maldives Archipelago is located in the Indian Ocean in the Laquedives Sea, about 650 km South West of Sri Lanka and India. It stretches over 820 kilometres from North to South and 120km from West to East.
See the map below.
Maldives Map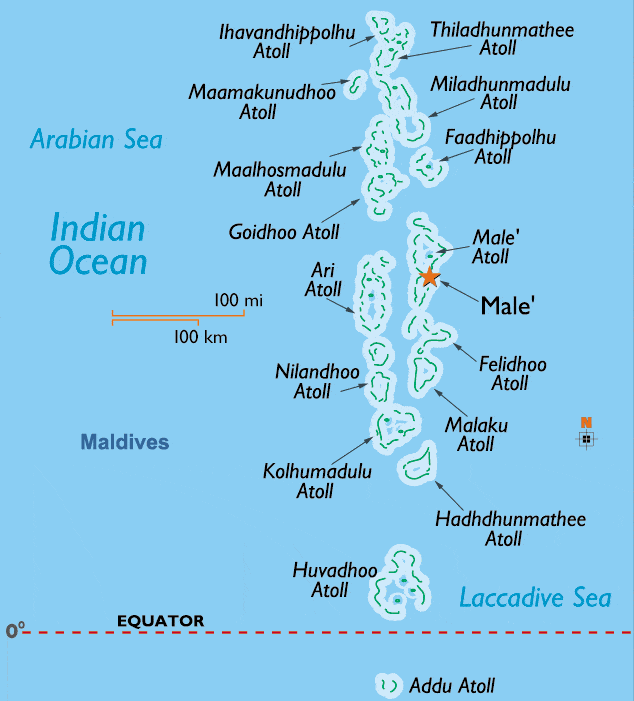 How to get to Maldives?
The plane is the only way to reach the Maldives. The plane ticket is usually included in the holiday package with the resort or the Liveaboard. It can be a major commercial airline or a chartered flight. You will arrive at Male International Airport. From there, the local staff will transfer you to the boat or to the sea plane to reach your resort.
From Europe, most of the flights have a stop over in the Middle East. Although now, British Airways has direct flights from London to Male. Singapore Airlines has also direct flights from Singapore to Male as well as Malaysian Airlines from Kuala Lumpur in Malaysia.
There is also the Gan Aiport on the southern atoll of Addu with direct flights to Milan, as Maldives is very popular among Italian Tourists.
Hot tip:
If possible, try to get a window seat as the landing over the lagoon is really beautiful!
Do I need a visa for Maldives?
It is very easy. You will get a free tourist visa valid for 30 days at your arrival. The only condition is that your passport has to be valid for at least 6 months after your arrival. It is also highly advisable to have a resort or a Liveaboard already booked.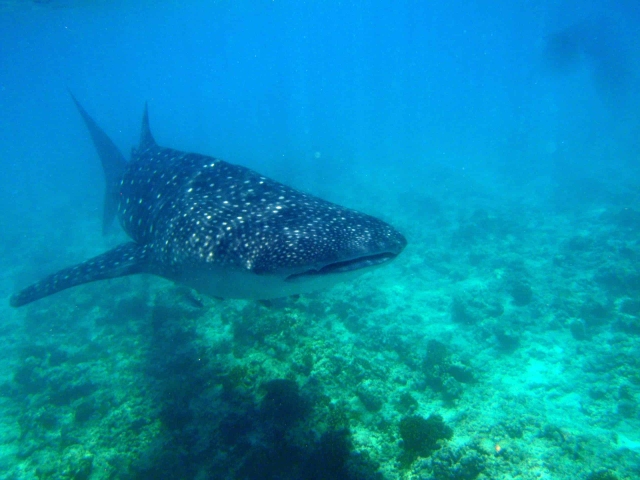 Getting Around
The only way to get around for divers in Maldives is by Liveaboard or by Sea Plane! There are 2 companies to take a sea plane: Trans Maldivian and Maldivian Air Taxi. The price of this very scenic flight is normally included in your holiday package. If your resort is not far away from Male, you will take a fast boat.
There are also the domestic airports of Gan, Hanimaadhoo, Kaadedhdoo and Kadhdoo. They permit you to travel between the Islands.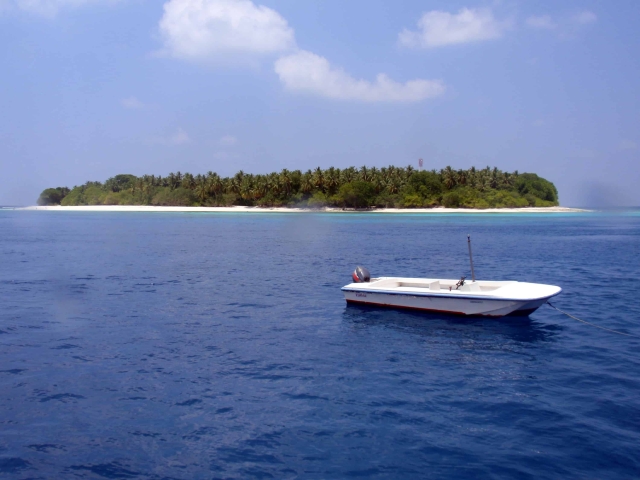 Practical Information
Prefix number: +960
Electricity / Voltage: 220 V
Religion: Muslim
Population: 310 000
Capital: Male
Time Zone: GMT +5
Currency: the Rufiyaa, Rf. 1 euro = 18,5 Rf, 1 US $= 12,8 Rf. Payment in the resorts is possible in cash in euro or US Dollars, by credit card and travellers cheques.
Language: The Dhivehi is the national language. English/Italian/German/French/Japanese is spoken in the resorts.
Surface: 90000 Km²
Review by Julien, creator of Blog de Plongee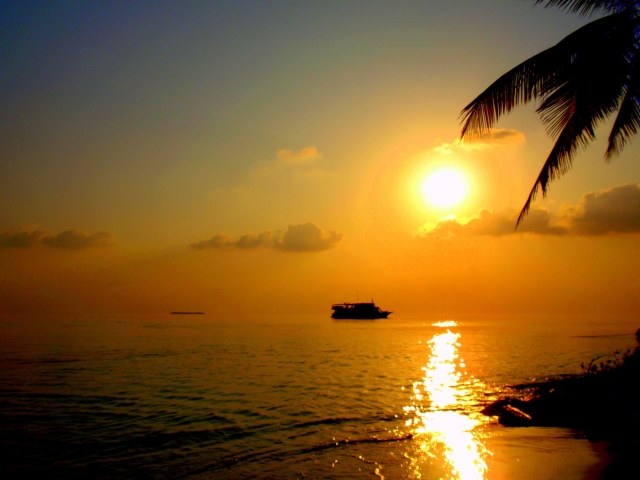 Maldives Photos
previous
Black Spotted Eel

Photo by Matthieu Billaud

Stack Eagle Rays

Photo by Matthieu Billaud

Hundreds Small Fishes

Photo by Matthieu Billaud

Whale

Photo by Matthieu Billaud

Maldives Village On The Sea

Purple Black Fish Caught In Bubbles

Photo by Matthieu Billaud

Blue Eel

Photo by Matthieu Billaud

Sunset Maldives

Photo by Matthieu Billaud

Island Maldives

Photo by Matthieu Billaud

Whitetip

Photo by Matthieu Billaud
next
Scuba diving
You will find all information about sea life, best time to visit, top dive spots, etc. in our review: Maldives Diving

Diving Reviews for this region
Great Drift Dives, amazing place for underwater photography. Good chance of spotting Manta Rays and Whale Sharks!
Liveaboard Reviews in Maldives
Cruise ship Reviews in Maldives