Cost
Expensive, and Luxury!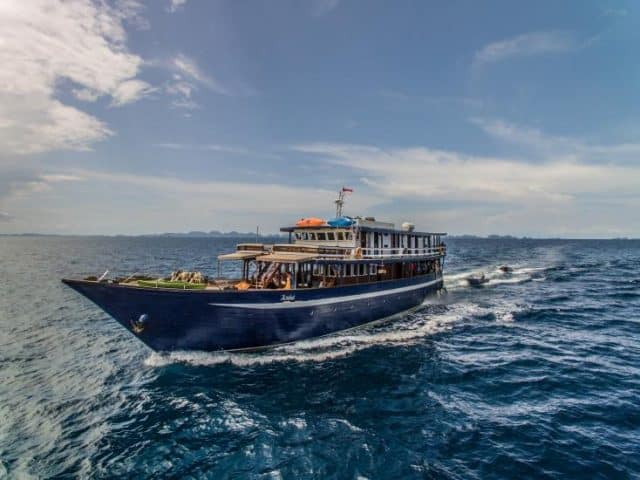 MV Ambai dive boat review
The MV Ambai is a traditional diving vessel with a luxurious modern twist. Owned and operated by Wallacea Dive Cruises, the vessel offers the best of Indonesia! The company has been operating in the area since 2002 and has a wealth of local experience.
.
Cabins & boat amenities
The Ambai is able to accommodate 16 guests over her wonderfully characterful 8 boutique cabins. Each cabin features air-conditioning and a private ensuite bathroom with hot water shower. The cabins are also available in either twin or double configuration depending on your needs.
You can check the availability and prices for this boat here.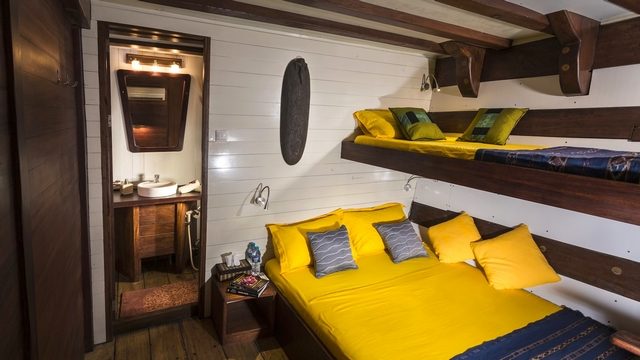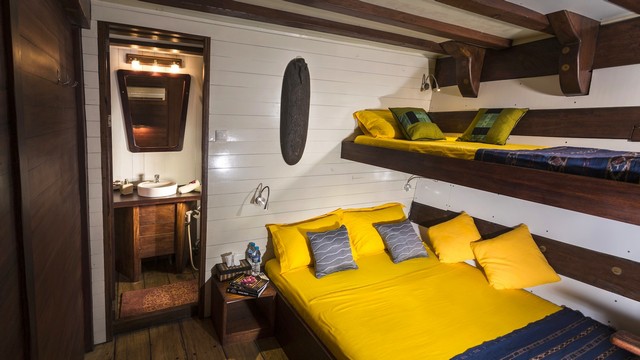 .
Moreover, the MV Ambai offers spacious social areas both indoor and outdoor. First, a comfortable air-conditioned salon/lounge area with an audio/video entertainment system. Also, you'll be pleased to learn that there's a dedicated camera room on board. Plus, the outdoors have plenty of relaxing space to offer. You can admire the views of the Indonesian islands from both covered and sunny outdoor lounges.
.
A scuba diving cruise on the Ambai comes with tasty meals and plenty of drinks options! Indeed, the meals are served buffet style and the food is always plentiful. The cuisine includes a delicious mix of western and local flavors. Plus, there are snacks available all day between meals. Also, both soft and alcoholic drinks, as well as vegetarian options for the meals are available.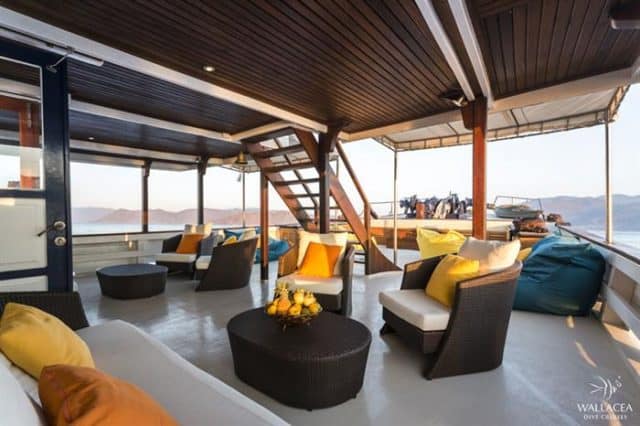 .
The vessel
The vessel MV Ambai was built in 2012 from ironwood and hardwood to the latest standards. The ship is loaded with the very latest facilities. Plus, the 32m long diving liveaboard has a powerful 600hp motor which makes short work of traveling between islands and reefs. The dive boat is equipped with 2 air and 1 nitrox compressor, GPS, radar, radio, and satellite phone. Also, for emergencies, there is all the required equipment including; life rafts, first aid, and smoke detectors.
Furthermore, the MV Ambai's team is highly customer oriented and will guide you through a memorable journey in Indonesia. Indeed, the crew of 16 are always available to assist you and make your stay as comfortable as possible.
The video below is a sneak peek of a diving cruise on the Ambai!
.
Dive Indonesia with the MV Ambai
Predominantly, Ambai cruises the stunning waters of Raja Ampat, Komodo, and the Banda Sea. The name Raja Ampat translates as 'Four Kings' and is an archipelago of approximately 1,500 islands in the West Papua province of Indonesia. Put very simply, Raja Ampat offers the most prolific and diverse reefs and aquatic life on the planet. Komodo and the Banda Sea are not far behind, each with their specific draws!
In short, Indonesia is more than:
1,200 fish species
600 coral species
700 mollusk species
Of course, this includes all the big hitters such as sharks and rays! You're also likely to find octopus, moray eels, cuttlefish, turtles, jackfish, dolphins, emperor angelfish, groupers, goatfish, sweetlips, frogfish, pipefish, lionfish, scorpion fish and even leaf fish! Plus, there are loads of invertebrates such as sea fans, sponges, soft corals, feather stars, hard corals, hydroids, whip corals and colorful nudibranchs.
Indonesia is truly a diver's playground. However, due to the current and drift dive nature of many of the sites, it's recommended divers have a few dives logged before visiting.

.
Now, diving in Indonesia with the Ambai has many perks! The boat offers outstanding installations and a highly experienced crew to guide you! First, the Ambai comes along with 3 dedicated fiberglass dinghies with outboard motors to pick up and drop divers.
You will get to dive about 3 times per day, plus night dives whenever possible. The dive center onboard the Ambai is well organized and leads to an easy diving preparation. Also, Nitrox is available as well as DIN adaptors, if you've brought your own European regulators. Plus, the dive guides speak English, French and Indonesian.
---
Price starts at 2,434€ – 8 days / 7 nights
Various itineraries also available
Where does this liveaboard dive boat go?
Check out the fabulous places where this dive boat travels to.
Note: some destinations may not be listed below, please enquire for more details.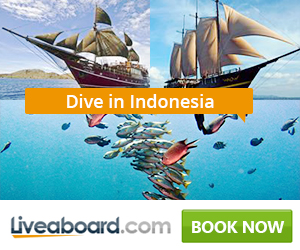 Other Liveaboard Reviews in Indonesia & Komodo Island & Raja Ampat
Dive spots reviews in Indonesia & Komodo Island & Raja Ampat