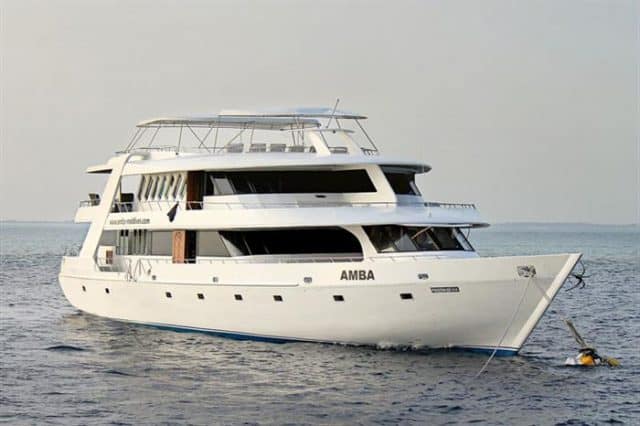 MV Amba dive boat review
There's ample choice of liveaboard operating in the Indian Ocean around the Maldives. All shapes and sizes. However, the competitively priced and luxurious MV Amba deserves to be somewhere on your shortlist.
The Maldives offers great diving in the clear blue waters around the many atolls making up this island nation. Visibility can range from 15-20m to as far as the eye can see. The weather is tropical, hot and humid – so don't forget your sunglasses! The azure blue waters are also home to some stunning marine life. Brightly coloured reef fish such as parrotfish, emperor fish, sweetlips and snapper circulate the coral outcrops. Giant moray eels, turtles, and shrimps make can all be found in the cracks and crevices around the walls and reefs. Alternatively, there's a good chance to meet larger pelagic animals such as rays, sharks and, sometimes, an ocean giant such as the Whale Shark. An unforgettable experience and great diving is almost guaranteed.
MV Amba was constructed in 2004, is 33m long and a has a beam of 10m. This places her firmly in the same size-class as other mid-sized Maldivian vessels such as Sharifa and Virgo. Amba is propelled by a powerful Volvo Penta motor and cruises the Indian Ocean at 10 knots. As you would expect, Amba has all the latest navigation, communication and safety features; from GPS to fire extinguishers and first aid – every base is covered. And, for those who sometimes suffer with motion sickness, you'll be heartened to learn that Amba is fitted with hull stabilisers ensuring a smooth voyage.
You can check the availability and prices for this Boat here.
Cabins and Boat Layout
Amba is home to 20 guests over a choice of 3 different cabin layouts and configurations:
Standard Twin Room – with twin single beds, air-conditioning and fans, private bathroom with hot and cold running water, basin, shower, towels, linen and storage space. There is natural light through the porthole. There is 3-pin 220v power.
Double Bed Room – this cabin has all the same great features but, alternatively, a double bed for couples and porthole or picture windows for additional natural light.
Suite Cabin – for those who want a little more space and luxury. This cabin is a large suite located on the main deck with a large double bed and private sundeck. It of course has all the other great facilities of the standard and double rooms.
On the main deck you can utilise the inviting and comfortable salon/dining area. It's air-conditioned, has comfortable seating and is completed with a bar area – where, when diving is completed you can unwind with a cold beer – and an entertainment systems should you wish to watch a film. For a small fee, paid wi-fi is available onboard
Outside there is a tremendous amount of space to relax in-between dives. There are outdoor relaxing areas with seating – both uncovered and covered. And, of course, a sizeable sundeck with loungers for those wanted to return from their holiday bronzed by the tropical sunshine.
Food is a mixture of local and western dishes served in a buffet style. Should you have any special dietary requirements, please specify at booking.
Diving onboard Amba
As is common practice in the Maldives, Amba has a spacious diving dhoni which tracks the main vessel's movements. With plenty of space to put on your diving equipment, it then ensures you're dropped in the optimum location for the dive. There is also a tender on hand as a back-up vessel.
Nitrox is available to extend your bottom time; a real bonus with many dives in the 20-30m range. There are also rinse tanks and DIN adaptors to keep your equipment clean and correctly functioning with the local INT fitting tanks.
The crew speaks English and are always on hand to assist you with any procedural or logistical problems you may have.
Itineraries
Departing points and itineraries vary, with Amba tending to concentrate on some of the more exclusive northern atolls and sites. Dive site selection is obviously subject to the prevailing conditions.
Expect to pay around approximately EUR1,219 for a 8 day/7 night trip. This equates to EUR152/day, making Amba very competitive for the region. Please note that this does not include some extras such as port/marine park fees, crew tips, alcoholic drinks and equipment rental. Please contact us for further details.
Where does this liveaboard dive boat go?
Check out the fabulous places where this dive boat travels to.
Note: some destinations may not be listed below, please enquire for more details.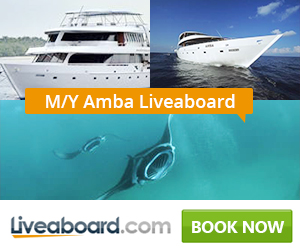 Great Drift Dives, amazing place for underwater photography. Good chance of spotting Manta Rays and Whale Sharks!
Other Liveaboard Reviews in Maldives
Dive spots reviews in Maldives
No dive sites reviews found