Cost
Expensive, and Luxury!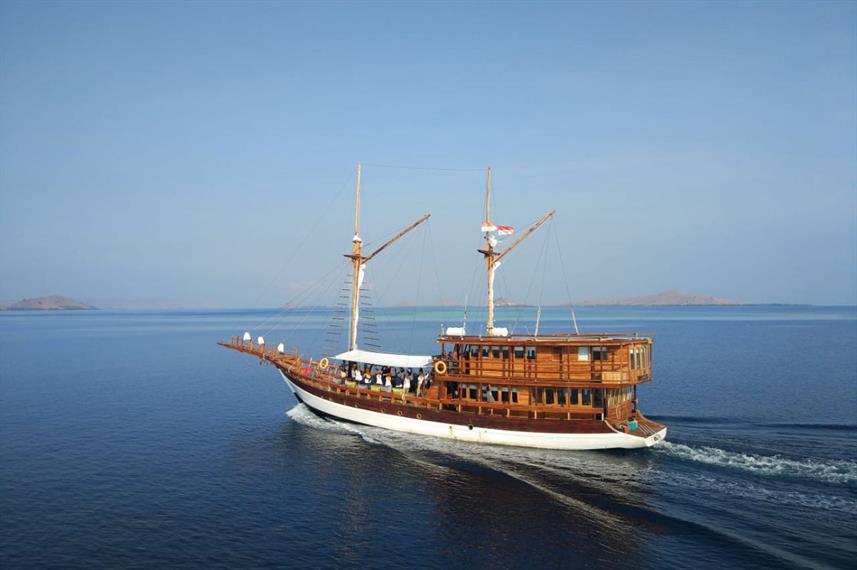 Gammara dive boat review
The Gammara is a 29 meters traditional Indonesian Phinisi liveaboard. Renovated in 2021, this vessel offers private charter trips to the world-famous Komodo National Park. Being an eco-friendly vessel with a zero-plastic policy, the diving cruise is ideal to discover the underwater Indonesian beauty.
The cabins
The Gammara liveaboard features 6 cabins and welcomes a maximum of 12 guests. You will find 4 double rooms on the lower deck, 1 spacious double room on the upper deck as well as 1 seaview cabin, also located on the upper deck. This luxurious seaview cabin offers a 180-degree view and a direct connection with the ocean. This diving cruise is also perfect for families and groups since the liveaboard offers family rooms. Every room features its private bathroom and air-conditioner as well as beach towels and toiletries with refillable glass containers (shampoo, soap, body moisturizer). Finally, the liveaboard also offers daily housekeeping for every cabin.
Visit this page to view the prices & schedules of this boat.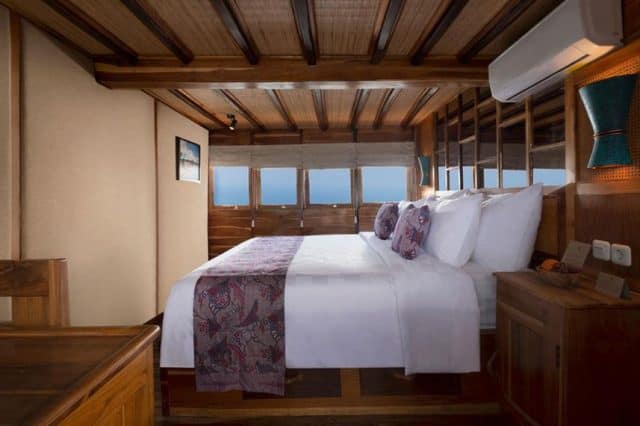 Gammara's On-board Facilities
On the Gammara liveaboard, you will find plenty of cozy areas to enjoy your time between the dives. Indeed, the upper deck features a spacious sun deck with colorful bean bag recliners which is the ideal place to enjoy the sun and relax. The vessel also features an indoor rustic dining room. The dining room is paneled in native hardwood that adds to the charm of the boat. For the food during the diving cruise, all meals are offered and the crew even offers a BBQ option on the beach for additional fees.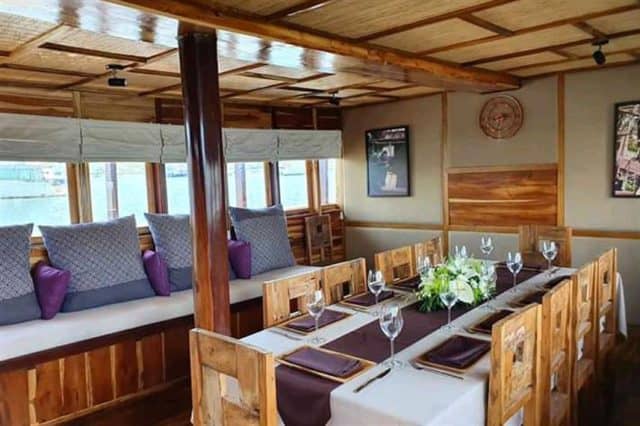 Moreover, every dinner, you will find a buffet with different themes which allows guests to eat an interesting variety of meals. You will also find a library on-board as well as have the possibility to rent a paddle board or go fishing.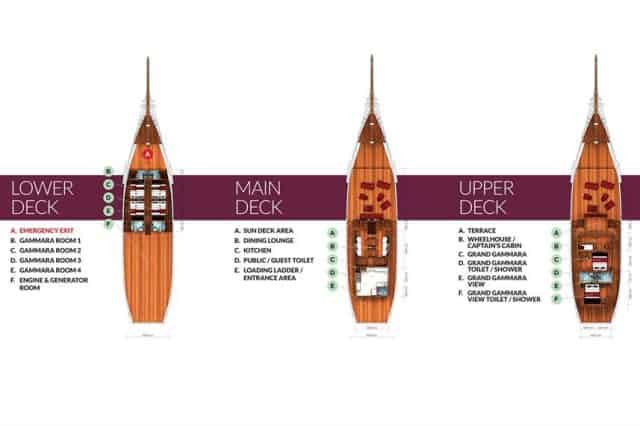 Scuba Diving with the Gammara
Going on a scuba diving cruise on the Gammara liveaboard will get you to explore the best diving spot on Komodo Island. Indeed, this liveaboard is perfect to discover the underwater wonder in Indonesia at the same time as contemplating the beautiful islands of this country. The diving cruise offers mainly 3 days/2 nights and 4 days/3 nights trips and the itineraries include the most popular diving spots such as Gili Lawa Laut & Manta Point. The cruise even offers the amazing opportunity to go to Rinca Island to give the chance to guests to see the Komodo dragon in its natural habitat.
---
Price starts at  9800$US for 3 days/2 nights
Where does this liveaboard dive boat go?
Check out the fabulous places where this dive boat travels to.
Note: some destinations may not be listed below, please enquire for more details.

Other Liveaboard Reviews in Indonesia & Komodo Island
Dive spots reviews in Indonesia & Komodo Island