Cost
Expensive, and Luxury!
Horizon 3 dive boat review
The Horizon 3 is a liveaboard exploring the Maldives. Indeed, the 36 meters yacht offers both scuba diving and surfing trips around the best of the Maldives. Built in 2009, the ship has everything it takes for a nice small ship cruise.
.
The cabins
The Horizon 3 can cater to up to 24 passenger, accommodating them in 12 cozy rooms. The cabins have various layouts, with either twin beds, or one double bed. Also, the cabins each feature a private bathroom, air-conditioning and storage space. Depending of the deck your room is located on, you will have either a porthole, or a full-size sea view window.
Visit this page to view prices & schedules for this boat.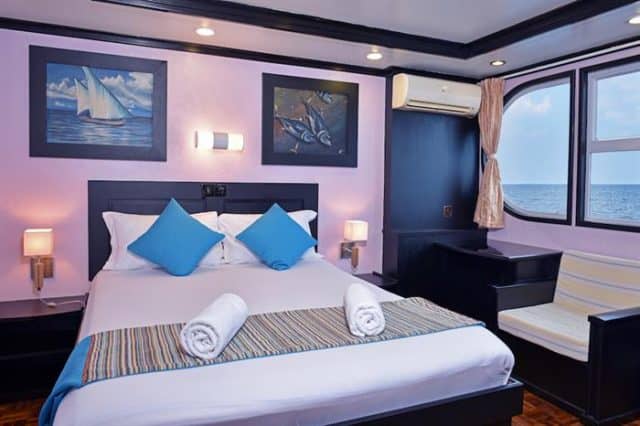 .
Horizon 3 – On-board facilities
The Horizon 3 proposed spacious social areas where you can relax between dive, or waves depending on your type of cruise! First, the main indoor area includes a dining room, bar and lounge. The latter features board games, and a complete entertainment system. Plus, you can peak outside anytime to contemplate the Maldives scenic seascape as there are panoramic windows all over the place.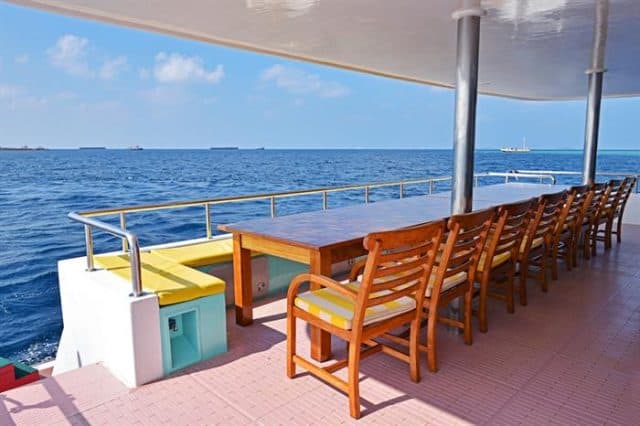 .
Furthermore, as you head outside on the Horizon 3, you will find a second dining area. Indeed, the al-fresco lounge and dining room boast an even better view and a nice sea breeze. Plus, the top deck is a spacious solarium, ideal for both sun chasers and star gazers. Also, note that spa treatments are available on this liveaboard diving cruise.
.
Scuba diving with the Horizon 3
Diving wise, the Horizon 3 is fully equipped, and has a large dhoni to help in the operation. Indeed, the spacious dive tender is a complete dive center in itself with a length of 18 meters.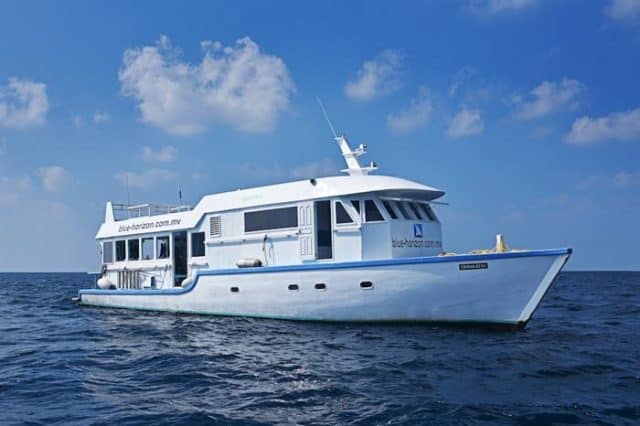 The scuba diving crew of 3 will help you at every step, and guide you to discover the best dive sites of the Maldives. The Horizon 3 offers various itineraries, ranging from 7 to 14 nights. You can choose the area you want to explore and see available dates. Routes include the central atolls, northern and southern atolls, and plenty of marine life on every trip! Scuba diving is a lottery, but chances are high that you will encounter manta rays, many reef sharks, turtles and maybe even the famous whale sharks.
---
Price starts at 1,750$US – 8 days / 7 nights
Where does this liveaboard dive boat go?
Check out the fabulous places where this dive boat travels to.
Note: some destinations may not be listed below, please enquire for more details.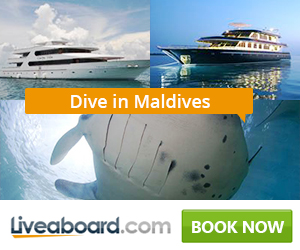 Great Drift Dives, amazing place for underwater photography. Good chance of spotting Manta Rays and Whale Sharks!
Other Liveaboard Reviews in Maldives
Dive spots reviews in Maldives
No dive sites reviews found