Cost
Expensive, and Luxury!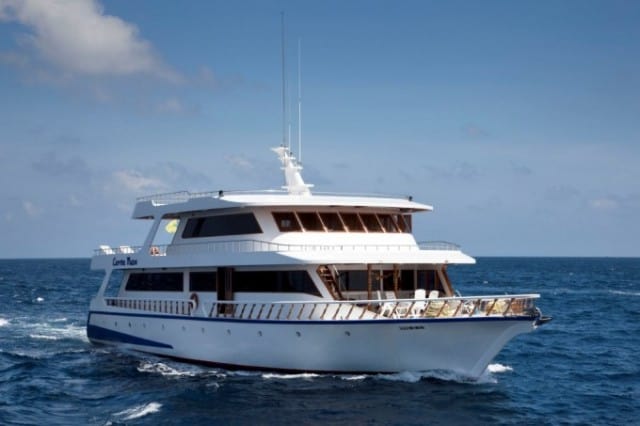 M/Y Conte Max dive boat review
The MY Conte Max is the sister vessel to the MV Duke of York. Owned and operated by Luxury Yacht Maldives. Based in Male, the Maldives, and with a sister office in Verbania, Italy, the company has over 20 years experience in managing successful safari diving vessels in the Maldives. The company states it's core philosophy is that the customers deserve the best quality service.
The Conte Max was built and launched in 2004. This liveaboard was designed to off the comfort, opulence and standards of the islands land-based resorts at sea. Onboard ayurvedic spa facilities combined with the beautiful natural surroundings of the Indian Ocean were combined to provide something equally appealing to divers and non-divers alike.
You can check the availability and prices for this Boat here.
At 33m long, 10m beam and able to cruise at 12knots, the Conte Max boat is competitive in size with it's main rivals; although 3m shorter than the Honours Legacy and Fun Azul vessels.
M/Y Conte Max offers 3 deck levels. And, unusually and interestingly, offers a triple cabins with a double bed and accompanying single.
The facilities are geared to promote well-being and relaxation. However, don't entertain the thought that scuba diving equipment and safety has been compromised.
Nitrox has been available from July 2014 for those wanting to extend their bottom times and a selection of equipment is available to hire onboard – including 15litre cylinders for the big breathers. There's also a re-charge area for cameras for the budding underwater photographers. Also, for those wishing to continue their education, a full range of PADI courses are available onboard in a range of languages.
Please be sure to pre-book if you wish to hire equipment or undertake further training though.
There is a traditional 16m Dhoni with 120hp motors accompanying the MY Conte Max. Equipped with 3 compressors, a Captain and 2 crew to assist you as you explore the delights of the ocean around the Maldivian Atolls.
Itineraries
With regard to itineraries, the vessel concentrates on a central atoll route on most trips. However, for those interested, there are also 7 and 10 day Manta Trust expeditions and scientific cruises available throughout the season.
The vessel has 3 double cabins and 5 triple cabins. In addition there are quarters for the 14 crew and dive staff.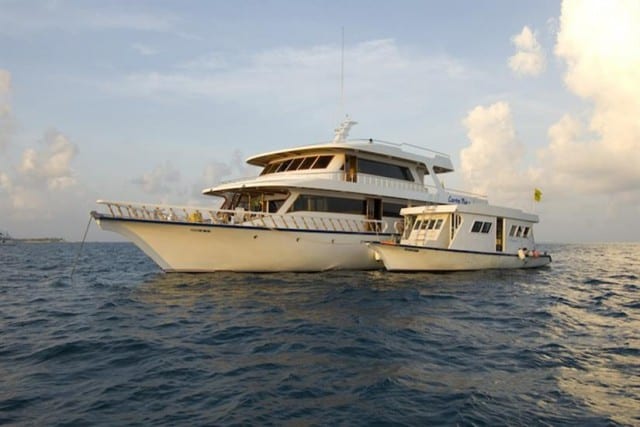 Every cabin features air conditioning, bathroom with shower cabin and onboard for an additional fee wifi via 3G is available.
The restaurant onboard features a combination of different food styles. Italian and Maldivian cuisine are available and the chefs onboard are happy to cater to your dietary needs on request.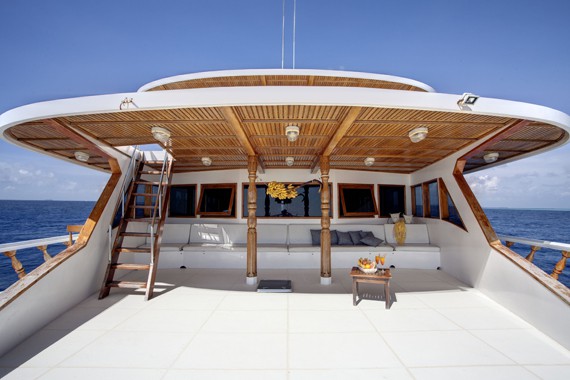 The vessel is made for relaxing. There is a large Dinette area with 5 tables, couches and a TV/Movie centre with films available in English and Italian. Two restaurants, one inside and one outside, ensure you can dine wherever the mood takes you. And there is a large sundeck and a massage area on the second deck.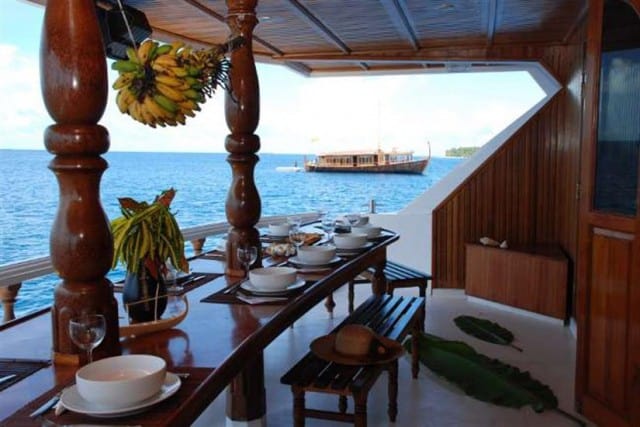 In terms of safety, MY Conte Max features three tanks of medical oxygen, a first aid kit and a 12 Nautilus life line GPS devices.
With regard to budgeting for this vessel, expect upwards of GBP1,300/USD2,000 for a 7 night trip.
Where does this liveaboard dive boat go?
Check out the fabulous places where this dive boat travels to.
Note: some destinations may not be listed below, please enquire for more details.

Great Drift Dives, amazing place for underwater photography. Good chance of spotting Manta Rays and Whale Sharks!
Other Liveaboard Reviews in Maldives
Dive spots reviews in Maldives
No dive sites reviews found