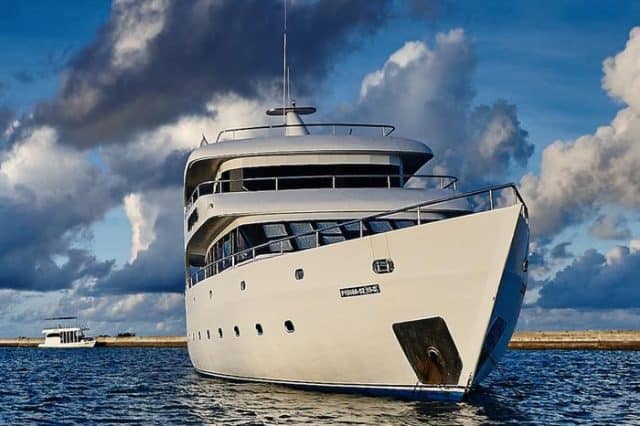 MV Maldiviana dive boat review
The beautiful, sleek MV Maldiviana is owned and operated by Maldiviana Group and takes it's lucky passengers on memorable voyages around the scenic central atolls of the Maldives.
The Maldives' reefs and atolls are always the opportunity to experience some of the best diving the Indian Ocean has to offer.
Home to some stunning aquatic flora and fauna, the Maldives are home to some breathtaking underwater topography and pelagic life. Whether you're diving inside the atoll, outside the atoll or drifting along one of the many wall dives, there is always something to see and to make your diving experience breathtaking and memorable in equal measure – whether that's tuna and trevally hunting, sharks and eagle rays. Or, you love the brightly coloured sweetlips and snapper circulating the coral outcrops, there's something to tickle your fancy.
The MV Maldiviana was originally built in 2002 to cater to divers and has been through a procedure of consistent evolution – resting with a renovation during 2015 – ensuring she is up-to-date with the high standard demanded my modern scuba divers.
Maldiviana is 27m long and 8m in beam. This makes her one of the smaller and more intimate vessels on which to tour the waters compared to giants like Scubaspa Ying and Yang. Her 360hp motors are sufficient to propel her through the ocean at a cruising speed of over 11 knots as you relax on your surface interval. All the key safety features are present from emergency equipment to a crew trained in first-aid, ensuring every eventuality is covered.
You can check the availability and prices for this Boat here.
Cabins and Boat Layout
Being slightly smaller than some of her competitors gives Maldiviana a cosier, more family atmosphere.
She is able to cater to 14 adult guest – or 18 if there are children. The cabins are all air-conditioned and have TVs. There are a choice of cabins available on reserving your place:
Diver – a twin single bunk cabin with ensuite bathroom.
Turtle – a twin single bed (non-bunk) cabin with ensuite bathroom.
Eagle Ray – a superior twin single bed (non-bunk) cabin with ensuite bathroom.
Manta – a superior twin or double cabin with ensuite bathroom facilities.
Dolphin – a superior double bed cabin with ensuite bathroom facilities.
Napoleon – a superior twin or double cabin with ensuite bathroom facilities.
Whale Shark – a deluxe cabin with more space, sea views, a double bed, desk and ensuite bathroom facilties.
There is an air-conditioned communal salon/lounge area where you can relax and watch TV, listen to music or even – should the mood take you – use the karaoke system. Non-divers may also wish to snorkel. Maldiviana is non-diver friendly.
The restaurant and dining onboard offers tasty buffet style meals from around the globe and there is a bar where a broad range of beverages are available.
Outside find the shaded and non-shaded sun deck and outdoor relaxing area. Wi-fi is available for a nominal charge should you wish to stay connected.
Diving onboard Maldiviana
As is commonplace on Maldivian safari vessels, the diving logistics are kept simple. The diving takes place from an accompanying Dhoni which allows you to be picked up and dropped at the best locations.
Nitrox is available onboard. This will allow you to maximise your bottom time while the enthusiastic local guides proudly show you the marine paradise.
There are rinse tanks and charging points for gadgets and toys and ample space for setting up your equipment. DIN adaptor and sidemount diving is also catered for onboard.
Itineraries
Departing from Hulhumale Marina, Male, there are a choice of itinerary durations around the famous dive sites of the central atolls. Dive site selection is obviously subject to the prevailing conditions.
Expect to pay around EUR1,457 for a 11 day/10 night trip. This equates to 133/day, making her very competitive for the region. Please note that this does not include some extras such as alcoholic drinks, crew tips and equipment rental. Please contact us for further details.
Where does this liveaboard dive boat go?
Check out the fabulous places where this dive boat travels to.
Note: some destinations may not be listed below, please enquire for more details.

Great Drift Dives, amazing place for underwater photography. Good chance of spotting Manta Rays and Whale Sharks!
Other Liveaboard Reviews in Maldives
Dive spots reviews in Maldives
No dive sites reviews found